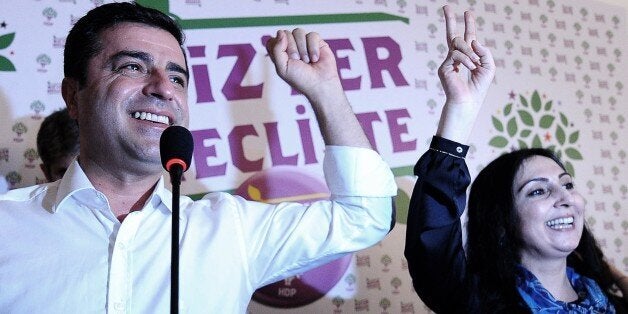 Turkey held parliamentary elections on Sunday in a vote that saw President Recep Tayyip Erdogan's ruling AK Party lose its single-party majority after over a decade in power.
As support for the AKP waned among voters, a progressive new pro-Kurdish party helmed by a charismatic young leader made surprising gains. The Peoples' Democratic Party, or HDP, is one of the biggest stories to emerge from the election, and it represents a new power player in Turkish politics.
The HDP garnered about 13 percent of the vote in Sunday's polls, overcoming Turkey's high barrier to enter the national parliament, where parties must carry at least 10 percent of the electorate in order to join the chamber. This will be the HDP's debut in Turkey's parliament, and it will mark the first time in Turkish history that an overtly Kurdish party has made it in. Its 80 seats put it in a position to block Erdogan's efforts to consolidate power for himself, potentially stopping the ruling AKP from achieving the majority it would need to pass legislation endowing the president with more influence.
Headquartered in the southern city of Diyarbakir, the HDP formed in 2012 from a collection of smaller pro-Kurdish political groups. Due to Turkey's electoral rules, it had previously run its candidates as independents in order to skirt around the 10 percent threshold for parliament, but increased popularity and a wider base of support led to a unified run this time around.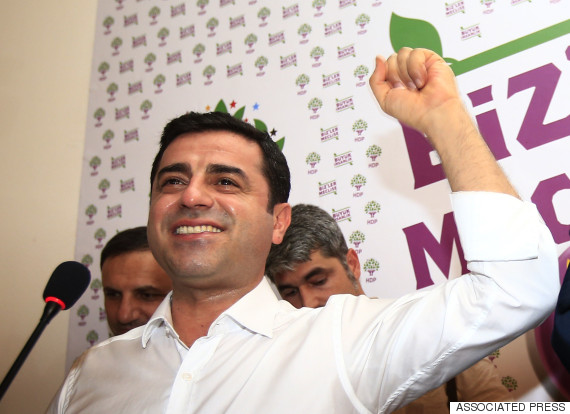 It's impossible to discuss the HDP's surge without also bringing up its celebrated co-chair, Selahattin Demirtas. Born in southern Turkey, Demirtas, 42, is Kurdish and was a human rights lawyer before entering politics. His family-friendly appearance, youthful looks and exciting rhetoric have won him significant support.
Demirtas came in third in Turkey's presidential election last year, and he's been nicknamed the "Kurdish Obama" by his fans. The young politician's rising clout has not gone unnoticed by Erdogan, who called Demirtas a "pop star" and a "pretty boy" in the lead-up to Sunday's vote.
While the HDP has its base of constituents in Turkey's minority Kurdish population, which makes up about 20 percent of the country, Demirtas has broadened the party's appeal. Under his lead, the HDP has reached out to a variety of minority groups excluded by the socially conservative AKP, such as environmentalists, LGBT rights activists and secular Turks.
These groups were the target of vitriol from Erdogan, who has attempted to rile up his conservative base with derisive talk of "the Armenian lobby and gays," notes Reuters.
The HDP has also provided a political platform for women's rights groups, and has signaled a commitment to gender equality. The party is led by female and male co-chairs -- Figen Yüksekdağ and Demirtas, respectively -- and the party charges female candidates half what it does men to run for office. Creating a ministry of women is also among its promises, reports The Guardian.
Around 40 percent of the HDP's newly elected members of parliament are women -- a remarkably large share in comparison to the parliament as a whole, where women hold only 17 percent of the seats.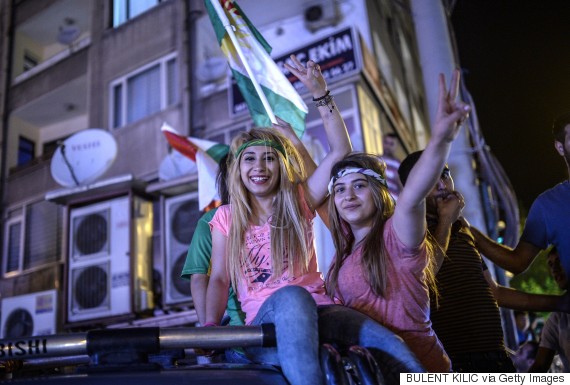 Analysts say that by shifting its focus from Kurdish nationalism to a more inclusive platform, and campaigning on issues of minimum wage and anti-corruption, the HDP has garnered a hugely favorable impression with the Turkish electorate. A poll conducted by the party found that the percentage of voters who would "never" select HDP on a ballot went from 85 percent in August 2014 to just 15 percent in March of this year, according to The Washington Post.
Kurdish issues are still a central part of the HDP's platform, however, and on Sunday Demirtas stated his commitment to reviving stalled peace talks. Conflict between the Turkish government and the left-wing Kurdish militant group PKK killed more than 40,000 people between 1984 and 2013, until a ceasefire was reached.
Demirtas has said that many of his friends died in the conflict, and as a youth he even attempted to join the PKK himself, reports The Wall Street Journal. Now he says he wants to bring political change through peaceful means, and to alleviate the conditions that push young people toward militant groups in the first place.
Turkey currently faces an uncertain political situation after its election, with the AKP needing to form a coalition yet unlikely to find willing partners. The HDP has ruled out joining the AKP in coalition, Reuters reports. This could mean another election that would send voters back to the polls -- and force the HDP to prove that its first-time success wasn't just beginner's luck.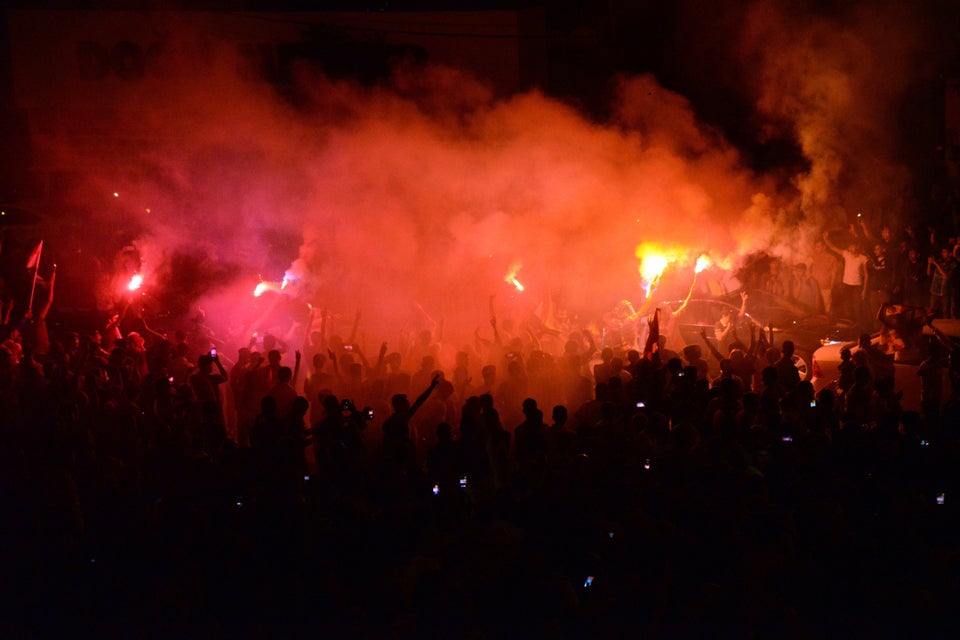 Historic Vote In Turkey
Popular in the Community