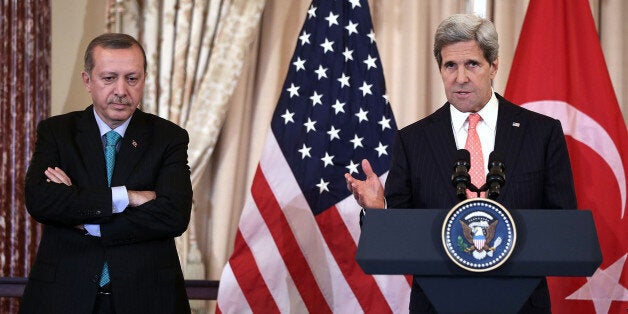 WASHINGTON -- Turkey, with its resources, geographic position and potential regional sway, is uniquely suited to be the West's key partner against the Islamic State. Unfortunately, it's also more estranged from the U.S. than ever.
Despite facing the shared threat of an ambitious and powerful militant group -- one that could be at the Turkish border with a few more advances, and that already has won sympathizers and possibly placed fighters deep within the heart of that country -- the U.S. and Turkey may be at the most significant dip in relations since Turkey declined to help in the 2003 invasion of Iraq, analysts say.
The Obama administration indicated last week that it believes it can defeat the Islamic State with or without major Turkish support, and observers say Turkey is being deliberately unhelpful because of its own interests.
Some of the frustration with Turkey in parts of the administration came through in comments made by a top general here on Thursday.
"If the Turks, when and if they decide to be more forthcoming on helping the coalition, it will clearly be value added," said Gen. Lloyd Austin, who runs the airstrike campaign against the Islamic State in Iraq and Syria as the head of U.S. Central Command. "If [the coalition] doesn't get more than what Turkey has signed up for, we'll still get it done."
"Turkey has to get in the game here," Austin added, though he said Turkey would be helpful "no matter what." He made his remarks at an event hosted by the Atlantic Council.
Austin's remarks come weeks after a U.S.-Turkish squabble over comments made by Vice President Joe Biden. Biden suggested in an address at Harvard in October that the ISIS problem had been exacerbated because Turkey -- by its own admission, Biden claimed -- had allowed foreign fighters to cross Turkish territory to join the group. Turkish President Recep Tayyip Erdogan blasted the comments, and Biden eventually made peace in a phone call to Erdogan -- though he later said he did not apologize.
Biden is set to visit Turkey later this month for talks with Erdogan and his advisors. Analysts see the visit as yet another attempt by U.S. officials to coax Turkey to play a bigger role in the coalition against ISIS, also known as ISIL. Previous efforts include visits by Gen. John Allen, the U.S. envoy to the coalition, and a phone call last month by President Barack Obama.
A spokesman for the White House's National Security Council did not directly address whether Biden's trip is part of an effort to smooth over relations. But the spokesman defended U.S.-Turkish cooperation against the Islamic State, noting Turkish steps such as working with the U.S. on targeting the group's financing and agreeing to host a Pentagon-run train-and-equip program for U.S-backed moderate Syrian rebels.
"The president and President Erdogan are committed to engaging closely on issues critical to both countries," the spokesman, Alistair Baskey, told The Huffington Post in an email. "The United States and Turkey have a shared interest in defeating ISIL, seeing a political transition in Syria, and bringing stability to Iraq. The relationship and alliance between our two countries remains strong. The two leaders have pledged to work together closely as the fight against ISIL progresses."
NATO member Turkey is already a member of the coalition against the Islamic State. It has authorized its military to use force against the Islamic State and sent millions in humanitarian aid to Syria and Iraq, in addition to taking in 1.9 million Syrian refugees itself in a move it says the international community has not sufficiently supported.
But it has been slow to assist in ways that could tip the scales against ISIS: It only allowed support to reach the beleaguered Syrian Kurdish town of Kobani after weeks of international pressure and a U.S.-aided airdrop to the town proved how invested Washington was in the battle there. Additionally, it has yet to permit U.S. warplanes to use its strategically located Incirlik air base to strike Islamic State targets. Last month, Turkey made clear that such permission had not been granted after Obama administration officials suggested it had.
"We don't need Incirlik, but it would help," Max Hoffman, a national security analyst with the Center for American Progress, said in an email to The Huffington Post. "It's not sharing any secret to note that the longer distances required on sorties to northern Syria from the Gulf as opposed to Incirlik puts an added strain on pilots, airframes, and maintenance crews. It's also an added expense. So it would seem reasonable to hope that a treaty ally like Turkey would be interested in easing that burden."
Baskey, the White House spokesman, said decisions on Turkey offering the coalition expanded military capabilities are "for Turkey to make."
"We respect their internal decision-making processes," he added.
Joshua Walker, a former senior State Department adviser and current fellow at the German Marshall Fund for the United States, told The Huffington Post the rift between the ostensible allies was striking.
"I've been working on [U.S.-Turkish relations] for about 15 years, and I've never seen the level of public tension that I'm seeing right now," Walker said. "Everybody is anti-ISIS and it's just confounding for the U.S. administration how Turkey could possibly not be 100 percent on board."
Still part of NATO but now run by an increasingly authoritarian Islamist president who has been vocal in criticizing what he sees as Western neo-colonialism, Turkey is playing a complex game around the ISIS fight, analysts say. They told The Huffington Post it is prioritizing internal stability and winning support in the Sunni Muslim world.
Turkey knows it must work with the international community, so it has made concessions like allowing aid to Kobani despite the fact that the Kurdish fighting force there, the YPG, is aligned with a Turkish Kurd group that has fought the Turkish government for decades. But in exchange, it wants partners like the United States to acknowledge its vision for a post-ISIS Middle East.
Key priorities for the Turks include the removal of Syrian President Bashar Assad, not a current goal of the U.S.-led coalition against ISIS, and limiting the power of the stateless Kurds, who have won respect and broader recognition than ever before from the international community with their defense of Kobani and their cooperation with the coalition in Iraq.
But analysts say the Turks are hardly in a position to bargain, given that the U.S. has proven it is prepared to work with other partners both on warplane launches and ground support in Syria -- the Gulf states and the Kurds, respectively. Hoffman of the Center for American Progress told HuffPost last month that the Kurdistan Regional Government in Iraq, the one Kurdish actor that has had close ties with Turkey over energy and trade, became increasingly skeptical of Ankara after Turkey was slow to help it battle ISIS in August.
There is one central U.S. partner in the ISIS fight that remains close with Turkey: the Syrian Sunni opposition to Assad that is aligned with the Free Syrian Army. But that coalition is presently weaker than ever following major defeats last week to the Syrian al Qaeda affiliate.
Mehmet Yuksel, the U.S. representative for Turkey's main Kurdish political party, the BDP, told The Huffington Post that Turkey risks being "excluded totally" from a growing network of alliances against ISIS because of its recalcitrance.
According to Yuksel, whose party has been at the heart of Kurdish demonstrations within Turkey over the state's failure to assist Kobani, the Syrian Kurds are willing to work alongside Turkey to battle ISIS as long as it recognizes their right to eventual autonomy within Syria.
Yet Turkey's ongoing internal complications with its own Kurdish population make that outcome seem less likely. It bombed the domestic Kurdish rebel group, the PKK, last month even as Kurds accused it of ignoring the siege of Kobani, and some analysts worry the peace process to end the Turkish civil war is now essentially frozen.
Walker said the Obama administration had failed to realize the importance of domestic concerns to Erdogan's policy calculations. He added that the U.S. could work to build broader Turkish support against ISIS by making clear overtures to Ankara for help and offering to serve as an "honest broker" in the peace process with the Turkish Kurds. Such a public statement, he said, could give Erdogan cover to tell his public that while aiding the Syrian Kurds might be politically unpopular with Turks, he felt compelled to come in on the side of the West.
"Turkey's all about respect," Walker said, adding that the U.S. needs to ensure the Turks "get the level of respect that they deserve if we genuinely believe that we need Turkey to eliminate ISIS."
Before You Go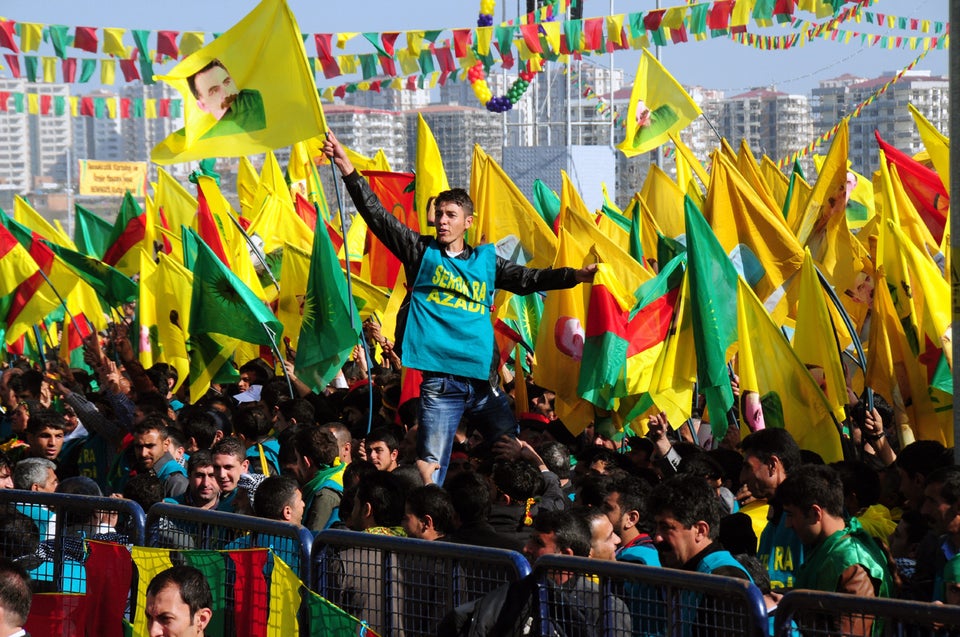 Kurdistan Vs. Turkey
Popular in the Community