Recently, my darling spouse reminded me that we still had 2 packages of Thanksgiving turkey in the freezer. I loved archaeology as a kid and don't mind excavating in the freezer – even if it means carbon dating an unmarked package before attempting to identify its contents. But he is much more persnickety than I am about such matters. I took his comment as a gentle hint that "we" should find a way to use said turkey before my own mother and the USDA would tell me to throw it out.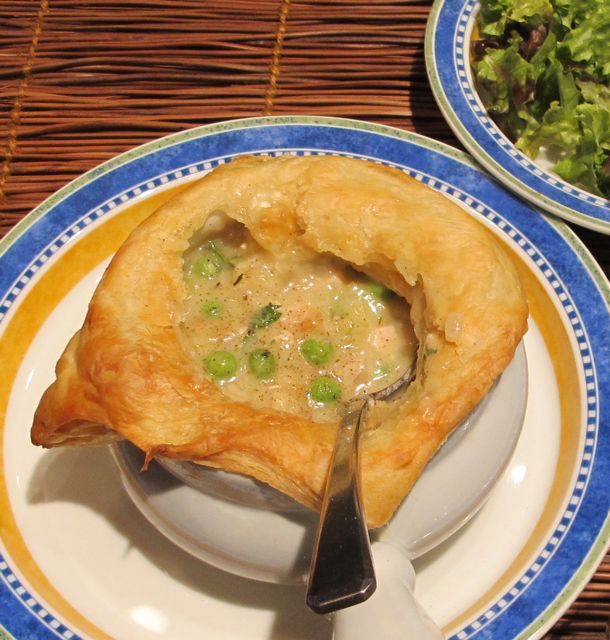 The weather forecast called for a light dusting of snow as I pondered how to use the turkey slices. With cold air outside and the oven, at the ready, I yearned for baked comfort food. Then it hit me – turkey pot pie! I don't think I've had a pot pie since the days when Swanson TV dinners were the order of the day, but a homemade version sounded like a plan.
I decided to use only ingredients on hand. Luckily, I had puff pastry in the freezer, so I didn't have to think about making a homemade crust. If you want to get technical, according to my husband and Wikipedia, this isn't a true pot pie because it lacks a bottom crust. But hey, if that's your only complaint (as it was my husband's while he gobbled up all of his portion), then I'll consider the recipe a success.
Frozen puff pastry is great stuff. It comes in sheets or in rounds. For this recipe, buy the sheets. They come 2 to a package and you'll only need ½ of 1 sheet. You'll be able to keep the rest (frozen) for another recipe or for another batch of pot pies.
I used individual 13 ounce soup bowls that are oven-safe. Mine are 3' high x 4- 4 ½ " deep. This recipe fit those bowls perfectly. Ramekins of that size would work too. If you don't have individual oven-safe bowls or ramekins, you can use a pie plate. Pie plates are measured by their diameter and typically come in 8" and 9" sizes. Note: If using a pie plate, cover the entire plate with all or part of an entire puff pastry sheet. You can make this pot pie with leftover chicken instead of turkey. In fact, it would be a great way to use up the ends of a roast chicken. Changing the types of vegetables or adding others would be fine too, though you probably want at least ½ cup of onions or leeks.
Turkey Pot Pie
Cost – $7.62 / $3.81 per serving (if you have to buy meat)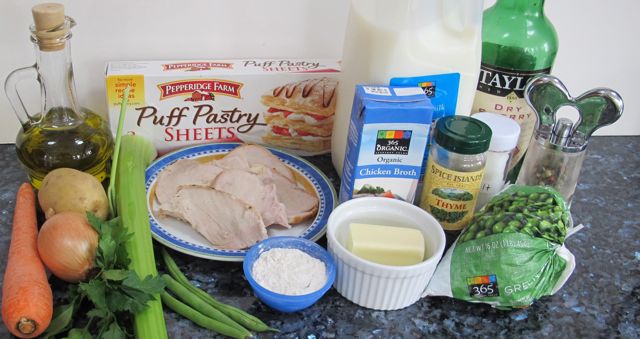 2 cups of mixed "hard veggies" such as carrot, celery, onion, potato and green beans – cut into very small pieces, approximately the size of the peas. Use at least ½ cup of onion or leeks.
¼ cup frozen peas
2 tablespoons olive oil + bit more to oil bowls
1 cup of cooked turkey, cut into small cubes
2 tablespoons of butter
2 tablespoons of flour
1 cup chicken broth
⅔ cup milk + bit extra for coating the puff pastry
1 tablespoon dry sherry (optional)
1 tablespoon parsley, chopped
½ teaspoon dried thyme, crushed between your fingers as you add it to sauce
Salt and pepper to taste
½ of 1 sheet of frozen puff pastry, defrosted. Check above if using pie plate instead of bowls.

Cutting board
Knife
Wooden spoon
Measuring spoons
2 cup microwave-safe liquid cup measure
1 cup and ¼ cup measuring cups for solids
Vegetable peeler
Spatula
Large pan
Medium sized bowl for mixing
2 individual oven-safe soup bowls or 8" pie plate
For step-by-step directions, including pictures, click here.