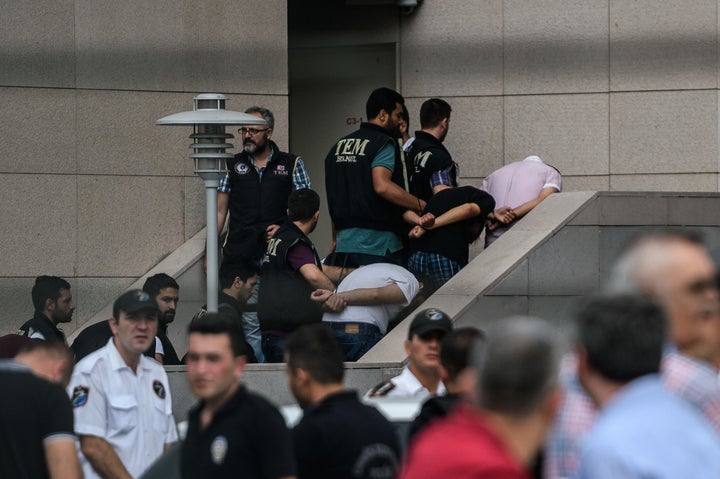 Less than a week after an attempted military coup plunged Turkey into chaos, the government has detained or fired around 60,000 people in an aggressive purge of state and civil institutions. Soldiers, judges, educators and journalists are just some of the professions caught up in the post-coup crackdown, which President Recep Tayyip Erdogan this week pledged to continue.
The government's retribution for the coup, which killed at least 240 and injured over a thousand, has been swift and its effect on Turkish society far-reaching. Erdogan's intense targeting of any perceived opposition has given way to fear among Turkish citizens that they could be falsely labeled coup supporters and face harsh consequences.
Erdogan has blamed U.S.-based cleric Fethullah Gulen and his supporters for plotting the coup attempt, vowing to "cleanse the virus" of Gulen's group from the state. Gulen, a Sunni cleric who lives in self-imposed exile in Pennsylvania, was an Erdogan ally until a split between them in 2013. Erdogan accuses Gulen and his movement of attempting to operate a parallel state in Turkey, and since the coup attempt has demanded his extradition.
Analysts say the purge's expansion beyond the armed forces and into a number of other sectors over the course of the week shows the Turkish government's willingness to target perceived opponents, regardless of their professional field.
"Erdogan and the security apparatus view the Gulenists as an extreme national security threat, and they're willing to go to extreme measures to ensure this time they're completely purged," Aaron Stein, a senior fellow at the Atlantic Council's Rafik Hariri Center for the Middle East, told The WorldPost.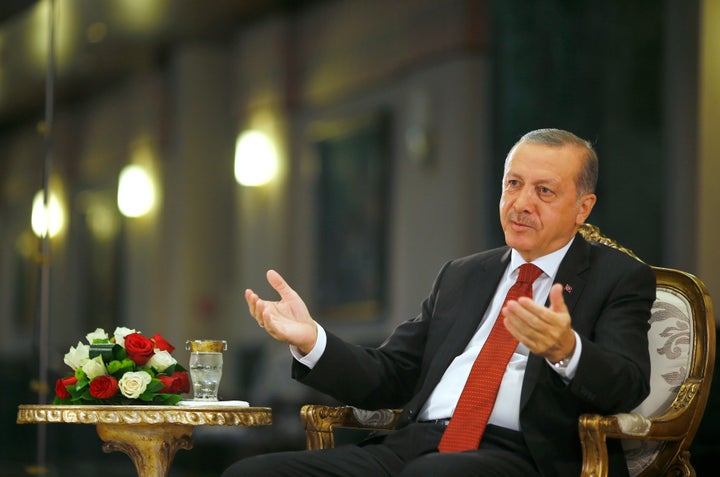 While the exact chain of events that led to a faction of the military attempting to overthrow the government last week is unclear, Turkey's government has focused on suspected Gulen supporters since the failed coup. The cleric has denied any involvement in leading or planning the putsch, but Erdogan has for years viewed Gulen's movement as a danger and now appears to be taking the opportunity to crack down.
"The purges suggest the net is cast extremely wide and the presumption is guilty by association rather than innocent until proven guilty," Stein says.
Along with creating a climate of fear and distrust in Turkey, Stein says that another effect of the purge will be many parts of the state bureaucracy grinding to a halt as workers hesitate to make any controversial decisions or do anything that could draw unwanted attention. The military now also faces serious deficits and divisions after the detention of thousands of its soldiers, including dozens of senior officers in key roles.
Rights groups have voiced concern that Turkey's actions this week show human rights are under threat, as the country mulls bringing back the death penalty. European Union leaders this week warned against such a move, saying it would scupper Turkey's attempts to join the EU, and are encouraging Erdogan to consider a proportional response to the coup attempt.
There is no sign that Erdogan's purge has an end in sight, however, as a state of emergency took effect in Turkey on Thursday. This measure allow the country's government to suspend and limit certain rights and freedoms, giving Erdogan an even stronger hand to oust opponents.
"The aim of the declaration of the state of emergency is to be able to take fast and effective steps against this threat against democracy," Erdogan said on Wednesday.
When the mass firings and detentions seen in Turkey this week do eventually slow down, analysts explain that the country will still be unstable with gaping holes left in its state and academic institutions following the removal of so many professionals.
"It's the million dollar question," Stein says. "How does Turkey then begin to pick up the pieces from these massive purges, and how long will it take?"
Calling all HuffPost superfans!
Sign up for membership to become a founding member and help shape HuffPost's next chapter
BEFORE YOU GO
PHOTO GALLERY
Aftermath Of Turkey's Attempted Coup