A retired forestry engineer named Huseyin Cetinel decided to spruce up the neighborhoods of Findikli and Cihangir in Istanbul, devoting four days and $800 dollars to redecorate a massive staircase in rainbow hues. The local community fell in love with the newly adorned pedestrian passageway, tweeting up a storm of praise for the guerrilla beautification project.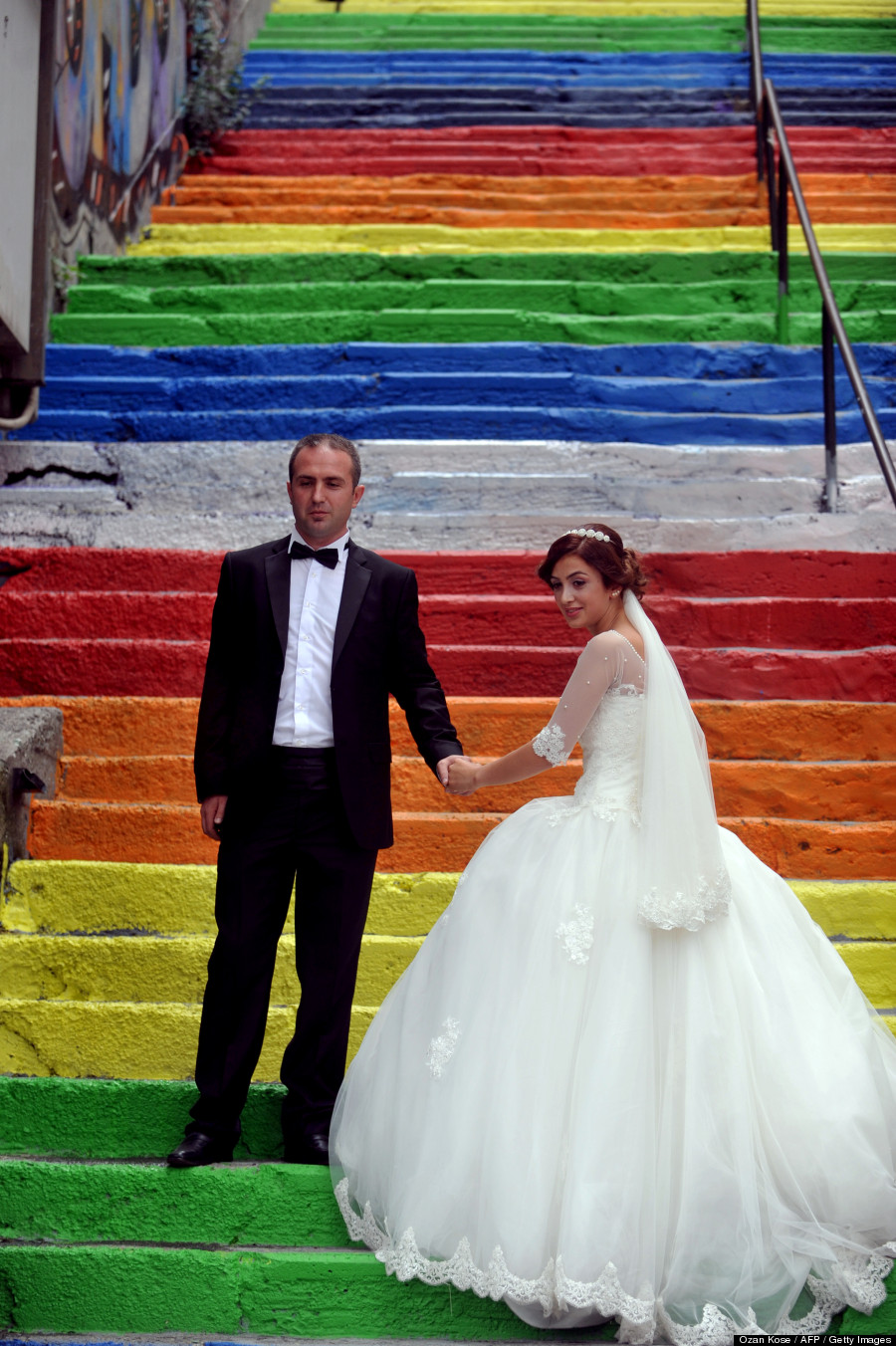 Tourists flocked to the impromptu artwork for ample photo ops, one newlywed couple even choosing the site for their wedding photos. The LGBT community hailed the stairway as well, seeing in the multicolored flurry a giant gay flag. Yet despite resulting political implications, Centinel's goal was quite simple. "I didn't do it for a group or as a form of activism. I did it to make people smile," Cetinel told Everywhere Taksim.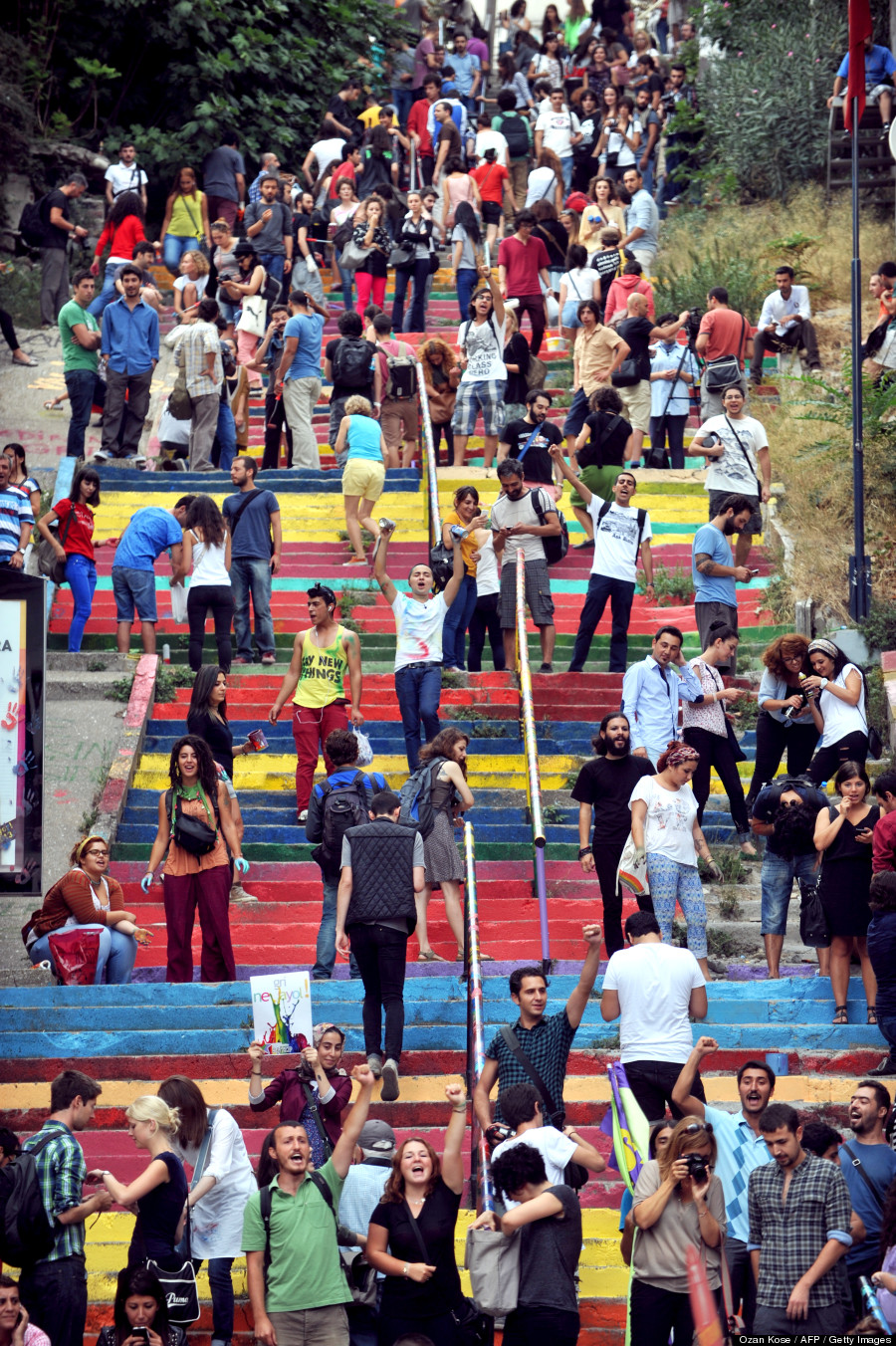 This government intervention was not the end of the saga of Turkey's rainbow steps. In an act of multicolored defiance, residents joined forces on Twitter and repainted the steps to the height of their rainbow-bright glory. Residents of other nearby neighborhoods joined in as well, adding a colorful flair to their local staircases.
See the inspiring project, its artists and its fans below.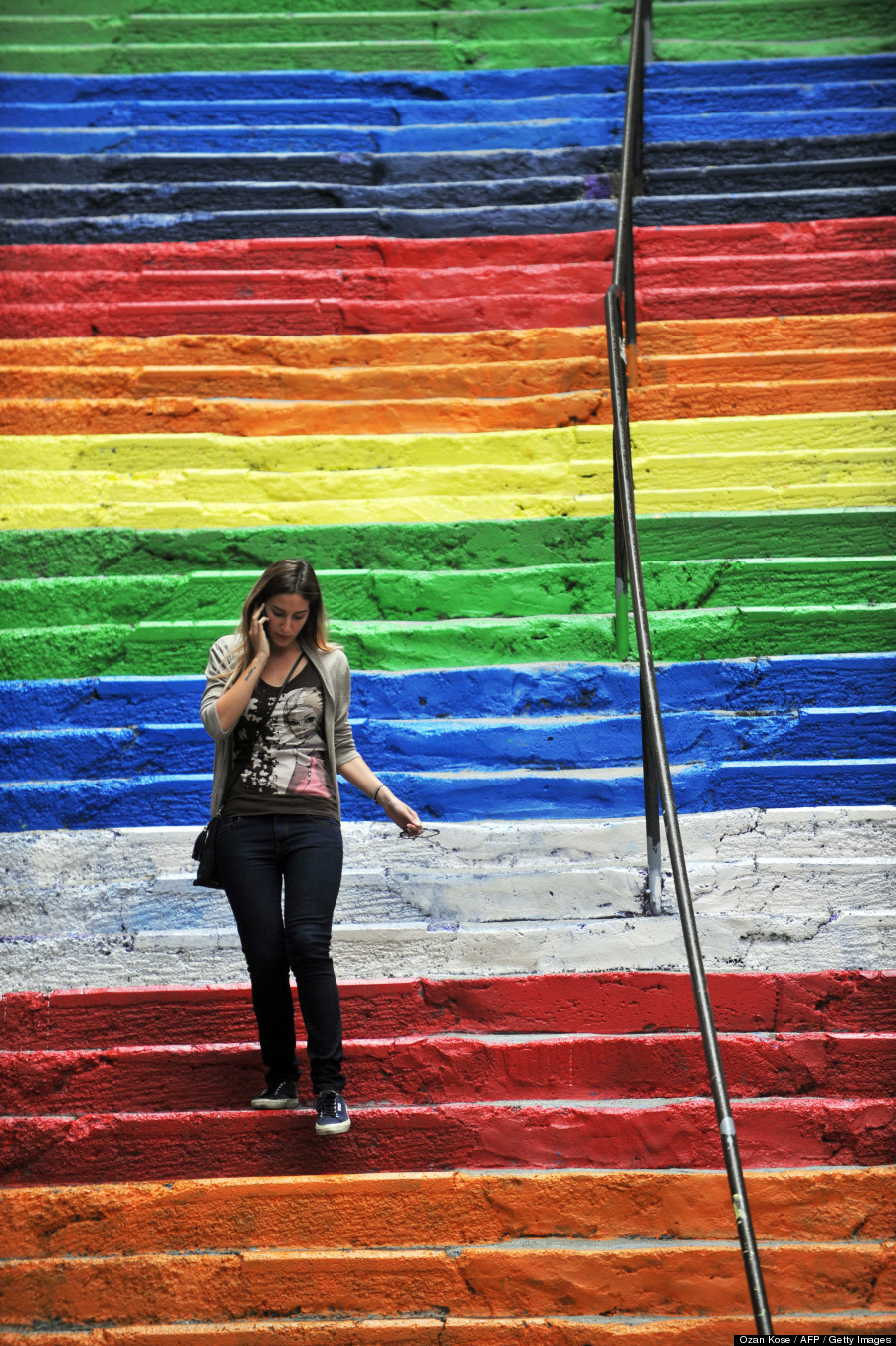 A Turkish woman takes pictures of rainbow-colored stairs on August 31, 2013 in Istanbul. Stairs in the Cihangir and Findikli neighborhoods, which attracted attention after being painted in rainbow colors by a local man on August 27, were all painted grey on the night of August. 29, and following comments on social media, the municipality of Beyoglu immediately painted them again in rainbow colors. (Ozan Kose / AFP / Getty Images)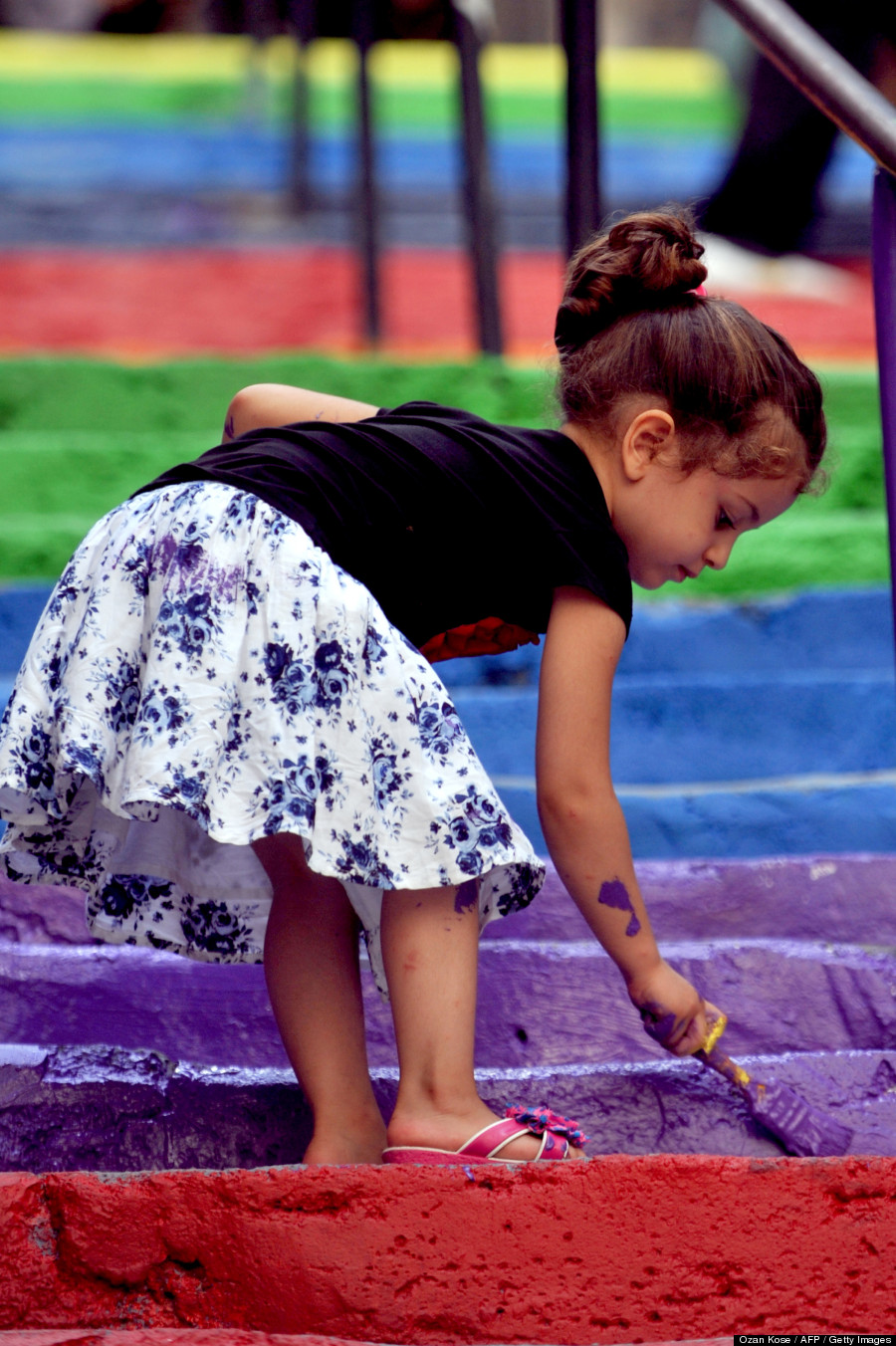 A child paints rainbow-colored stairs on August 31, 2013 in Istanbul. Stairs in the Cihangir and Findikli neighborhoods, which attracted attention after being painted in rainbow colors by a local man on August 27, were all painted grey on the night of August 29, and following comments on social media, the municipality of Beyoglu immediately painted them again in rainbow colors. (Ozan Kose / AFP / Getty Images)

Young women pose in front of rainbow-colored stairs on August 31, 2013 in Istanbul. Stairs in the Cihangir and Findikli neighborhoods, which attracted attention after being painted in rainbow colors by a local man on August 27, were all painted grey on the night of August 29, and following comments on social media, the municipality of Beyoglu immediately painted them again in rainbow colors. (Ozan Kose / AFP / Getty Images)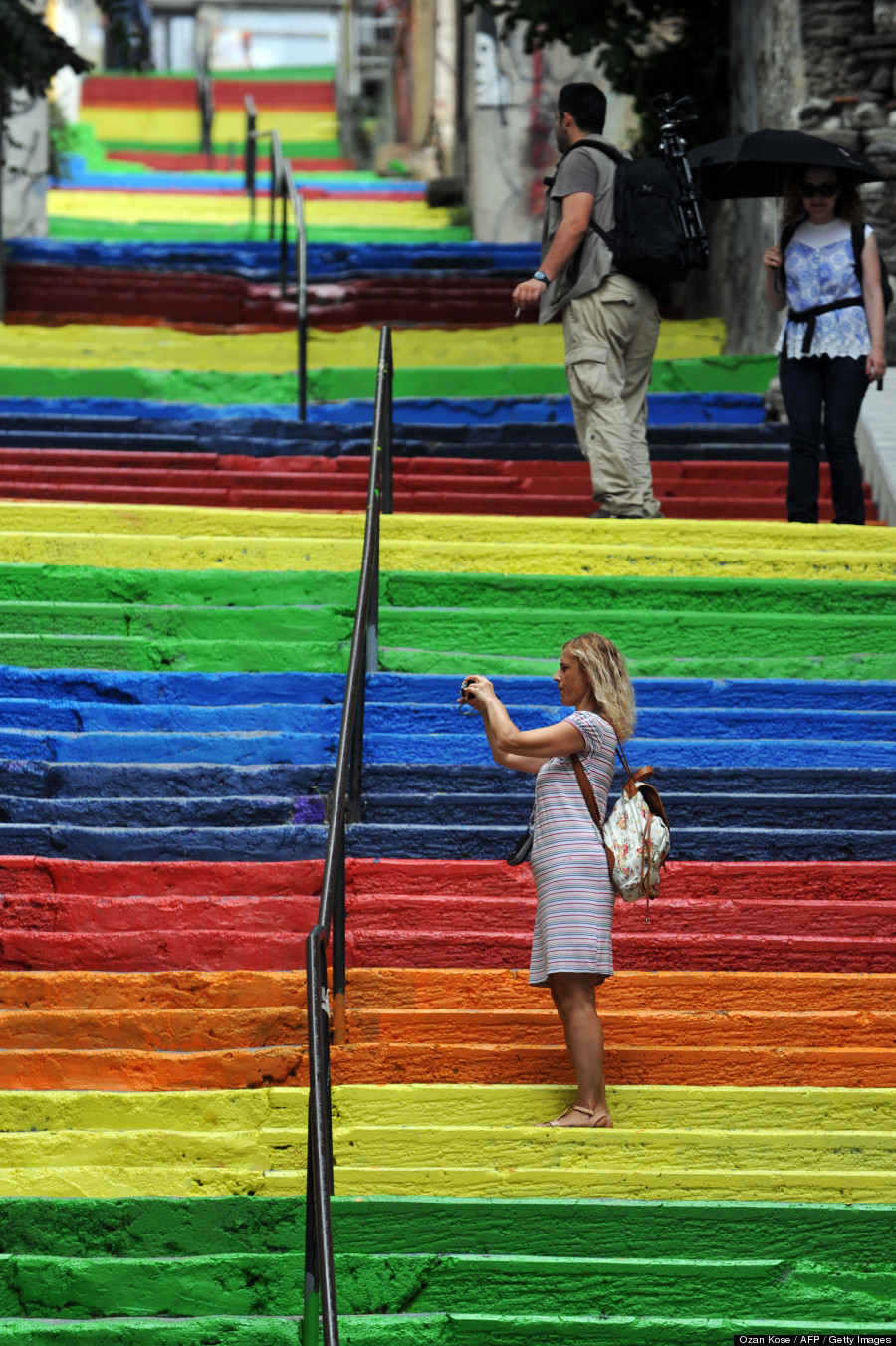 A Turkish woman takes pictures of rainbow-colored stairs on August 31, 2013 in Istanbul. Stairs in the Cihangir and Findikli neighborhoods, which attracted attention after being painted in rainbow colors by a local man on August 27, were all painted grey on the night of August. 29, and following comments on social media, the municipality of Beyoglu immediately painted them again in rainbow colors. (Ozan Kose / AFP / Getty Images)
Related
Popular in the Community