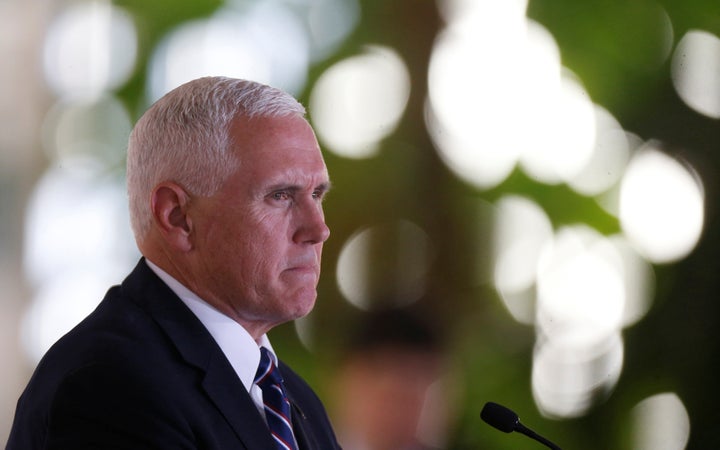 WASHINGTON (AP) — The United States threatened NATO ally Turkey with sanctions Thursday over a detained American pastor held on terror and espionage charges.
Vice President Mike Pence said that if Turkey does not take immediate action to free Andrew Craig Brunson, "the United States of America will impose significant sanctions on Turkey." He spoke at the close of a three-day conference on religious freedom.
Brunson, 50, an evangelical Christian pastor originally from North Carolina, was let out of jail Wednesday, after 1 1/2 years, to serve house arrest because of "health problems," according to Turkey's official Anadolu news agency.
"Brunson is an innocent man, there is no credible evidence against him," Pence said.
President Donald Trump has repeatedly demanded Brunson's release and said on Twitter last week that the pastor's detention was "a total disgrace."
If convicted, Brunson faces up to 15 years in prison for "committing crimes on behalf of terror groups without being a member," references to outlawed Kurdish militants and the network of a U.S-based Muslim cleric blamed for a failed coup attempt. He could receive another 20 years if he is found guilty of espionage.
Brunson strongly denies the charges.
The case has strained ties between NATO allies Turkey and the United States.
Turkish President Recep Tayyip Erdogan has previously linked Brunson's return to the U.S. to the extradition of cleric Fethullah Gulen, the cleric Turkey's government holds responsible for the failed July 2016 military coup.
Gulen, who denies orchestrating the coup attempt, lives in Pennsylvania. Turkish requests for his arrest and extradition have not been granted.
At the end of a recent hearing, the court inside a prison complex in western Turkey rejected Brunson's lawyer's request that he be freed pending the outcome of the trial. The case was adjourned until Oct. 12.
Popular in the Community