I have long found Turkey one of the most exciting destinations in (and around) Europe. We have two shows on central and western Turkey that date back to the turn of the century, and it's time to update things.
Everyone talks about "tough economic times" these days. It's human nature and it'll be that way for the rest of our days. It seems no one is ever rich enough. But, as a traveler, I try to stay apart from all that moping. Turkey is far poorer than the USA but, for the average person and compared to any time in history, Turkey is booming. I am very happy for the country -- even though that means a little of the romantic shabbiness I find so attractive is a thing of the past. Our old TV shows focused on that shabbiness. It's my nature as a travel writer to look for the rustic, old-fashioned, odd bits that fall through the cracks. I am doing my best to be more honest about Turkish society on this shoot. It is a success story, and we'll show it that way as we dedicate 12 days to making two new shows.
Our first program starts in the cruise port of Kusadasi, ventures inland to the great ancient sights of Ephesus and Aphrodisias, then travels to the religious and conservative city of Konya (home of the dervishes), and finishes with a little cruise from the Mediterranean resort of Antalya. The second episode focuses on Cappadocia and the modern capital of Ankara. This happens to be exactly what we cover (along with Istanbul) in our popular Turkey in 13 Days tour.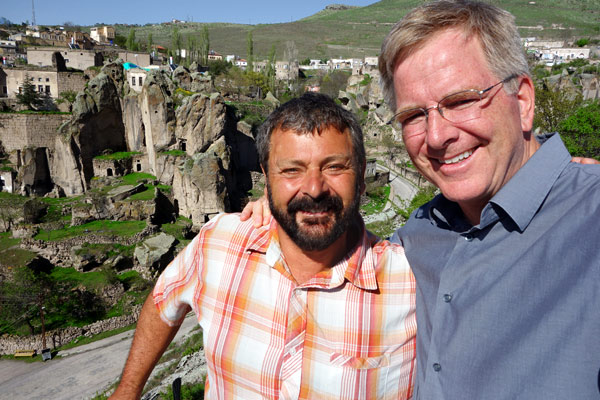 Simon Griffith is my producer. Even though he's a Kiwi, he has an amazing sense of style and a dazzling work ethic. Simon is with me during every minute of TV production in Europe (about 100 shows...that's 600 days since the year 2000). Then he lovingly oversees the post-production work so that we get great shows out of all our hard work in the field. Here we're overlooking the ancient town of Guzelyurt.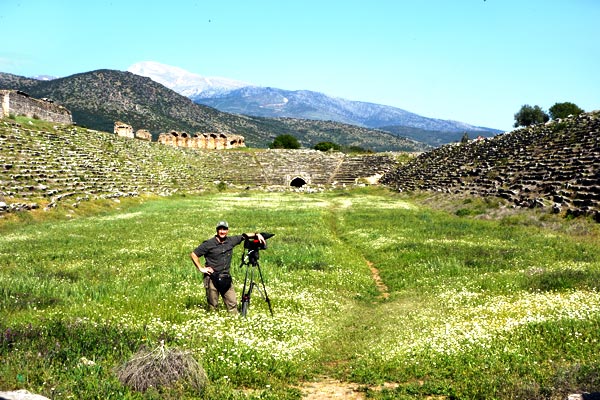 Karel Bauer is an independent cameraman from Seattle, and we book him for about a month of shooting a year. Karel shoots the majority of our shows, and he's endlessly curious about all things cultural -- from cuisine to language to art. I've never second-guessed Karel's ability to frame a shot beautifully. And he's good at reminding me to suck in my gut so I look like I'm in better shape than I really am. Here, Karel looks ready to sprint the distance with all his gear as we are literally all alone in the ancient stadium at Aphrodisias near Denizli.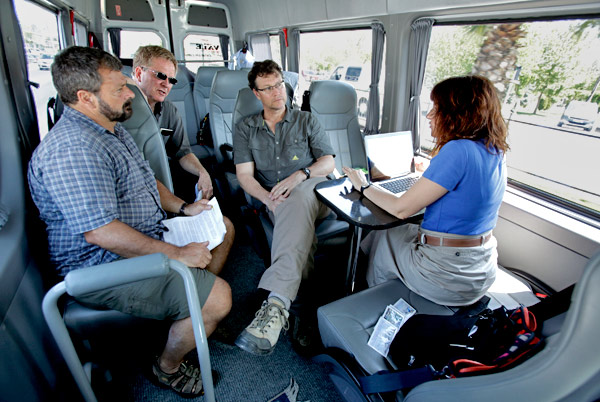 This is shaping up to be the smoothest shoot in memory as the Turkish tourist board provided a wonderful van and driver. Lale Surmen Aran (who, along with her husband, Tan, runs our Turkish tour program) capably did all the permissions groundwork. With Lale's brilliant guiding, we were able to shoot everything we wanted and described it with confidence. Photo credit: Dean Cannon.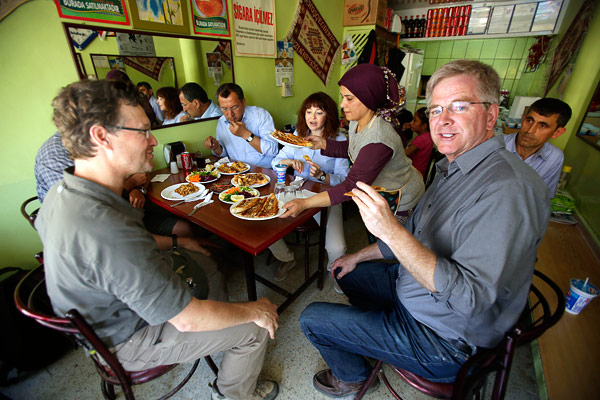 While lots of what we shoot are the predictable famous sights, we made sure to pop into no-name towns that had never seen an American tourist, ambush the local pizza joint, and have fun working it into our program. A delightful dimension of traveling in Turkey is the serendipity that is almost predictable when you venture off the main roads. Photo credit: Dean Cannon.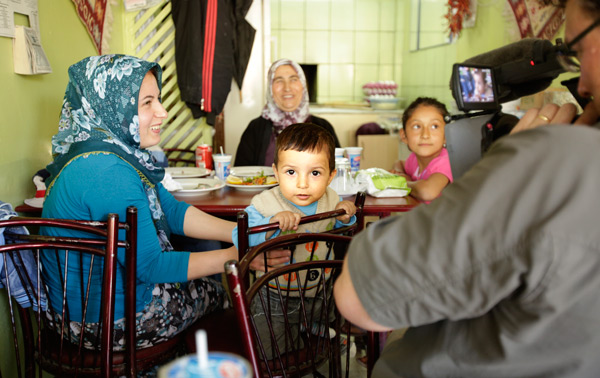 Different cultures react to a big camera differently. Karel was impressed by how at ease Turks were with our camera. We made a point in this shoot to get lots of local portraits that we'll weave into a powerful beauty sequence. Photo credit: Dean Cannon.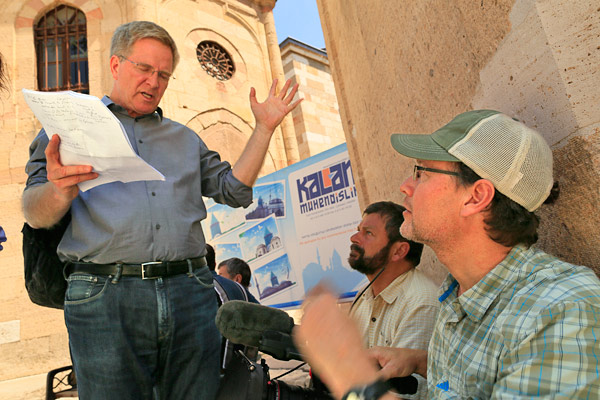 People often ask me what's my favorite part of my work. It's tough to choose an absolute favorite, but it might be the creative process for my TV show. It starts with a rough script and then, in a six-day scramble, we work to polish it into the best 3,200 words for a 30-minute show -- doing it with all the fun we have in our travels. The collaboration with Simon and Karel, who are quick to jump in and torpedo ideas of mine that deserve torpedoing, is a big part of the fun. We can debate a line. I can be outvoted and be tempted to keep it anyway. But, I know that -- for the love of art -- in the editing room Simon gets the final say. We have a saying for when I have to cut a cute little bit that I'm attached to but is not good TV -- "killing your baby." When I finally realize it will not survive and I scratch it out, Karel has an annoying habit of making a little baby whimper. Photo credit: Dean Cannon.