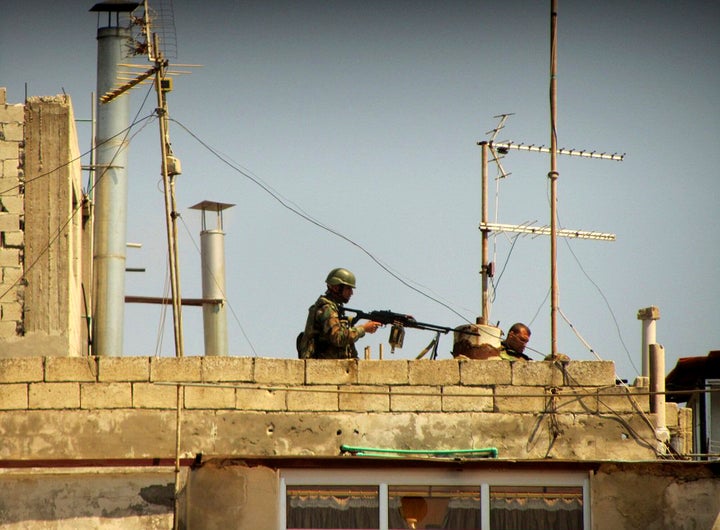 The striking characteristic of the democratic revolutions sweeping the Arab world is how they all began domestically with grassroots organization, but are now entering a darker, more violent phase where international actors become critical.
The stakes are especially high in Syria, which sits at the center of the Arab world and has been a source of much of the region's unrest for decades. Syrian president Bashar al-Assad has launched a brutal crackdown, arresting protesters, invading cities and ''disappearing'' journalists.
The United States, European Union and others have condemned Assad -- to little effect. The missing international voice has been Syria's northern neighbor, economic benefactor and the Middle East's newest regional power: Turkey. The government of Turkish Prime Minister Recep Tayyip Erdogan has spent the last decade building up a friendly relationship with Damascus by cultivating economic and political ties. Erdogan should to use some of that goodwill to convince Assad to halt the attacks. Indeed, Turkey is uniquely suited to make a difference.
Since 2002, Turkey has invested more in its rapprochement with Syria than with any of its other neighbors, transforming its relationship from one of military confrontation rooted in Cold War-era geopolitical animosity to close economic partners today. The transformation has been a shining example of Turkey's ''zero-problems'' policy toward its neighbors. Aleppo, an entrepreneurial trading hub on the ancient silk road in Syria's north and the country's second largest city, has been reconnected to Turkey's southeastern province of Gaziantep through new border, rail, and road connections. This has led to an economic boom with Turkish tourists and investment pouring in. Until recently Aleppo seemed the model for the rest of Syria.
Those economic ties can provide crucial leverage. Syria's economy is in tatters and in need of reforms, regardless of the outcome of the protests. Unless Syria wants to follow the path of North Korea as an international pariah, which is nearly impossible because of its porous borders and central geographic location as a regional crossroads, Damascus has little choice but to look to Ankara for economic help. Stability -- or in reality, status-quo maintenance -- has been the mantra of Ankara's dealing with the Syrian crisis. But Ankara must incentivize the regime in Damascus to make way for the meaningful reforms including economic liberalization, representative elections and transparent application of rules of law that the protesters are demanding.
By speaking frankly and firmly to Damascus about first calling off the regime's security forces and developing a roadmap toward democracy in Syria with clear economic incentives, Ankara stands the best chance of being heard. As the crisis deepens, Erdogan may be the only world leader who can save Assad from his regime's excesses. A speech like the one Erdogan delivered recently against Libyan leader Muammar Gaddafi, coupled with sanctions that singled out Assad's regime, would deal a blow to Damascus domestically and internationally that it could ill afford to ignore.
The uprisings of the Arab Spring have proven a deep challenge to Turkey, which has spent the last decade strengthening regional ties and promoting itself as a beacon of Middle Eastern democracy. Now, Turkey sees that regional credibility being put on the line with every suppressed protest. At the start of the Arab revolutions, Erdogan tentatively placed Turkey on the side of the pro-democracy movements starting with Tunisia and then Egypt. Turkey was the first country to call for Egyptian President Hosni Mubarak to step down at a time when other leaders, including President Obama, were hedging their bets. However, Turkey's role as an ''inspiration'' was put in jeopardy a few weeks later as a result of its initial reluctance to criticize Khadafy.
Turkey's eventual flip-flop on Libya -- earlier this month Erdogan called for Gaddafi to step down -- was an acknowledgement that sometimes, hard power has to be used when autocrats refuse to be swayed by the kind of soft power that democrats would have heeded. Echoing his earlier words about Tunisia and Egypt, Erdogan warned, ''We don't want to live through new Halabjas, new Hamas and Humus, new Bosnias.'' Erdogan's belated scolding of Gaddafi will hopefully be understood as a warning to Assad, too. ''Leaders must take responsibility, make sacrifice, choose the humane and conscientious path with a view to changing the face, fate and image of these lands,'' Erdogan told Gaddafi. Turkey should deliver the same message to Syria.
Joshua W. Walker is a postdoctoral fellow at the Crown Center for Middle Eastern Studies at Brandeis University and a research fellow at the Belfer Center at the Harvard Kennedy School.
REAL LIFE. REAL NEWS. REAL VOICES.
Help us tell more of the stories that matter from voices that too often remain unheard.