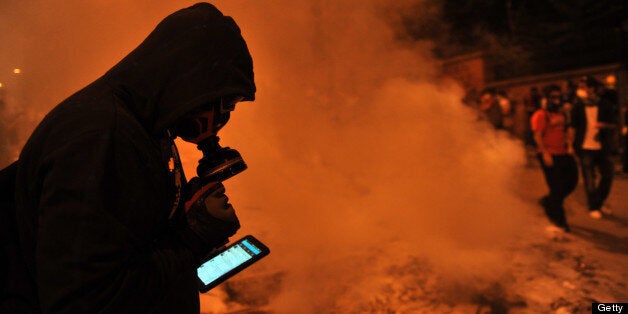 By Steve Dorsey/The Media Line
ISTANBUL, Turkey – In between the boisterous chants calling for Prime Minister Recep Tayyip Erdogan's resignation, the protestors at this city's Gezi Park glance at their Smartphones to quickly browse Twitter for reliable, uncensored news.
The social media stream has become an important means of communication within the Turkish uprising that began in late May as part of efforts to stop the cutting down of trees at the park and replacing them with a mall.
Ayca Malpoc has been camped out in a small tent at the back of the park, near the towering Intercontinental Hotel since almost the beginning of the demonstrations, when getting the real facts about them was practically impossible.
"It was very hard," she told The Media Line. "I have a friend in London and he always texted me. And I learned the news from him."
The Turkish television channels have shown almost none of the protests in their country. At one of the most intense moments, when police forces clashed with protesters here, cars were overturned and buildings torched, one Turkish TV news channel continued to show a documentary on penguins. Those protests now appear to be among the most significant events in modern Turkish history.
Erdogan's opponents also accused other TV channels and newspapers of either neglecting to seriously cover the protests or downplaying them.
"Our professional responsibility is to report everything as in the way it happens," Cem Aydin, the CEO of Turkish media conglomerate Doğuş, which owns the television channel NTV, told reporters at a staff meeting. "The pursuit of balance within the imbalanced environment affected us as it did the other media outlets. Aydin also reportedly added the channel has "an opportunity to refresh our relationship with our audience."
The behavior of the country's print and electronic media was in keeping with the non-profit Committee to Protest Journalist's (CPJ) labeling Turkey as a threat to independent journalism, imprisoning more journalists than any other country. The latest figures show from 2012 show that Turkey has 49 journalists behind bars. So for an alternative source of information, Turks turned to Twitter and other social media like Facebook, Ustream and Vine.
"Social media are the key to this movement. Because Turkish television didn't show anything," Melih, a protester who would only give his first name told The Media Line.
Protesters directed their anger over this poor coverage at TV news crews who did show up at protests, overturning the crews' cars and gathering outside their Istanbul offices.
Despite the calls for better coverage from the Turkish media, it's still hard to come by. At least six Turkish newspapers ran the same headline for a front page story backing Erdogan on June 7. The headline read "Democracy Demands Sacrifice."
With little reliable, non-politicized coverage available from the usual media outlets, many Turks have embraced social media sources like Twitter.
"I wasn't very good at using Facebook or Twitter, but after this 'occupy' protest I've become very good at it," protester Burcu Atar told The Media Line
The Turkish protests have been a boon for Silicon Valley-based Anchor Free that sells the application "Hotspot Shield," allowing anonymous Internet surfing through a virtual private network. The ap basically hides your computer's information allowing you to sneak around internet]. Downloads of the software jumped 1,000% to almost 100,000 by the beginning of the month.
A company statement said that the application allows people to safely avoid what it called "government censorship" by enabling access to restricted Websites like Facebook and Twitter.
"When people are fighting for the right to freedom of information, Hotspot Shield is a clear enabler," AnchorFree CEO and Founder David Gorodyansky told The Media Line by e-mail.
Gorodyansky said the application was also instrumental in 2011's Arab Spring protests.
There were reports of access to sites like Twitter and Facebook being blocked within Istanbul, but they have been difficult to verify. The government denies the reports. Nevertheless, government leaders have been critical of social media coverage of the protests. Even Erdogan himself recently branded Twitter as a "menace."
Other government leaders, however, have worked to use social media to their advantage.
After European Union (EU)Commissioner Stefan Fule criticized the Turkish government's response to the Istanbul protesters, during a conference with Erdogan on June 7, Turkey's EU Minister Egemen Bakis fired back on Twitter, defending the government.
Other supporters of Erdogan, including what appears to be his party's official Twitter account for its "youth branch foreign affairs" have also been blasting Turkish and foreign journalists critical of the government's response to the demonstrations.
One response to a Turkish newspaper reporter read: "Taksim is not Tahrir. Erdogan is an elected prime minister, not a dictator.
Nonetheless there can be no denial that all sides in the current unrest have found the social media valuable allies. What's certain is that already is serving as a new catalyst for communications with millions of Turks hungry for information.
Support HuffPost
The Stakes Have Never Been Higher
Related
Before You Go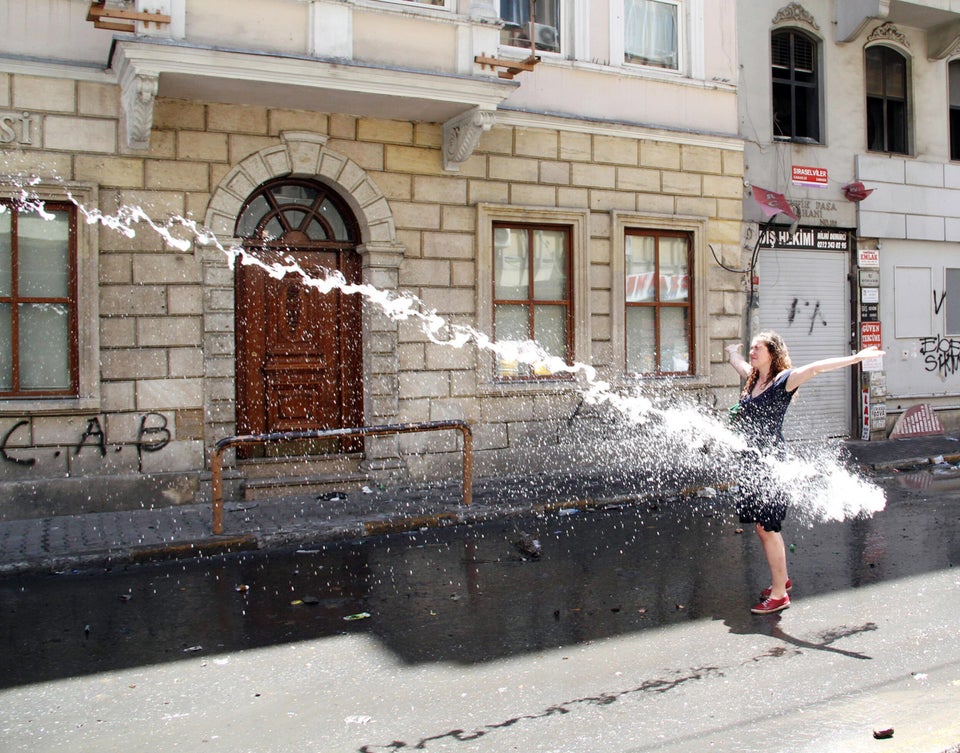 The 10 Most Epic Photos From #OccupyGezi
Popular in the Community