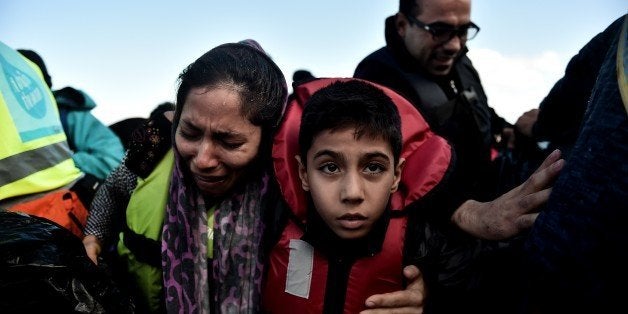 Turkish merchants and human smugglers are providing a service, profiting from refugees transiting through Turkey to Greece and sanctuary in Northern Europe. More problematic, however, is Turkey's official policy. President Recep Tayyip Erdogan is demanding funds and other concessions from the European Union (EU) in exchange for cooperation with the EU's refugee action plan.
Even when it comes to refugees, demand defines the market.
When refugees arrive in Turkey, they hire cars or buy bus tickets to Izmir, Bodrum, and other points of departure. They rent hotel rooms, sometimes at inflated prices. They stock up on supplies for the trip to the Greek island of Lesbos. Exorbitant fees are charged to recharge cell phones.
Smugglers charge between $1,200 and $1,500 per adult. Infants go for free. The perilous journey uses an inflatable motorized dinghy.
As many as 537,000 migrants and refugees have crossed into Greece so far this year. About 9,600 people arrived from Turkey each day last week.
Web sites describe the sea voyage, reception centers for asylum seekers, and transit through corridor countries to Germany and Scandinavia. Turkish authorities turn a blind eye. If Turkey was serious about cracking down on smuggling, it would block the smugglers' Web sites, the same way it does to the sites of pro-democracy and human rights groups.
The Turkish government bemoans the costs of assisting refugees. According to Turkish officials, Turkey provided shelter to more than 2 million refugees since 2011, at a cost of 8 billion euros.
Individuals have generously extended a helping hand to Syrians seeking sanctuary on their lands. However, Turkish generosity has its limits. Turks never imagined Syria's civil war would last so long.
While many Turks deserve commendation, it is hard to sympathize with the Turkish government. At the outset of the crisis, I offered, on behalf of a leading refugee organization, to arrange assistance for the set-up of displacement centers and camp management in 2012. A senior Turkish official replied: "Give us the money. We will take care of it ourselves."
Today, Erdogan is preying on European fears of being overwhelmed by migrants and refugees. Not only is he seeking $3.5 billion in exchange for preventing refugees from leaving Turkey. He demands visa liberalization for Turkish passport holders. He also wants the EU to fast-track Turkey's candidacy for EU membership.
A Turkish scholar (who wishes to remain anonymous because he fears retribution) calls this "a dirty deal." He alleges that Turkey is looking to profit from the situation. Keeping refugees in Turkey, denying their dream of a better life in Europe, is not a durable solution. Refugees have few prospects in Turkey, where they cannot work or integrate into local communities.
Europe's refugee crisis is partly a result of Turkey's Syria policy. When President Obama failed to back his tough talk about regime change in Syria, Turkey expanded assistance to Sunni groups including jihadis. Turkey's National Intelligence Agency was the mid-wife of the Islamic State, providing weapons, money and logistical support to fighters transiting through Turkey to the battlefield in Syria.
Turkey is not the only country with responsibility. Though Qatar and Saudi Arabia support proxies in Syria's civil war, neither has accepted a single refugee. Hungary has erected a razor wire fence. Other corridor countries are overwhelmed by the human wave and episodically closed their borders.
Turks are responding to market forces. Sadly, some Turks are emulating their leader. Erdogan sets a low standard. He is not known for a compassionate character.
The EU should make funds for Turkey contingent on the government's performance, with benchmarks for integrating refugees into Turkish society. All of Europe, including Turkey, has a legal and moral responsibility to provide for war-torn victims. Rescue and resettlement are more noble that profiteering from human misery.
David L. Phillips is Director of the Program on Peace-building and Rights at Columbia University's Institute for the Study of Human Rights.
Calling all HuffPost superfans!
Sign up for membership to become a founding member and help shape HuffPost's next chapter