If there is anything that could be called the Turkish Dream, then it might have been materialized in the life of Acun Ilicali, Turkey's self-made TV mogul.
After a below-average performance as a high school student and a total failure in the university, Ilicali, now 44, had initially failed as a blue jeans salesman, lost his parents in a car crash and his best friend in an accident with the motocycle that he drove, almost killed himself, got a messy divorce and finally tried to settle down in life by applying to a job as an intern at Kanal D, a mainstream television, where he could manage to get only thanks to a friend at court.
Climbing the career ladder at a dizzying pace in 17 years, Ilıcali, who had a salary of 200 Turkish liras ($100) back in 1996 as a football reporter, has bought his own television station for $70,000,000 last month, one year after authorities announced him as one of the highest taxpayers in Turkey.
How could a miraculous comeback like this be possible? Was Ilicali such an outstanding football reporter?
Not at all.
During the 1998 FIFA World Cup in France, for instance, Ilicali was supposed to brief the viewers of his TV with a live telephone call. "Good evening from Paris," he had told before explaining that the awkward "chants" in the background were the Brazilian fans who celebrated their team's victory.
In reality, as confessed by himself years later, Ilicali was not even in Paris then. He was at a birthday party in Istanbul and those "Brazilian fans" were actually his Turkish friends faking a stadium crowd.
As such, Ilicali owes his incredible success in the 2000s not to his immaculate journalism, but to his communicative character, which can be oversimplified either as a jack of all trades or a jackass. From the very beginning, he has not been producing any "news" about anything.
Famous footballers, including those who were globally known, were just opening the doors of celebrities who provided him with valuable information and connections in Turkey. While globetrotting for his travel segment inside a popular "football magazine" program, he also become acquainted with successful TV shows and their makers abroad, including Deal or No Deal, The Voice, Got Talent, Survivor, Fear Factor and Dancing with the Stars.
This led him set up his own production company to import these programs to Turkey and by almost intuitively predicting the viewer demands and the developing trends, he dominated the ratings wherever he went, maybe in the same vein with Simon Cowell.
TURKEY'S SIMON COWELL
So, the Turkish Dream, from the perspective of one individual, can be something real. However, it doesn't necessarily mean that this is a dream situation for Turkey's faltering democracy, too.
In one epic segment, the Newsroom's Will McAvoy explains that "nothing is more important to a democracy than a well-informed electorate," echoing Thomas Jefferson's words:
As Turkey's media inches closer to Central Asian norms and violations of press freedoms even intensified after the Gezi Park protests, another danger that is embodied in Ilicali's "dream" turns into a real threat, reminding me of McAvoy's tirade.
This danger is what I called the "de-newsification."
TV8 was one of the last strongholds of decent journalism on the Turkish TV, at a time mainstream cable news stations were hesitant to cover important political events. "We come to the end of a 15-year-long journey. It's time to weigh the anchor," TV8's anchorman Kaan Yakuphan told on November 19, after presenting the last evening news.
The first decision of Ilicali as the new owner of this channel was permanently closing down TV8's newsroom. "We'll create a channel that will give happiness to the people. TV8 will not broadcast any news," Ilicali had announced. 40 journalists from TV8 had to check the bulletins on the walls and learned that they were all laid off.
Birilerinin gülmesi için birileri ağlıyor. TV8 i alan ACUN çalışanlarını listeye asarak kovdu. http://t.co/Zrqv11NqOV pic.twitter.com/akk6IUQzVm

— Asabi Penguen (@AsabiPenguen) November 20, 2013
Ilicali's "sharp opening" at the helm of his TV station might be more about minimizing political risks than a full dedication to an entertainment-oriented broadcast. He is also known with his close ties to Prime Minister Tayyip Erdogan, whose threshold of tolerance is obviously not very high.
"Our Prime Minister's greatest feature is his naturality. He doesn't put on an act. I think that this quality is one of the reasons of my success, too," Ilicali once told. He also appeared on a biopic propagating for Erdogan and condemned the Gezi Park protests as a foreign conspiracy. Acun Medya, Ilicali's corporation, didn't return my calls requesting comment.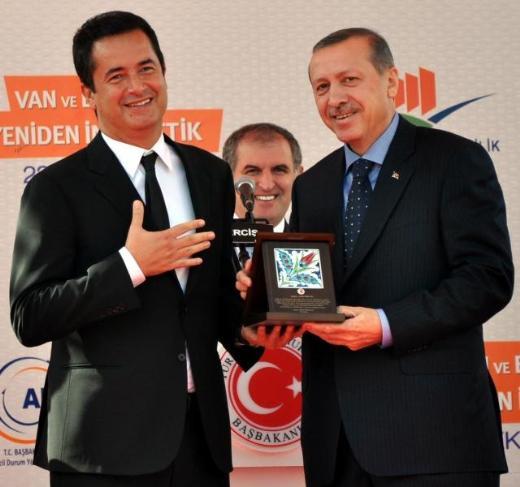 American broadcast journalist Edward R. Murrow claimed in 1957 that "if television and radio are to be used to entertain all of the people all of the time, then we have come perilously close to discovering the real opiate of the people." Today, Ilicali cannot be blamed to make such a commercially-successful discovery, but the Turkish society should be aware of many perils.
TV IS THE MAIN SOURCE OF NEWS
On December 4, I participated in a luncheon in Istanbul where the results of the latest survey by Kadir Has University were announced. The main theme of the survey was the public perception of Turkey's foreign policy, but one question was also revealing that 82,1 percent of Turks still get their news from the television.
And what do these people see when they tune in? Prof. Sengul Ozerkan of Marmara University, one of Turkey's leading scholars on journalism and political discourse, explained to me:
In the past, 45 minutes in the prime time were reserved mainly to political news. And when it ended, many viewers were zapping to other channels to get even more political news. Today, everything is different. Only 10-15 minutes of 'political information' without any commentary to contextualize it is followed by mere human stories, crime reports and whatever is popular on the Internet. The news is emptied of meaning.
Besides hard news bulletins, there were many current affairs programs and various platforms for investigative journalism in the 90s. Arena was the flagship of this kind of broadcast journalism. It was aired for 20 seasons.
Today, mainstream private TVs are full of entertainment, but they don't have even one program like Arena, which served to the public interest by investigating everything from large-scale political corruption stories to the small-time case of a street bakery infested by insects.
In the media environment where Acun Ilicali rose up, the award-winning Arena's host Ugur Dundar, who remained as the most reliable Turkish journalist according to public surveys for decades, was fired from mainstream TVs and had to take refuge at Halk TV, a small opposition channel. I asked about this to Prof. Haluk Sahin, the very first Turkish scholar with a mass communication PHD.
NO INVESTIGATIONS, NO SCOOPS
According to Sahin, who co-produced Arena with his close friend Dundar, the AKP government created financial instruments to "crane" TV stations to pro-government businessmen and reorganized the rating system, as well as the ad-sharing structure, to the detriment of critics.
"It has become a byword that Prime Minister's advisors even meddle to have a say on which guests should appear on debate shows. Under the circumstances, it's extremely hard to do investigative, critical journalism, as you should take the risk to pay a price and labelled as marginal," Sahin said.
To conclude, removing the news from the Turkish television, especially as it is becoming a trend with an influential industry leader now, is a danger for Turkish democracy.
However, it's wrong to scapegoat Acun Ilicali, as he proves himself as a businessman and entertainer; not a journalist, but a former blue jeans salesman.
Hence, like Will McAvoy tells in that epic segment on The Newsroom, the politicians who failed to create a healthy media environment are those who should be blamed and called to account in Turkey now.