Many adults have fond memories of the Roger Duvoisin's silly goose named Petunia (Random House, 1950)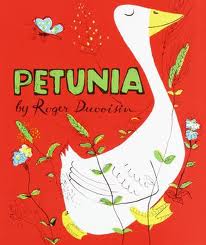 or those Boston Public Garden ducks made famous by Robert McCloskey in Make Way for the Ducklings (Viking, 1942). But ask an adult or child to name a famous turkey in children's literature and most will come up blank.
Poultry has long had a place in children's stories going back to the Russian folktale of the industrious Little Red Hen which entered popular cultural via the memorable edition by Golden Book or the cautionary tale of the famed Henny Penny AKA Chicken Little proclaiming "The sky is falling". Way back in 1843 Hans Christian Andersen wrote the fairy tale, The Ugly Duckling who turns into a swan. The swan does fall into the poultry category.
Even today, children have more contemporary fowl to admire. There is Doreen Cronin's duck who runs for political office in Duck for President (Simon & Schuster, 2004) and celebrity author Harvey Fierstein's The Sissy Duckling(Simon & Schuster, 2002) that was actually made into an HBO special.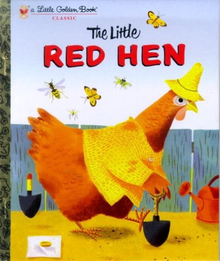 Alas, the poor turkeys gets little play from children's authors. The only use of turkeys is as a character who runs afoul of pilgrims or is trying to avoid a place on not at the diningroom table.
To give some positive exposure to the turkey, I have compiled some books of which most of you may be unaware and I hope you will share one or more with a child. However, not before Thanksgiving dinner!
Give the Turkey Their Day in Kid's Books - Which will you read?
Related
Popular in the Community