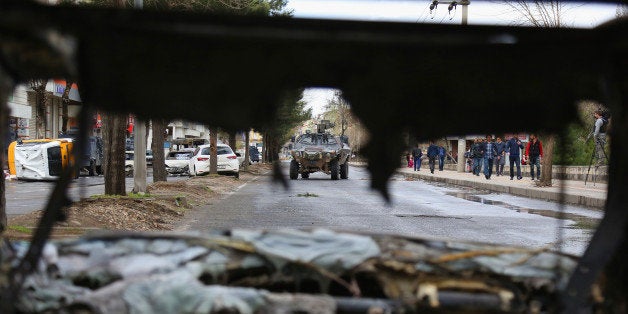 With the U.S. presidential election and ongoing turmoil in the Middle East filling news cycles, scant attention is paid to inimitable U.S. ally and key NATO member -- Turkey. The country, which bridges Europe and Asia, is essential to security in the Middle East, the Balkans, the Black Sea, and the Caucasus, by virtue of its geography and Western orientation. Today, Ankara is fighting a three-pronged war -- with scarce support from the U.S.
The flood of Syrian refugees is putting enormous economic and security strains on Turkey. Coupled with ongoing terrorist attacks by ISIS and radical Kurdish nationalists, there is a growing threat to the stability of a key U.S. ally in a region beset with chaos. Perhaps most sinister among its security threats is the infiltration of radical Islamic cleric Fethullah Gülen's movement into the fabric of Turkey's government and society in an attempt to usurp the democratically elected government and to impose a Shar'ia Law-inspired system on a moderate state. The Gülen Movement, officially designated as a terrorist organization, possesses a vast network of schools, nonprofit organizations, media outlets, and businesses in Turkey, the U.S., Germany and other nations.
Just this week, a Turkish court took steps against the Gülen Movement when it ruled that impartial administrators be appointed to take over the operations of the Gülen's media juggernaut, including the flagship Zaman newspaper, which engaged in unacceptable media practices and promoted Gülen's Islamist policies.
With the goal of undermining constitutional order in Turkey, Gülen has spent vast sums of his fortune, estimated at $25 billion to infiltrate government, media, schools, business, law enforcement and the judiciary system with his disciples. Simultaneously, he targeted officials who have failed to follow his strict religious line, and has inserted itself into Turkey's education system by running hundreds of schools and 17 universities with the intent of radicalizing children.
Gülen's ambitions, however, go beyond his homeland. He now controls a network of schools in over 100 countries, including the largest network of charter schools in the U.S. Resulting from accusations of tax payer fraud and financial malfeasance, the Gülen movement and schools are under investigation by 22 states and the FBI.
According to U.S. government reports published by WikiLeaks, "Deep and widespread doubts remain, however, about his (Gülen) movement's ultimate intentions. We have anecdotal evidence of the pressure that the various circles of his movement put on people they have drawn in, for instance severe pressure on businessmen to continue to give money to support Gülenist schools or other activities. . . Gülenists use their school network (including dozens of schools in the U.S.) to cherry-pick students they think are susceptible to being molded as proselytizers and we have steadily heard reports about how the schools indoctrinate boarding students."
While the Government of Turkey has declared the Gülen Movement a terrorist organization, Gülen has turned his sights on U.S. military bases, having already opened a schools on one U.S. Air Force base and is currently negotiating to open another.
At a March 1st Congressional hearing on terror financing, Rep. Andy Barr (R-KY) asked witnesses if they've heard of "any unlawful schemes where educational groups may be funneling federal dollars through their non-profit organizations into so-called religious movements?" One witness, former Assistant Secretary of the Treasury for international Affairs, Clay Lowery, now of the Center for Global Development, had in fact heard such things. It is broadly recognized that he was referring, at least in part, to Gülen and his operations.
Adding to the intrigue are U.S. Embassy Turkey concerns, as WikiLeaks reported "...we are concerned by the link with charter schools in the U.S. that have petitioned for marginally-qualified H1B candidates . . . and our posts in Turkey have started compiling a list of these Gülenist charter schools in the U.S. for use in visa adjudication." The obvious questions remain, who are these men and why is the Gülen Movement spending so much time, effort and money on bringing them to the U.S.?

A Congressional investigation is underway looking into Gülen's purported illegal campaign contributions. That investigation expanded into Gülen Movement illegally-funded lavish trips to Turkey for Members of Congress and their staffs through his network of non-profits. Investigators are looking into millions of dollars to congressional and presidential candidates, including huge donations to the Clinton Foundation. It appears that Gülen's manipulation and corruption rule book has crossed the Atlantic and is now undermining the US political system.
To stop this, the Obama Administration must show leadership before it's too late, expanding the investigation of the Gülen Movement. Concurrently, Congress should pay greater attention to Turkish security. Turkey must maintain its role and promise of a reliable, democratic, and prosperous regional leader -- and a key U.S. ally.
Calling all HuffPost superfans!
Sign up for membership to become a founding member and help shape HuffPost's next chapter