"As a woman I have no country. As a woman, my country is the whole world."
--"Three Guineas," by Virginia Woolf
I followed the 58th session of the Commission on the Status of Women at the United Nations for the last two weeks. This year's theme was "Challenges and achievements in the implementation of the Millennium Development Goals for women and girls." Women and girls' access to and participation in education, training, science and technology, including the promotion of women's equal access to full employment, were discussed in several meetings and side events.
I've been attending these meetings for 14 years now. In 2000, at the UN Millennium Summit, world leaders set ambitious goals to be achieved by 2015. They aimed for universal primary education, the promotion of gender equality and the empowerment of women. I remember then-UN Secretary-General Kofi Annan calling on businessmen to invest in the education of women as if yesterday.
One of the side event was held by Turkish Committee: Ms. Gulden Turktan the President of KAGIDER, Women Entrepreneur Association of Turkey, talked about the "importance of partnership of Public and private sector and NGOs in achieving goals." Ms. Aysegul Ildeniz, Vice President and General Manager for Business Development and Strategy, New Devices Group at Intel Corporation, talked about "young ideas for empowering women: Technology as a driving force" and Askin Asan Deputy Minister of Family and Social Policies talked about "Triangular Cooperation for Empowerment of Women: The Best Practice from Turkey" at the side event to explain how they get together to empower women through usage of technology in Turkey. It was impressive to see how unity of women make a difference and how technology can be use as an effective educational tool to empower women.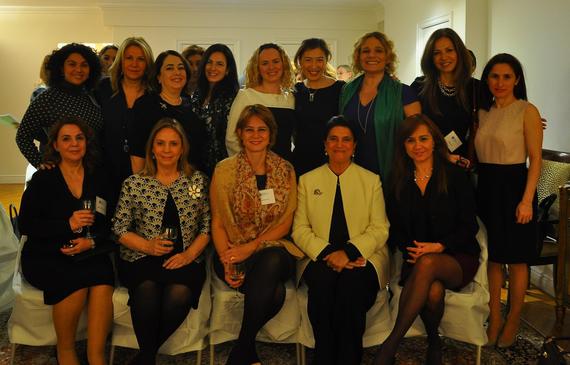 Some of the Kagider and Turkish Philanthropy Funds members together at a mutual special event in NYC
Since March is Women's History Month, there are many other side events organize by universities, private companies and non-profit organizations. This year I had the chance to meet many members of Turkish Philanthropy Funds, a non-profit organization that aims to produce and fundraise events for education, gender equality, economic development, art and culture in Turkey. They have done many great events here in the NYC and Turkey -- everything from a kilim workshop in NYC to vocational training for women in Turkey.
The Turkish Women's International Network (WINN) event I attendant last week was another gathering I must mention. WINN is a global trust network to encourage and empower women to build a global community of professional Turkish women to cross-pollinate ideas, inspiration and connections. That night Shelley Diamond, Worldwide Managing Partner of Young & Rubicam, Bilge Bassani, Senior Advisor, Foundation and NGO Management and Elif Key, a journalist from Turkey, talked about how their challenges turned out to be opportunities. Their powerful speeches were inspiration for everybody "...meaning of life is different for each person. Only you can figure what is right for you. I became "obsessed with the meaning of life" and it became to my reason to exist." - Bilge Bassani told at her speech I cannot forget!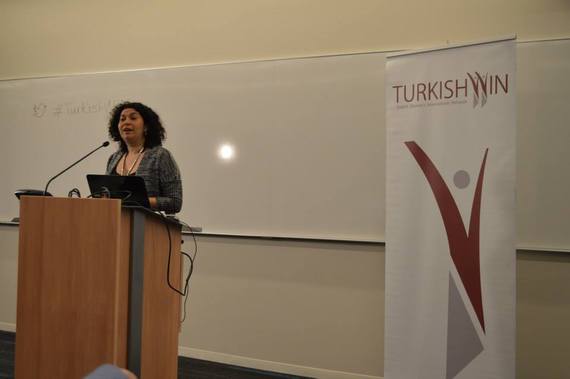 Melek Pulatkonak, Founder of Turkish Winn is giving opening speech at the March, NYC event
The other remarkable event I was fortunate to attend was the Journalists and Writers Foundation's (GYV) panel on the topic of the education of Afghan girls. The panel was dedicated to Afghanistan's struggle and progress towards educating its girls. Moderator and former UN Reuters correspondent Irwin Arieff, panelists Chief of Staff and Senior Policy Program Advisor for the Afghan Ministry of Education Dr. Attaullah Wahidyar, Permanent Representative of Afghanistan to the UN Dr. Zahir Tanin, Ambassador and Permanent Representative of Sweden to the UN Mårten Grunditz, top United Nations Children's Fund (UNICEF) representative on gender and human rights Anju Malhotra and Ass. Professor Department of Sociology at Fatih University Dr. Semiha Topal talked about global political efforts to improve the education of girls and how public and private institutes might enable these girls to pursue and complete their education.
It was very enlightening to be informed about the current challenges in girls' education in Afghanistan. Ms. Malhotra talked about how they are giving crash courses to train female educators (because parents won't let their daughters to go school if there is a male teacher) and how they have built community-based education and mobile education options because in some parts of Afghanistan it is physically impossible to open school buildings.
Also, Dr. Topal, who had stayed in Afghanistan to do research on Turkish schools in Afghanistan, told us how these schools succeed in achieving an important role in Afghan education. After the program, I had a chance to talked to Dr. Topal. I was curious about those heroes, the unnamed female Turkish teachers. Dr. Topal informed me that their everyday lives are very tough. When these women need to go out, they wear a long black dress from head to toe and a face veil. Even though their husbands are with them, they are still uncomfortable about the potential danger they could be faced with any moment when they are out, because it is not acceptable in Kandahar to see women on the street. There is a serious shortage of electricity and they have electricity only five hours a day, while rest of the time they are without power. Nevertheless, these families have dared to raise their own kids in Kandahar with very basic living standards just to help the community, show a good example and change this wrong interpretation of the Islamic approach to educating girls.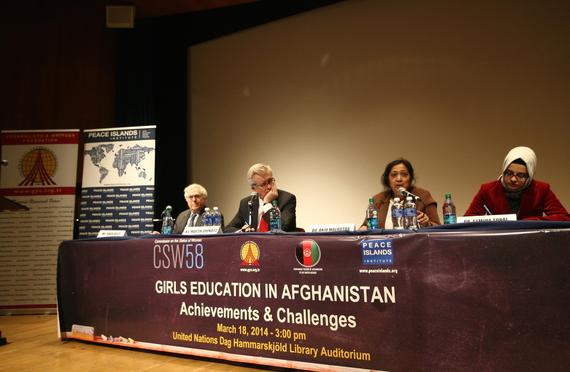 The Journalists and Writers Foundation's (GYV) panel on the topic of the education of Afghan girls on March 18.
I was blessed to meet many true feminists in those two weeks who are sensitive and caring in feeling someone else's pain and hearing their struggle who are unbreakable, because they are strong, persistent and patient. Yes, no one can solve women's problems but women themselves. An old Turkish proverb says, "He who rocks the cradle can rock the world." It's great to unite in diversity to shout out "we women rock!"
For more Arzu Kaya-Uranli click
Correction: A previous version of this post incorrectly spelled Melek Pulatkonak's name.
Popular in the Community