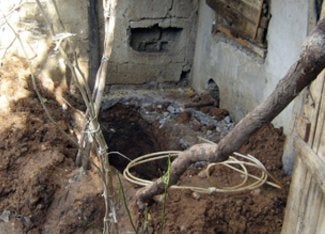 The body of a 16-year-old girl who police say was buried alive by relatives in an "honor" killing carried out as punishment for talking to boys has been discovered in Kahta, Turkey.
Turkish police discovered the body after acting on an anonymous tip. The tipster told police that the girl was killed after a family council meeting, and had been buried under a chicken pen. Police say that the girl had complained two months earlier that her grandfather beat her for talking to boys.
The girl, identified by police only by her initials M.M., was said to have a large amount of soil in her stomach and lungs, indicating she had been buried alive.
"The autopsy result is blood-curdling. According to our findings, the girl - who had no bruises on her body and no sign of narcotics or poison in her blood - was alive and fully conscious when she was buried," one anonymous expert said.
The girl had been reported as missing by her family. Police have arrested her father, mother and grandfather. Her mother has been released but her father and grandfather are awaiting trial.
The case is expected to bring further attention to the issue of "honor" killings in Turkey. Official figures indicate that more than 200 "honor" killings take place each year - almost half of all murders in Turkey.
Related
Popular in the Community