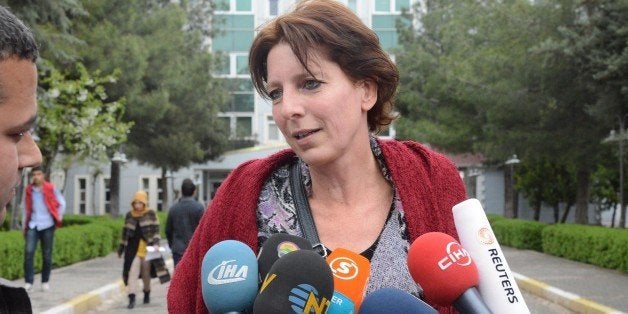 ISTANBUL, April 14 (Reuters) - A Dutch journalist faces a retrial in Turkey for spreading "terrorist propaganda," after a prosecutor said on Tuesday he would appeal a court decision to acquit her.
On Monday, a court in the mainly Kurdish city of Diyarbakir ruled that freelance journalist Frederike Geerdink's reporting and posts on social media did not amount to "terrorist propaganda" but was journalism.
Geerdink was accused of posting Twitter and Facebook messages in favor of the outlawed Kurdistan Workers Party (PKK).
The judges ruled for an acquittal after the prosecutor said there was not enough evidence to try her.
However, the office of the chief prosecutor has filed a preliminary challenge to the ruling, saying it was unlawful and that it would ask a higher court to overturn it once the judges' detailed decision is released in the coming weeks, according to a document provided by Geerdink's lawyer.
"Despite the court's quite sound reasoning to acquit, this shows they have no intention of leaving Frederike alone and are determined she be punished," her lawyer, Ramazan Demir, said.
Geerdink's brief detention in January prompted an outcry from rights groups and the Dutch foreign minister and deepened fears about media freedom under President Tayyip Erdogan.
The PKK waged a 30-year armed campaign for autonomy in Turkey's mainly Kurdish southeast that killed 40,000 people but has been negotiating a settlement with authorities since 2012. (Reporting by Ayla Jean Yackley; Editing by David Dolan and Louise Ireland)

Popular in the Community