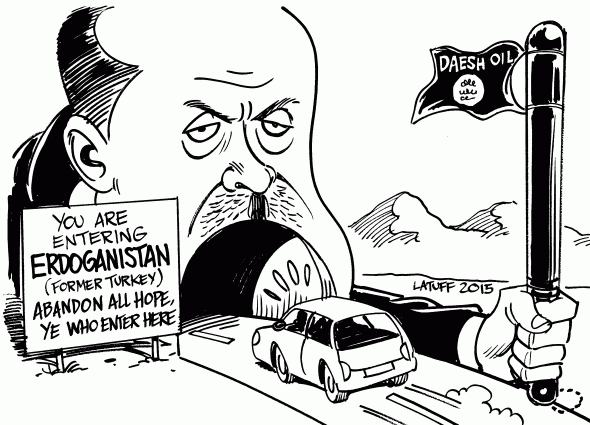 By all appearances, Turkey's constitutional referendum on Sunday will be neither free nor fair, and the consequences for the nation and its neighbors could be tragic.
Turks on April 16 will decide to approve or deny the constitutional amendments establishing a new presidential system giving extraordinary new powers for President Recep Tayyip Erdogan, meaning without checks and balances along with lifetime immunity from prosecution. Should the referendum fall to the "Yes" side, Mr. Erdogan is expected to be the president until 2033 – good work if you can get it.
"The 'No' campaign in Turkey has faced campaign bans, police interventions, and violent scuffles at their events" according to a recent report of the Organization for Security and Cooperation in Europe's (OSCE) Office for Democratic Institutions and Human Rights. The report highlighted anti-democratic pressures during the referendum campaign and concluded Turkey could not claim to be holding fair and free elections.
Fact is, many Turkish people even do not know what they are voting other than creating an "executive style" presidency.
For starters, there are almost no free media platforms left in Turkey. Any journalist writing against Mr. Erdogan faces prosecution; more than 170 journalists already are sitting in prisons. Several media outlets and news agencies have been closed, confiscated or forced to publish favorably. Fundamentally, Turkey is heading to elections without critical debate, nor is there a widely-viewed TV news agency that would check the allegations of the President other than the state Anadolu news agency.
Campaigning has been a critical issue before the elections, particularly for No supporters. While Mr. Erdogan and the AKP enjoyed and facilitated State resources (financial, physical and human) without any hesitation, "No" campaigners experienced a variety of obstructions including beatings of campaigners, cancellation of events or prevention of No rallies or meetings. In addition to physical barriers, Mr. Erdogan himself and his party members openly threatened the No voters with treason by labeling them as coup supporters.
A "yes vote" has also become an Islamic issue. Mr. Erdogan and his media have stated emphatically that a devout Muslim should vote Yes and that "No voters will go to hell." A well-known AKP Islamic scholar, Hayrettin Karaman, issued a fatwa Thursday claiming that "a yes vote is an Islamic obligation."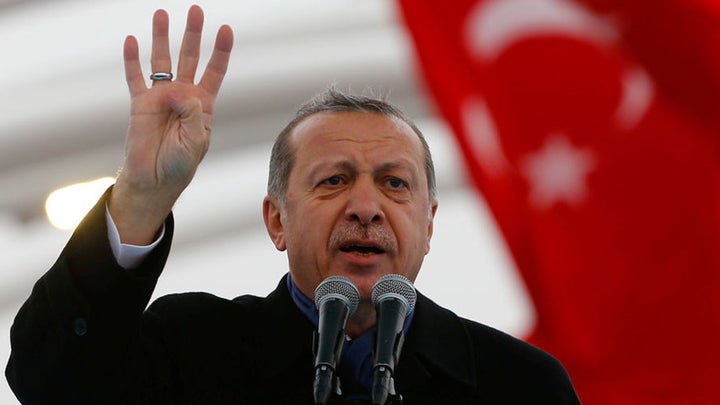 Reorganizing the polling stations and changing the system for recording of ballots have also become controversial. Several polling station regions were consolidated without explanation. More strangely, just before the referendum, the Supreme Electoral Council of Turkey, appointed by Mr. Erdogan, went through some changes on how to record and report the ballot counts.
The new system for recording voter registrations makes it impossible to cross-check the recorded results, opening the way for corruption and abuse, according to Cumhuriyet online. Close to 1.5 million people living outside of Turkey have already voted, however, allegations of irregular processes have surfaced. An AKP member tweeted a picture of a ballot even before the ballots were delivered in Europe. In Luxembourg, approximately 10,000 Turks voted, whereas only 571 registered voters existed. In Ireland where many Turks were on record supporting the No vote, the authorities restricted the number of ballot boxes causing long lines to deter people from voting.
Finally, the referendum is about rubber-stamping a de facto dictatorship, extending to Mr. Erdogan extreme powers no other state leader has in the world. It is safe to assume that Mr. Erdogan will increase his distance from the West after the referendum. Human rights violations will worsen, and the government's oppression of journalists and any civil servant suspected of disloyalty will go unreversed. That would include the imprisonment of 45,000 people, detention of 113,000 people, many more purges, more so-called suicides of inmates in prisons, tortures, and kidnappings.
Mr. Erdogan will continue to radicalize and politicize Turkish Muslims, conceivably, marching his nation toward a Sunni version of the Iranian Islamic State with elements from the Muslim Brotherhood and Salafism. This desire was clearly stated by pro-Erdogan daily Yeni Safak's editor-in-chief recently. He wrote that after Erdogan gets the referendum, a new era starts; "Turkey should stop fighting the Islamic State and arm itself with nuclear weapons," according to the editorial.
It is essential we acknowledge that Turkey, as we know of, has already been lost with Erdogan and has become a threat to the region's and world's security.
Ahmet S. Yayla, Ph.D., is an adjunct professor of Criminology, Law, and Society at George Mason University. He formerly served as Professor and the Chair of the Sociology Department at Harran University in Turkey. He also served as the chief of Counterterrorism and Operations Department of the Turkish National Police in Sanliurfa between 2010 and 2013. He is co-author of the newly released book, "ISIS Defectors: Inside Stories of the Terrorist Caliphate." Follow @ahmetsyayla