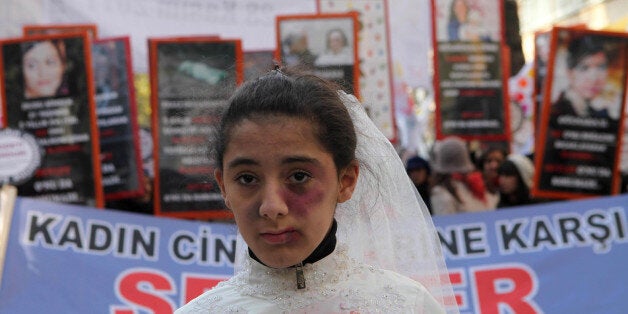 ISTANBUL -- Serdar Gocmen didn't hesitate last year when he killed his wife with a kitchen knife, witnesses say. He walked into the Cumhur Hair Salon in Istanbul and stabbed Muhterem Gocmen, 30, while she was working as a hairdresser.
According to Muhterem's older sister, Cigdem Evcil, and a women's rights group legally aiding her, Serdar had defied a restraining order just the day before and threatened his wife -- only to be let go by police. A day before that, he had beat up Muhterem in a cafe, according to Evcil. Local police declined the sisters' desperate pleas for protection for Muhterem, Evcil said.
Muhterem's case is one of 238 documented in 2013 by the Turkish advocacy group We Will Stop Women Murders. Most of the perpetrators were husbands, lovers, or family members, according to the group. And many of the women shared another common thread, besides their brutal fates: They were seeking a divorce.
In Turkey, a country that prides itself on modernity but where an Islamist-rooted government has faced heavy criticism for its often controversial stance on women's rights -- women are dying over the right to divorce their husbands, despite laws set in place to protect them.
So far this year, We Will Stop Women Murders has counted at least 287 new cases.
"Something has to be done about the women in Turkey," Evcil, 38, said angrily. For the last decade, she said, she tried to protect her sister from her husband because the law could not.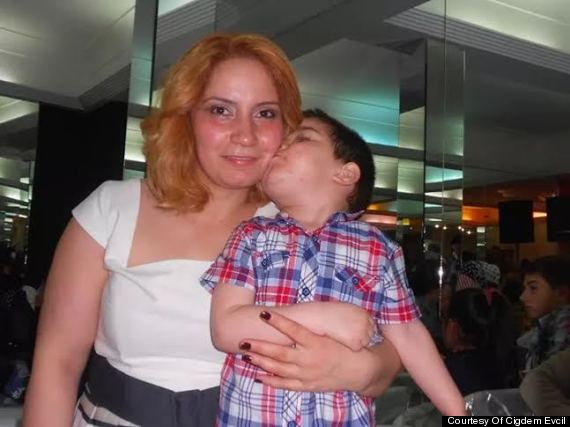 Muhterem Gocmen poses for a picture with her son in an undated photo.
Evcil said she took Muhterem to the hospital when she miscarried after Serdar flung her down the stairs. She searched for months for a lawyer who would fight for a restraining order, and then, a divorce. Evcil also said she ignored threats from Serdar's family and searched for Muhterem when she would go missing for months on end, taken hostage by her abusive husband.
Now, with the help of We Will Stop Women Murders, Evcil is speaking out for the women who can still be saved.
The women's group tries to track every incident of domestic abuse and female homicide in Turkey -- a huge feat in a country of over 74 million. The tight-knit team of volunteers provides victims' families with legal aid and comfort, compiles statistics, and pursues legal action against perpetrators and those deemed complicit in violence against women. Many of the victims it tracks were or are in the process of leaving their husbands or seeking a divorce, according to the rights group.
Late last month, grim headlines splashed across the front pages of Turkish media outlets, detailing the death of Hülya Çadırcı. According to the Turkish Hurriyet Daily News, her husband allegedly walked up to her on a street in Istanbul and stabbed her five times in front of one of her children. She was in the process of seeking a divorce, Doğan News Agency reported.
"We have passed the phase of traditional honor killings," said Gulsum Kav, a medical ethics doctor in Istanbul who founded We Will Stop Women Murders. "Now we are facing modern murder. Women want a divorce, and the families aren't adjusted to it."
While Turkey's rural areas in the south and southeast have become infamous for honor killings -- the belief that a family member, usually a woman, must be killed for the shame they have supposedly brought to their family -- women are being killed in cities and villages all across the country. Kav said she receives a phone call nearly every day from someone seeking justice for a murdered woman.
Part of the problem, Kav said, is that a 2012 law meant to protect women from domestic violence isn't being enforced.
Before 2012, Turkey's domestic violence law only pertained to married women, and "significant gaps" in the system made protection of abused women unreliable, according to Human Rights Watch. But in a move applauded by the EU in 2012, legislation expanded law enforcement's rights around domestic violence in the country: Police officers now have the ability to authorize and enforce restraining orders, imprison those who violate protection orders and even track offenders with technological devices.
But leading voices in the fight for gender equality in Turkey have decried the state of women's rights here and what they say is failing legislation. In April, following a big win for Erdogan's ruling party in a round of local elections, several of Turkey's top women's rights activists told The WorldPost that their country was sliding backward on rights and freedoms for women.
"Instead of concentrating on protecting women who suffer from domestic violence, the government concentrates on how they can make the laws more in line with their conservative ideology," said Pinar Ilkkaracan, who co-founded the leading NGO Women for Women's Rights. "There is a difference between what is happening in the legal sphere and everyday life. The laws aren't being implemented."
Kav also said the 2012 law sounds great in theory -- but is not being properly enforced.
"The problem is in application," she said simply.
Umit Ulas, a divorce lawyer in Istanbul, agreed. "The laws are sufficient right now," he said. "But the thing is that no one is taking these mechanisms seriously, from prosecutors to police. It's not working well."
At one police station in Istanbul, a senior officer knowledgable about how police deal with cases of domestic abuse and violence against women in the city defended enforcement of the 2012 law. The officer asked to remain anonymous because he was not authorized to speak to the press.
"This law is very strict," said the officer, detailing how the station follows precise protocol in protecting women and dealing with perpetrators. "In the old days, women wouldn't come forward about domestic violence. But thanks to this law, women can come forward and get help."
The officer said his police station has 600 restraining orders on file, all issued in 2014. They are all for abused women who sought legal protection, he said, and the station has not come across a case yet where a woman was murdered while under their protection.
"But sometimes, women abuse this law," he added. "They say, 'He tries to beat me' and they get a restraining order. Sometimes his pride is damaged."
Turkey's struggle with women's rights mirrors a regional struggle in gender rights and equality. To Turkey's east lies Armenia, a country void of domestic violence laws. To its southeast is Iran, where despite high rates of divorce, it can take years for women to divorce abusive husbands and the law often favors men. To the south are Iraq and Syria, countries marred by conflict where women face rape and even sexual slavery. And to the west lies Europe and the union that Turkey has long strived to join. Despite its March 2012 law, Turkey has some of the highest levels of violence against women in Europe, and some of the lowest levels of female participation in politics and education.
In April, an Istanbul court convicted Serdar of murder and sentenced him to life in prison, but with the possibility of parole. Evcil worries he will be let free in the years to come.
Men in Turkey who commit similar crimes often do end up in jail, but advocates like Kav say it's not enough to punish the perpetrator. They want to stop the killings before they happen.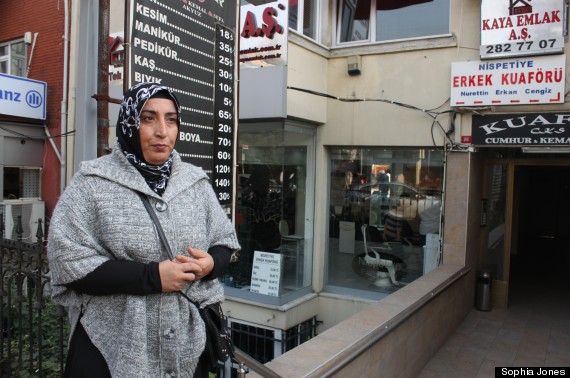 Cigdem Evcil, a survivor of domestic abuse, stands in front of the hair salon where her sister was brutally killed last year.
Sefa Akyuz, the manager of the salon where Muhterem worked, remembers her murder all too well. He was working there the day Serdar came in and stabbed Muhterem to death in front of horrified staff and customers.
"It took five seconds," he said, pointing to a corner of the salon near the door. "Her husband came in and they made eye contact. There was no talking. No resistance. No time to intervene. We were in shock."
Akyuz said the hair salon staff knew Muhterem had been abused, and they were trying to help her in whatever way they could. He remembers her as a hard worker who loved her job.
"She was a good person," he said to Evcil, who was shaking near the doorway and trying to hold back tears. "Muhterem means honorable [in Turkish]," he said reassuringly. "Her name fits her."
It was here, in this small salon, that Muhterem had tried to start over, Evcil said. It was a refuge away from the endless abuse and humiliation. Evcil said she remembers a young Muhterem who dreamed of being a hairdresser someday, cutting her doll's hair for hours and pasting it back on in different styles.
But she never got her second chance. Evcil blames the legal system, and said she thinks her sister would be alive if Serdar hadn't been let go and if the police had enforced Turkish law and protected her. Evcil noted how easy it was for Serdar to simply walk into the salon and stab Muhterem.
"Our society asks what the women did wrong," Evcil said, sipping hot tea in a cafe close to where Muhterem was killed. "Like there should be a reason for a man to beat. Every day, women are murdered."
Evcil has some experience herself with this issue. She battled in an abusive relationship for years as well, only to watch her sister go through the same hell.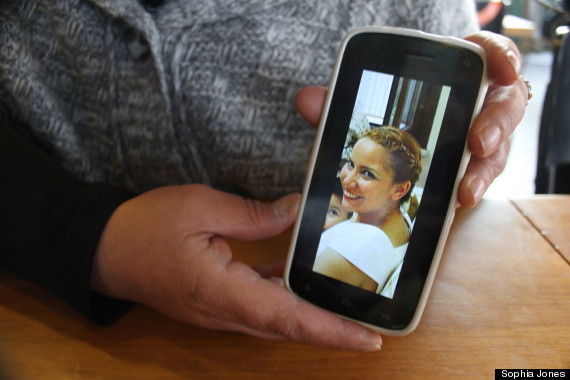 Cigdem Evcil holds up photo taken on her cellphone showing her sister, Muhterem Gocmen, before Muhterem's brutal murder.
Evcil said that in 2006, her then-husband beat her up in a public square in Istanbul. Passersby merely stared, she said, and when he was finished, she was "unrecognizable." She recalled that the police told her to go back home, saying that her husband might even bring her flowers to patch things up. It was then that she lost her trust in the law, she said. She realized that she was alone in her fight.
Fast forward several years, and Evcil sought out a divorce -- which fueled more attacks by her husband, she said. But in the end, she got her divorce and legal custody of her son and daughter, now school-age.
The single mom is also now raising Muhterem's 13-year-old daughter and 4-year-old son.
Evcil said she was lucky to win custody over Serdar's family and the state -- both of whom were pushing to take Muhterem's children. We Will Stop Women Murders provided legal assistance for the case. Kav said that in several other cases handled and documented by the group, the relatives of the alleged perpetrator gain custody of the children.
Evcil said Muhterem's young son often asks for his mother. Evcil visits her sister's grave several times a week, but doesn't know what to tell the young boy. She wants to protect him from the truth.
Despite the tragedy that Evcil said haunts her, she has been having a recurring dream -- one with a happy ending -- about her sister.
In the dream, Kav, the founder of We Will Stop Women Murders, saves Muhterem.
"I see her as a shield," Evcil said, speaking of Kav and her group. "I stayed strong because of them. They supported me with all their hearts."
Her dream ends the same way every time: Kav patches Muhterem's wounds and helps her change into a clean white dress. Then the two walk off, whispering and laughing. And at last, Muhterem is safe.
Burak Sayin and Özlem Özarpaci contributed reporting from Istanbul.
Support HuffPost
The Stakes Have Never Been Higher
Related
Popular in the Community