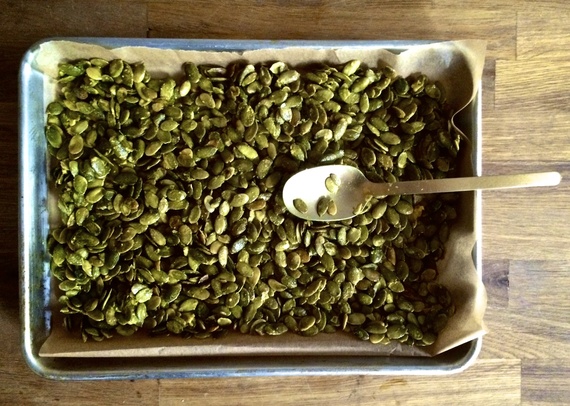 We've got to admit it, but in America we're a "snack culture." Snacking happens and there's no denying it. Like, right now: I'm fully indulging in my batch of Turmeric Lime Toasted Pepitas with no leftover guilty crumb filled fingers. This week, I'm going snack healthy and snack happy. These pepitas, otherwise known as Spanish pumpkin seeds, will not only satisfy your nostalgia for that salty Tostitos crunch, but also pack in the spicy punch of cayenne heat with a subtle hint of coconut to cool off. No label decoding or calorie counting necessary, because these babies are bursting out of their shells in health benefits. Just half a teaspoon of turmeric, the reigning queen of healthy spices, will do the trick as a flavor-filled antioxidant and anti-inflammatory helpful hint. So snack on for your liver, heartburn, upset stomach, or join paint. Let a little bit of coconut oil help you out with your metabolism, protect cortical neurons, and skin care and kick all that "partially hydrogenated" vegetable oil out of your kitchen! Oh, and don't forget the pepitas themselves, one of the most nutrient loaded, fiber fueled, and low calorie crunchables on the block.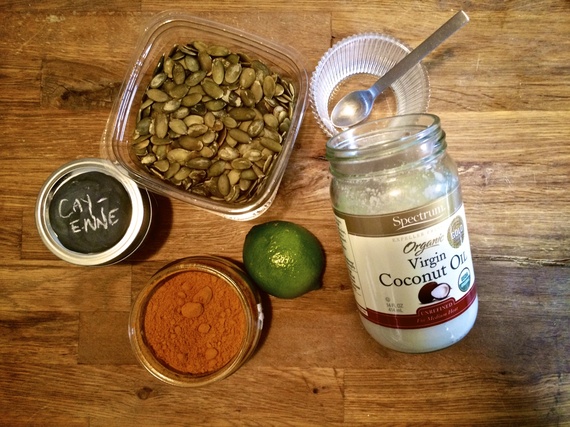 So what's the catch? Too healthy to be true right? Flavor-wise, we've got your cravings satisfied. Take a handful and let the spicy crunch of coconut, lime, and cayenne throw a smoky roasted salty surprise into your three o'clock routine. Their light small shells are good to go in any lunchbox in a hurry, or kept stored for your next dinner party to replace the dreaded pretzel bowl. Or, just be pepita happy and keep them around for your own new nutritious snacking addiction. Time friendly preparation and a lasting pantry staple when stored, we dare you not to roast your next batch by the second day. So no worries; pass me some of those pepitas, please.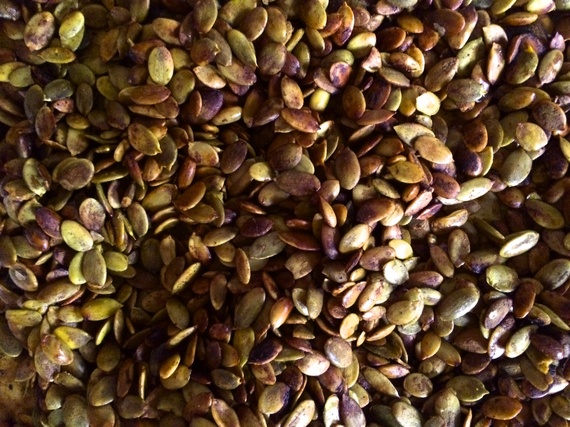 Turmeric Lime Toasted Pepitas

2 cups pepitas, raw
1 tb virgin coconut oil
1/2 cup lime juice
1/2 tsp turmeric
1/4 tsp cayenne
1/2 tsp salt
1. Preheat oven to 350F. Line a rimmed baking sheet with parchment paper.
2. In a medium bowl, mix the ingredients except the pepitas. Add the pepitas to coat.

3. Turn them out onto the trey and spread evenly. Bake 20-30 minutes, shaking and stirring the pepitas halfway through so they do not burn.