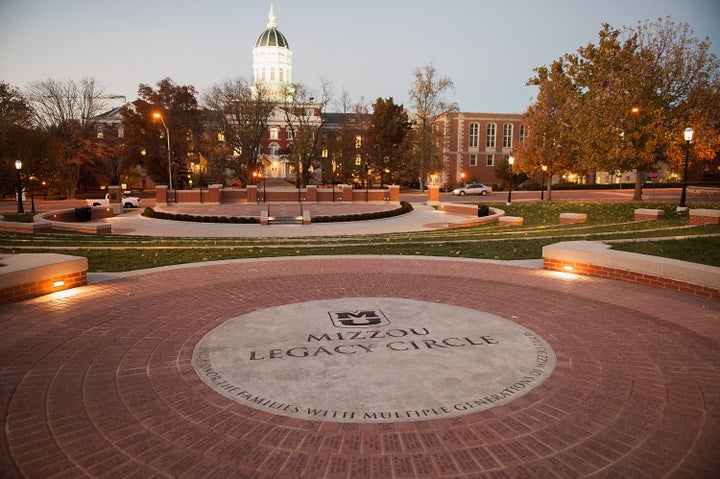 COLUMBIA, Mo. -- It started Monday morning as a celebration for University of Missouri activists: They had achieved victory after the school system's president and its flagship campus' chancellor resigned over how they had handled racially charged incidents on campus. But in subsequent days, that celebration has given way to an atmosphere of fear, as many students say the campus is more unsafe than it had been before the activism began.
On social media, often anonymous users have posted threats against black students. Representatives at the Black Student Center have said that it has received threatening phone calls. Some black students have reported to police that white individuals were shouting racial slurs at them on campus this week, exacerbating the problems that prompted the protests. Students have clashed with journalists and engaged in heated online debates, and one man was spotted on campus yelling for people to "take a walk to Africa."
Many students who spoke to The Huffington Post said they planned to skip class Wednesday after hearing about the threats and rumors of was happening on campus on Tuesday night. A Starbucks near campus was closed Wednesday because too many employees of the store felt unsafe coming to work.
The University Police Department said it would increase patrols on campus, and some deans and faculty members emailed students to tell them they could stay home from class. MUPD told HuffPost they've been "buried" in calls about various incidents on campus over the past couple of days.
MUPD has been investigating a series of threats to attack the campus, some of which were posted to social media, like the anonymous app Yik Yak. Popular among college students, Yik Yak only displays posts from users within a short radius of each other, ensuring that comments viewed on campus are posted by others on campus or close by.
On Wednesday morning, MUPD announced it had arrested a student at the Missouri University of Science and Technology in Rolla, Missouri, who allegedly posted threats.
Throughout the day Tuesday, Yik Yak was filled with posts from users criticizing the mostly black student protesters. Some complained that the racism was blown out of proportion, and others said they were tired of being called racist because they were white. Some left comments asking for academic buildings to be declared "white safe spaces," saying "it's time for the south to rise again," and saying they were ready "for someone to get hit with a brick."
Brooks Buffington, co-founder & COO of Yik Yak, released a statement Wednesday condemning the online harassment and threats.
"Just like the rest of you, we've been following the recent events at University of Missouri and we've felt a mix of inspiration, disappointment, hope, and sadness at what the Mizzou community has been going through. ... But there's a point where discussion can go too far -- and the threats that were posted on Yik Yak last night were both upsetting and completely unacceptable," Buffington said. "Let's not waste any words here: This sort of misbehavior is NOT what Yik Yak is to be used for. Period." (Emphasis original.)
Freshman Mickell Miller said she already doesn't feel welcome at her own school.
"I was just in math class and there were people saying [the protests are] pointless, that nothing is going to change," Miller said.
The university announced this week it would appoint Chuck Henson as vice chancellor in charge of diversity and equity on campus. Henson, a professor with an academic background in civil rights law, said that for now, he'll spend a lot of time listening to concerns from students of all races.
"Everyone seems to think I dropped out of the sky with my magic wand, and poof, racism goes away -- I can't do that," Henson said Tuesday. "What I can do is engage eye-to-eye, and there will be a long period of listening."
The university plans to hold a panel Friday in which faculty members will share their teaching experiences, a group of administrators announced Wednesday. They plan to schedule more forums and panels designed as "learning opportunities" through the academic year, according to Henson, university provost Garnett Stokes and executive vice president Hank Foley.
"We feel the weight of the world's eyes upon us," the three administrators wrote in a campuswide statement. "We will not flinch from the work ahead."
In a statement on Wednesday, Foley commented specifically on campus safety issues. "I know that some of our students, staff and faculty are feeling insecure, and I want to assure them that as we move forward toward a brighter future we are here, standing together and working hard not only to assure their safety but also to assure that every member of our Mizzou family is getting the individual help they need to make the most of the opportunities offered here," Foley said.
Alanna Diggs, who leads the Four Front Minority Student Leaders Council at Mizzou, said the resignations of system president Tim Wolfe and chancellor R. Bowen Loftin represent the beginning of change, but it must be followed up with more diversity in administrative positions, more action by lower-level administrators still in power and cultural change among faculty and students.
"Marginalized students on this campus feel physically and psycho-socially unsafe on our campus, especially walking through Greek town or downtown," Diggs explained. "I personally have had professors insist that a woman is responsible for her own rape."
"Don't forget about how negatively the community reacted to the football team's boycott," Diggs added, referring to Mizzou football players who announced over the weekend that they would not practice or play until the school president had resigned. "How is that so many community members seem to care about black lives only when they are on the field?"
Related
Popular in the Community