Sometimes you just want to escape the busyness of the world -- with a nap. We all need sleep, and designing the perfect environment in which to lay your head can do wonders to improve your quality of sleep.
It doesn't have to be a master bedroom; it can be a child's room, a sleeping nook or a guest bedroom. Any space where anyone could possibly sleep deserves to be dreamy.
Here are a few bedroom retreat ideas for designing the perfect sleeping space.
It's time. If you haven't yet splurged on some high-thread-count sheets, now's the time. Carve out an hour or two to spend in the bedding department of your favorite store and find some comfy sheets and blankets. While you're there, don't forget to pick the perfect pillow.
"Start with your bedding," says Sue Hunter, owner of Home For A Change in Minnetonka, Minnesota. "Use comforters that are thick, add two or three layers when it gets cold, and throw a faux fur at the end of the bed."
Incorporate some texture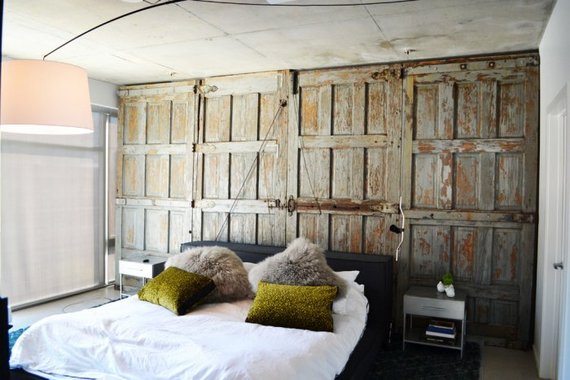 (Photo courtesy of Orel Grinfeld of Chi Renovation & Design)
A sleeping room is no place for plainness. You want the space to be welcoming with just the right touch of plush.
"Replace the headboard with a quilted and cushioned variety," says Sarah Krieger, owner of The Room Therapist in Cambridge, Massachusetts. "Add more silky and velvety pillows. Add a thick carpet with deep pile on either side of the bed for a soft landing spot."
Window treatments play a major factor in setting the mood of a room, especially a bedroom. If you prefer to sleep in the darkest of spaces, invest in some blackout blinds. Velvety drapes bring richness to a room, and can also be pulled close to help block any exterior light. Or, perhaps you enjoy watching sheer curtains flutter in the breeze as you drift off to sleep?
"People forget about window treatments, but they add a lot to a room," says Michelle Robertson, owner of Changes Interior Design in Cave Creek, Arizona. "They're like a belt or piece of jewelry, they help accessorize."
Set the mood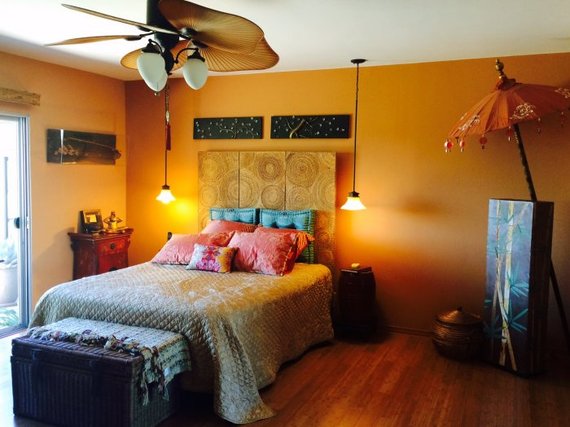 (Photo courtesy of Ev Levin Gerisch of elg design)
For good sleep, the lighting should promote relaxation. But in the bedroom, it can also be a bit sexy, so consider installing dimmers or chandeliers to help set the mood. At the very least, toss or donate any dated and dusty light fixtures.
"Get rid of your old lampshades and get new drum shades that are current and clean," says Rebecca Henderson, owner of Alabaster Staging + Design in Tacoma, Washington.
This post originally ran on AngiesList.com and is part of a series produced by The Huffington Post and Angie's List on the topic of sleep. The series aims to educate readers about the dangers of sleep deprivation. Angie's List is here to help improve your home, offering more than 700 types of services for your family. For more information about Angie's List, visit AngiesList.com.