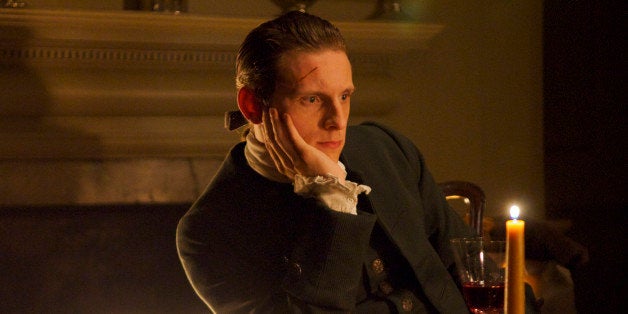 A few weeks ago, I wrote a piece about the plague of one-word titled shows that have infested the broadcast networks. The hallmarks of shows like "Crisis," "Believe" and "Hostages" have been mechanical plots, bland monikers and a few actors in each cast who deserve material with more zing to it.
That piece should have carried the disclaimer that there have been many great one-word titled shows in TV history. AMC's latest scripted offering, "Turn," is not one of them. It just proves that a cable network is just as capable of churning out a bland show with a terse title and trapping good actors in dramas that fail to capitalize on the useful parts of their premises.
"Turn" had such potential. It centers on a farmer who gets caught up in the espionage of the Revolutionary War and who has pre-existing relationships with both rebels and those who sympathize with the Brits. As the lead, Jamie Bell is a capable performer, but that only makes most of his scene partners seem even more bland. The time period could have been a plus as well: There have been many spy dramas on TV during the last couple of decades, but setting one in the era of the Redcoats and the Culper Ring felt like a fresh, exciting idea. In theory, that is.
In execution, "Turn" is plodding, predictable and a bit confusing, though I might have tried harder to follow the plot had any of the characters made it worth my while. As it is, the characters are mostly paper-thin and forgettable. Burn Gorman, who always makes a strong impression, displays his usual charisma as a British officer, but most of the cast fails to register. More than once I longed for an appearance from the Headless Horseman.
I say that in jest, of course. Mostly. It'd be wrong to want "Turn" to ape the careening energy and amped-up tone of "Sleepy Hollow," but the Fox show did understand something important: If the lead characters aren't layered and if their relationships and goals don't bristle with urgency, the drama -- whether a supernatural jaunt or a more staid period piece -- just won't work.
Ultimately, "Turn" is limited, pallid and derivative. Even as I appreciated its sets, costumes and attention to historical detail, I longed to care about any of the people or the events they were experiencing in the unsettled colonies of New York, New Jersey and Connecticut. Over the course of three episodes, I never really did care. The only unequivocally positive thing I can say about "Turn" is that it's better than "Low Winter Sun," another recent AMC drama, but that is an extraordinarily low bar to clear.
"Turn" premieres Sunday, April 6, at 9 p.m. EDT on AMC.
Popular in the Community