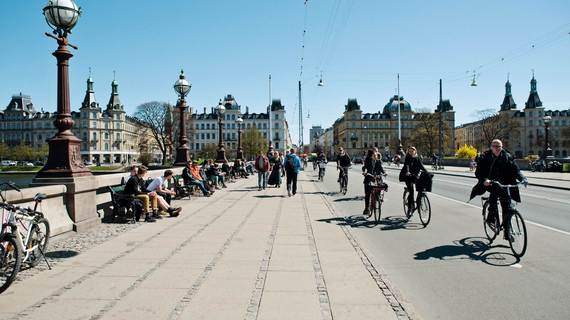 The global climate crisis leaves cities around the world with piles of problems to solve.
Extreme rainfall leaves citizens feeling helpless and insecure when their basements gets flooded. Extreme heat during summer threatens people's health and well-being. Resource scarcity and energy costs points to an urgent need to renovate buildings, optimize utilities and optimize waste handling. The list could easily be made longer.
Cities around the world will be looking into budgets where billions of tax payer's money will have to go into green investments that may pay off 30 or 40 years down the road, while voters really want better schools, better roads and improved quality of life today.
Luckily, no city will have to choose between welfare and sustainability, between liveability and resilience. On the contrary, if cities engage citizens, partner with businesses and set clear, political ambitions, the current climate crisis may be the inconvenient disruption that will spark a transition towards more liveable and sustainable cities.
But for cities to deliver, governments will have to deliver at the climate summit in Paris this December as well. Cities and businesses alike need a clear global framework for collaboration against climate change.
Creating a more liveable city
Copenhagen has decided to become the world's first carbon neutral capital by 2025.
We have a good idea of what it will take, but clearly it is also a small scale example of President Kennedy's "a vision with a deadline": Reaching the target will require innovation fueled by a truly open city approach, where citizens and businesses that share the carbon neutral capital vision collaborate on making it happen. A city is at its strongest when public and private stakeholders can work together on solutions that benefit citizens, benefit the climate and sometimes even create growth.
When we dare to believe that Copenhagen will in fact be a carbon-neutral capital by 2025, it is because we have a political commitment to city planning reaching many years into the future, and because years of working with bold climate visions have shown that it pays off. Investments pay off.
Copenhagen has had ambitious climate targets since 2009, and these targets have not only moved the city towards energy efficiency, resource efficiency, innovative solutions and behavioral changes; they have also sparked initiatives that have made Copenhagen more liveable and healthy for our citizens and more interesting for our businesses.
Connecting Copenhagen with bike lanes cuts emissions; it also improves health, enhances social cohesion and is highly valued by Copenhageners.
Optimizing district heating and rolling it out in new areas of the city, creating innovative waste handling processes and building world class waste-to-energy facilities cuts emissions, demonstrates to citizens that resources should be valued. It also makes Copenhagen a showcase for green solutions.
Preparing Copenhagen for extreme rainfall includes creating blue and green recreational pockets in the city that are quickly becoming areas where citizens meet and the city breathes. It also targets a threat that Copenhagen can't ignore as an initial economic analysis indicated the cost of doing nothing would triple in 100 years due to climate change affecting weather patterns.
The business case is good. In 2011 one single destructive cloudburst caused damages worth EUR 800 million. Something needed to be done. Calculations have shown that acting now and applying a holistic approach to climate adaptation will save Copenhagen EUR 670 million.
Not a walk in the park
It is indeed possible to create a carbon neutral, modern and highly liveable city. But it is not a walk in the park.
We are experimenting and inventing as we go along, and not all decisions deserve to be repeated. Citizens may have suffered from road construction in their street three times within a few years - first to improve mobility, then to optimize district energy, and last to prepare for cloud bursts. And more examples could be found.
However, most of the difficulties that Copenhagen has met we handle in the following way:
First, we try to view challenges facing us as assets rather than problems. The changing climate forces us to make investments in the city's infrastructure, and these investments have the opportunity to make Copenhagen a better, safer, healthier and more cohesive city to live in, if we dare to take an innovative approach.
Second, we try to work cross-silos. In our planning we need to connect the sewage systems with the transportation nets and parks and buildings. But we also need to connect these elements with the governance structure and the social and cultural offers. In other words, we need to be able to solve several challenges with one, holistic solution, and city officials as well as experts have to be able to work cross-disciplinary.
Third, we set a clear vision - and stick to it. We need a close collaboration between the authorities, citizens and businesses, and collaboration requires a common understanding of where we are heading. It provides a stable framework for investments in infrastructure, technology and knowledge building.
Set a clear course
So, COP21 matters. Cities like Copenhagen and companies like Ramboll can collaborate and create massive changes. Our efforts can have real positive impact on climate change and modern urban life. But we cannot just go solve the climate crisis ourselves.
That is why we are working with cities globally to find new sustainable solutions and share the ones we already have in place. For instance, Copenhagen is deeply involved in the work of the global city network C40 to implement sustainable initiatives that will help address climate change.
But the full potential of cities and experts around the world will only be unlocked if there is a clear, ambitious and stable global commitment from governments to fight climate change.
We need targets and commitment on a global level. We need to be sure that the global commitment to combatting climate change will not be up for discussion every time a new government takes office in any given country. We need a commitment that transcends national politics.
Give us that commitment, and we will continue to demonstrate how liveability and growth is a product of climate action.
This post is part of a "Nordic Solutions" series produced by The Huffington Post, in conjunction with the U.N.'s 21st Conference of the Parties (COP21) in Paris (Nov. 30-Dec. 11), aka the climate-change conference. The series will put a spotlight on climate solutions from the five Nordic countries, and is part of our What"s Working editorial initiative. To view the entire series, visit here.
Calling all HuffPost superfans!
Sign up for membership to become a founding member and help shape HuffPost's next chapter