When Turner Classic Movies announced its first-ever "classic film cruise" combining a full program of movie mania with the pleasures of cruising -- fresh air, glistening ocean, tropical cocktails -- Graham Phillips, and his wife Laurel, married for 22 years, signed on.
He's the former CEO of Ogilvy Mather, the multinational advertising firm, and she's a trademark attorney representing screenwriters. The Phillipses share a lot in their lives. There are two homes (Santa Barbara, CA, and Vero Beach, FL), a 70-foot Brunswick yacht, various airplanes, and the occasional visit of a grandchild. But they also brandish a love of classic cinema, the high Hollywood product that cable network Turner Classic Movies has broadcast, without commercials, for the past 18 years.
About 1,800 fellow fans from diverse backgrounds joined the Phillipses for "TCM Classic Cruise," which partied last weekend on a massive ocean liner, the Celebrity "Millenium." (TCM invited this reporter to join them.) A smattering came from Canada, Puerto Rico, and the United Kingdom, but most attendees were from the U.S. Promoting the event on its own network, TCM sold out the cruise [tickets ranged from $795 to $2,495/person] in two and a half months. An encore edition [in Hollywoodese, "Son of TCM Classic Cruise"], still unannounced, may be in the offing.
The event embarked from Miami, breaking out a four-day line-up of cleverly curated movie screenings ("Moon Over Miami," and "The Breaking Point," a boat-oriented film noir, were the unusual openers). Then came more full-length features, documentaries (on Alfred Hitchcock, Cary Grant, others), and Q&A-driven movie-chatter. The 'movie love boat' then docked in tourist ports of Key West and Cozumel in Mexico. Nostalgia for classic Hollywood craft prevailed and bonded a huge gathering of otherwise total strangers.
TCM invited a passel of veteran actors as guests. Ernest Borgnine [yes, "The Poseidon Adventure"], still sturdy at 92, and two "Hitchcock Blondes," Tippi Hedren ["The Birds", "Marnie"] and Eva Marie Saint ["North by Northwest"], both gorgeous, shared memories in interviews. There were silent movies [Harold Lloyd's "Speedy" with live accompaniment by Alloy Orchestra] and a Norman Jewison retrospective. The director, on board, showcased his swanky seventies "The Thomas Crown Affair," along with two sweatier outings, "In the Heat of the Night," and "The Russians are Coming, The Russians are Coming."
Q&A sessions with TCM's genial host, Robert Osborne, who's just resurfaced after an extended vacation, proved most popular. Osborne, whose television image crosses Cronkite with Kangaroo [that's Walter and Captain], nattered in his genuine manner about his early Hollywood days as an actor and columnist. Osborne's personal elegance and total recall of factoids fostered great, high-end gossip.
The TCM "community" is a phenomenon. Dennis Adamovich, the Turner exec who worked with cruise operator Sixthman and Celebrity Cruises to plan the venture, explains: "We have one of the most passionate core audiences that want to talk to each other. Our fans told us, 'You have to create a place for us to be physically, and not just virtually.' "
Cruising represents TCM's second experiment staging "real-time" events. The highly regarded TCM Film Festival, launching its third edition this coming April 2012, has established itself as an annual tradition on L.A.'s Hollywood Boulevard.
[Story continues below slide show.]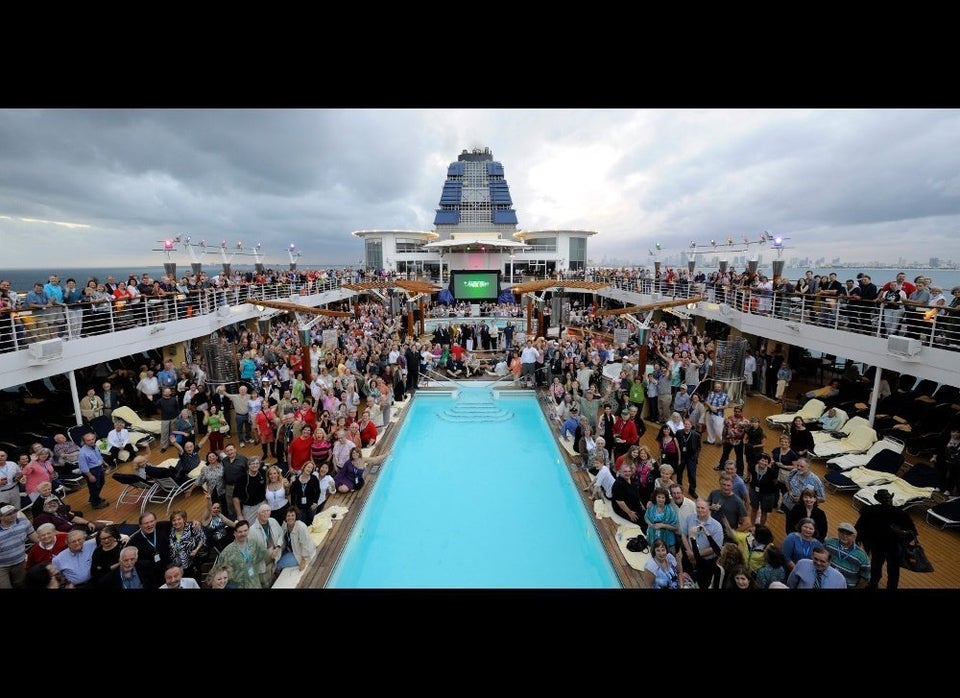 TCM Classic Cruise
The Phillipses hosted a mid-cruise dinner party at one of the ship's specialty restaurants. Over a good bottle of Cabernet Sauvignon, the table mulled the meaning of the movie, "Casablanca." For film buffs, this is an important conversation, nearly religious. Like red wine, the Warner Bros. 1942 potboiler about Europe's political refugees seems to only improve with age.
"It's a movie about making a hard choice. Even if it means taking the higher path," asserted Graham, commanding with his opinion as only a CEO can. "We've all had that moment in our lives," he added.
Karen, in her late-50s, carted film critic Aljean Harmetz's "The Making of Casablanca" to the table, even reading snippets to the group. Readily admitting she's watched the tale of Rick and Ilsa's broken romance umpteen times, she noted: "Being my age, I haven't had a chance to see it [Casablanca] in a theater setting. So it's delicious to be here," she said.
The following day, munching salads on a patio deck as the sea churned below, a group of German expatriates also gabbed about movies. Munich-born Eva, said: "I loved seeing 'Casablanca' on a big screen," then added, "And it was sexy watching "An Affair to Remember" projected outdoors by the pool."
Her friend, Angela, also German-born but now living in Miami, piped in, a tad defensively, "It's not only because of the movies. I just like cruises."
Tom, husband to Angela, and a dignified 66 [think Cary Grant], concurred, "We are very frequent cruisers. But this is a nice, different way of cruising. Frankly, I'd much rather watch a nice movie at the end of a day than those silly Las Vegas shows."
Lunching nearby, but indoors, was Rita, 68, a New York City resident who winters in Florida. She was sharing a cabin with a woman friend, Dolores, 70-ish. In an earthy Brooklyn accent, the pale-skinned, raven-haired Rita proudly announced that her team had just won the morning's movie trivia contest. "This cruise is my cup of tea," she said. "I just love the old movies."

The diversity of attendees' ages and ethnicity, thought-provoking programming, and uplifting atmosphere stemming from TCM's constant chorus of audience appreciation created a charming adventure and a huge home run for the Atlanta-based firm. Charlie Tabesh, TCM's senior vice president of programming for the past 14 years, said, "Look, film making has changed. There's an appreciation for classic film -- the stories, dialogue and characters.
"Many in our audience respond to the sense of community. Some of them feel like outsiders. What differentiates TCM is the passion of our audience. They like to come to a place where they can share their passion."
Debra Levine is a Los Angeles-based arts journalist blogging about dance, film, music and urban culture on arts•meme.
Related
Popular in the Community