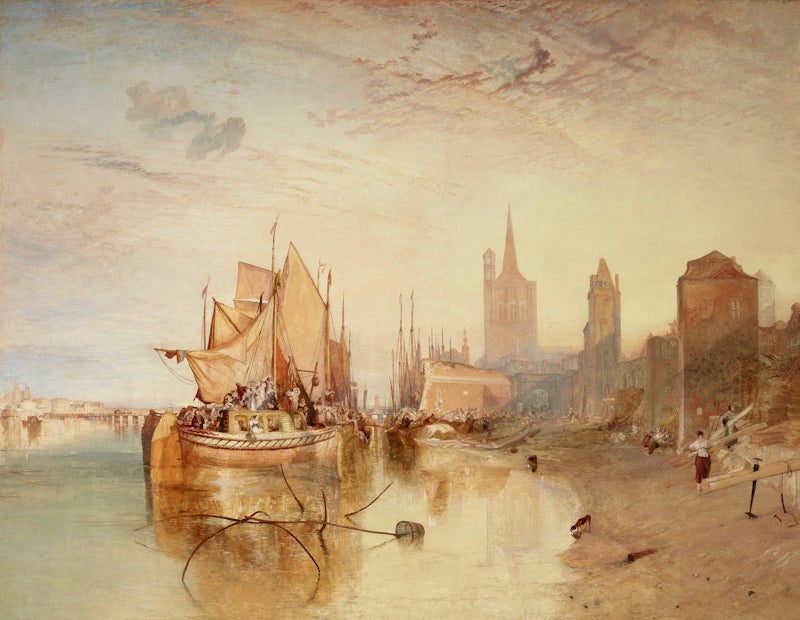 The new exhibit Turner's Modern and Ancient Ports: Passages through Time (February 23-May 14, 2017) at New York's Frick Collection brings together three large oil paintings and over thirty other oil and watercolor paintings, sketchbooks, and prints by the British artist Joseph Mallord William Turner, widely considered England's greatest painter of landscapes and seascapes in the nineteenth century.
Turner the man was often eccentric and cantankerous, and as a painter, he was obsessed with exploring the visual effects of light, atmosphere, and color. In this remarkable exhibit, The Frick Collection has given us a rare treat, a chance to see in many remarkable works the artist as acute observer, bold experimenter, and masterful creator.
Turner was fascinated by ports in Britain, France, and Germany, and the art in the exhibit reveals his fascination with the ports at Dieppe and Brest in France, Cologne in Germany, and smaller ports and towns along the coasts and rivers of England as well as in northern France and the Rhineland. Also in the exhibit are some of Turner's paintings evoking imaginary landscapes in ancient Rome and Carthage, revealing the artist's meditations on the rise and fall of ancient empires.
The three showpieces in the exhibit are the monumental oil paintings (two already in the Frick's collection and one borrowed from Tate, London) that reveal the artist's genius and innovative painting techniques. Harbor of Dieppe: Changement de Domicile (1826) and Cologne: the Arrival of a Packet-Boat: Evening (1826) reveal Turner's masterful ability to capture shimmering light and color. His painting of the harbor of Dieppe draws us into the painting as we enter the waters of the port, see the twin arms of the teeming port on each side, and through linear perspective discover the sight of the church of St. Jacques in the distance.
Turner captured the magisterial grandeur of these ports, and also had an acute eye for detail: in Harbor of Dieppe there are over 200 figures showing people busy with everyday life, and Cologne: The Arrival of a Packet-Boat includes peasant women dragging huge wooden boards in this port city known as a center for lumber.
Harbor of Dieppe was painted during mid-day, and the painting is flooded with the yellow light of the sun. Turner was able to use three color pigments colors newly available to artists: chrome yellow, chrome orange, and lemon yellow, but contemporary critics complained at what they viewed as a harsh and unnatural light. (As a challenge to these critics, Turner's oil painting Regulus portrays the heroic ancient Roman general Marcus Atilius Regulus who was captured by the Carthaginians during the First Punic War and then was tortured when his captors cut out his eyelids and forced him to stare at the sun.)
Cologne: the Arrival of a Packet-Boat reveals an intriguing facet of Turner's time: steamboats and steam-powered ferries or packet-boats carrying passengers and cargo had come in use in Britain (American had introduced them first, with inventor Robert Fulton's steamship The Claremont going from New York to Albany in 1807). The end of the Napoleonic wars which had prevented British tourist travel until Napoleon's defeat at Waterloo in 1815, and the new availability of steamboats in England led to a boom in British tourism to the Continent. Turner himself was an avid tourist and had taken steamboats to France on separate trips where he made preliminary sketches before doing the two large paintings in his studio.
Steamboats were not only a remarkable invention but also brought an element of pollution to the landscape, in some cases adding to the smoke and steam of British industrial areas. Turner seemed to have mixed feelings about this new development in technology: he celebrated steamships for making port cities more accessible to tourists and for being able to negotiate high winds and choppy waters that made travel difficult for fishing boats and brigs (see the exhibit's watercolor painting Dover Castle from the Sea, 1822). But in his watercolor painting A Steamboat and Other Vessels on the Thames at Adelaide Wharf Near London Bridge (c1836), a triangular dark cloud of steam from a boat creates a menacing shape in the air.
The third large painting centrally featured in the exhibit is The Harbor of Brest: The Quayside and Château (1826-28) which was unfinished but allows the viewer to see how the artist developed his work: he laid a white ground and covered it with thin translucent layers of thinned oil paint in his characteristic blue, yellow, ocher, orange. The effect is gauzy and filled with light, and even in this unfinished state it's an intriguing work.
This is an exciting exhibit, with kudos to the Frick Collection for bringing together such evocative examples of Turner's genius.
Illustration: J. M. W. Turner, Cologne: the Arrival of a Packet-Boat: Evening, exhibited 1826. Oil on canvas. 66 3/8 x 88 1/4 inches. The Frick Collection, New York. Photo: Michael Bodycomb.
Calling all HuffPost superfans!
Sign up for membership to become a founding member and help shape HuffPost's next chapter
This post was published on the now-closed HuffPost Contributor platform. Contributors control their own work and posted freely to our site. If you need to flag this entry as abusive,
send us an email
.