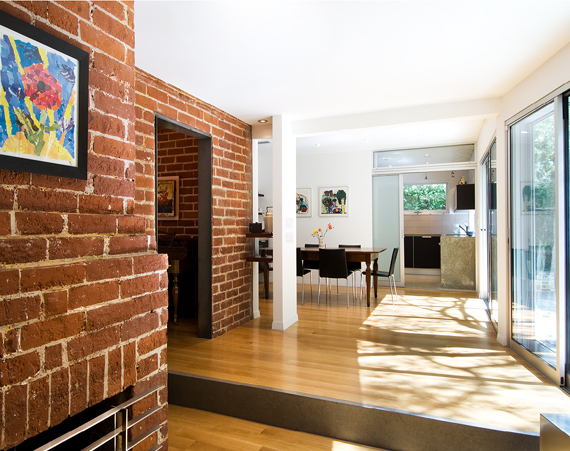 Imagine turning a house into a home, an apparatus programmed to cooperate, even anticipate and inspire, a sophisticated contraption attending to all of your whims -- a place where your emotional and physical wellbeing are taken care of -- designed with efficiency and adaptability at its core to make life delightful.
Eleven years ago, I took a lifeless fixer as my canvas and worked diligently to infuse it with vitality. Now, looking back, I can list five makeover strategies that helped turn a house into a home tuned for enjoyment.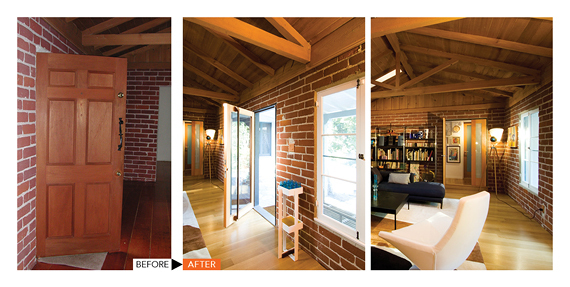 1. Focusing on continuity
At the very beginning of the remodeling project, I decided that continuity achieved by threading spaces together helps generate sustaining and uplifting energy. My strategy was to treat all of the communal areas, both indoor and outdoor, as a singular flowing entity, approaching obstacles as opportunities.
For instance, a physical barrier between the entry garden and the living room was visually minimized with a front door conceived as a framed piece of glass. Ushering in light liberally into the dramatically rustic exposed brick and vaulted wood-beam ceiling living room, it gave due prominence to the endearing features of the 1934 hunting lodge.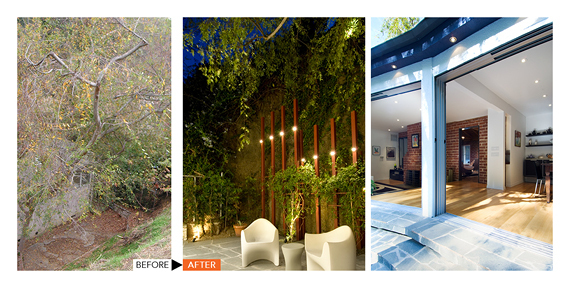 2. Bringing the outdoors in
When I started with it, the back of the house was overshadowed, dwarfed by the hill of decomposed granite. To create breathing room, 35 lowboys of soil -- 420 tons --were removed. To visually tame and retain the hill, I designed a tubular steel outdoor light fixture.
Next, I invited the outdoors in by installing 18 feet of almost frameless sliding glass doors; when open, the sounds and aromas of the canyon were allowed to drift in.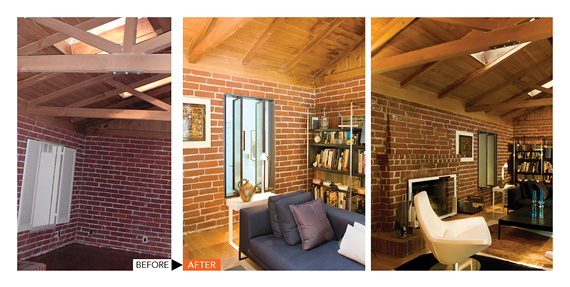 3. Repurposing
An obsolete window frame with shutters lingered as a back room had been added onto to the exterior of the original structure. No problem, I repurposed the opening in the brick wall by stripping it raw and then inserting a minimal steel frame with a set of translucent pivoting screens, thus expanding and separating adjacent spaces at the same time.
While remodeling the house, I sensed a spirit of collaboration. It seemed that the old structure was "suggesting" most harmonious solutions, as if knowing and supporting my vision. I did not hesitate to follow its lead in order to revive and enhance the energy hidden within.
4. Purging
A collection of several clumsy additions housing a strange oversized yet highly dysfunctional kitchen and a lowered (with carpet on slab) area sporting built-in shelving that had seen better days required most intervention.
It was going to become a family hub. It had to be designed for the way we live. It had to help us feel in control, expose to beauty of natural materials, make the most of natural light, and give choices in its flexibility. The plan was to add a powder room, reconcile level changes, create a sitting area next to the fireplace, and to carve out a dining room by reducing the kitchen.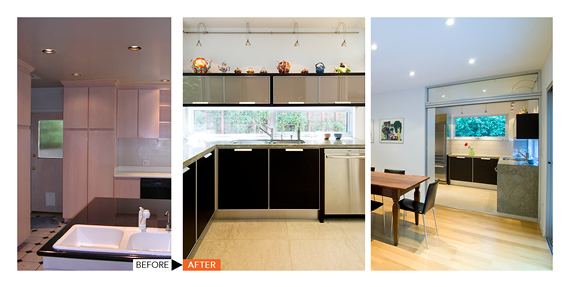 5. Creating a sense of order
Although I trimmed the kitchen, stainless-steel appliances, lit from above granite countertops, limestone flooring, and Italian black oak veneered cabinetry gave it not only a sharp look, but made it much more practical. To include the kitchen as an integral part of the space, black oak veneered panels were added to the sides of base cabinets creating the appearance of free-standing furniture (see #1).
Instead of a backsplash behind the sink, a long window with the view of the redesigned and expanded (claimed from the hill) terrace outside was installed (see #2). A translucent-glass-and-aluminum pocket door at the kitchen's entrance could screen the food prep area from the rest of the space, as required (see #3).
Reflecting on the design process, 11 years later, I see how every decision was aimed at bolstering a sense of order by blurring the boundaries between spaces both inside and outside, both physical and virtual, both internal and external, both old and new. The end result was a home that evolved with us -- an extension of who we were as a family and as individuals.
Alla is an architect on demand advising DIY home improvement enthusiasts online. To learn about how you can work with her, click here.