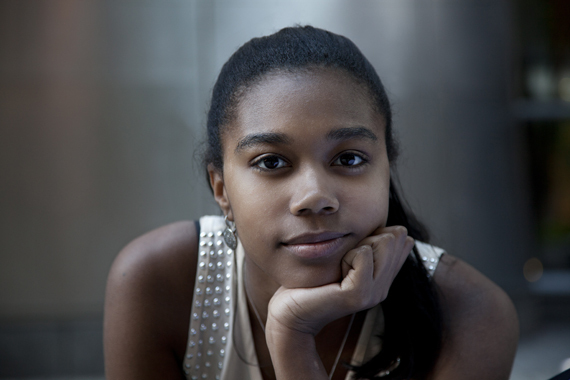 Maya Faison, photo courtesy of Julie Hassett-Sutton/Frantic Studio via Global Kids
In high school in Queens, I didn't always click with kids my own age, so the minute I got out of school, I'd find the quickest way to get to Global Kids -- I'd practically run there.
Global Kids is not the typical after-school program where they babysit you and keep you entertained for a couple of hours. The things that you learn at Global Kids resonate. Eventually you're going to find a topic that you feel passionate about, and Global Kids is going to give you the tools that you need to bring awareness about this topic. You see that there is a group of people that care about each other and care about the world they live in. Once you see that, there's no way you can act as though nothing matters.
I went to the Global Kids office just about every day working on applying to college in the fall of 2012. Different trainers would help me with my college essays. Around that same time, we heard about hurricanes and storms coming but normally those storms turn out to be minor so we didn't give it much thought. Hurricane Sandy was the complete opposite. When it hit, it knocked down trees and electrical wires and it washed away people's homes. In my neighborhood, it knocked out our power for a week and it was dark and cold and there was no gas, so you couldn't go anywhere. It was a scary situation.
We tried to keep in touch with all our family but once Hurricane Sandy had kind of wrapped up, we were still in the dark. Then we got a call that my uncle had fallen down the stairs. Where my uncle and his family lived, it was dark and there were no protocols for something that drastic. He went to the hospital, but there was nothing anyone could really do-- he died.
I had been a climate change activist with Global Kids for at least two years at that point and it was heartbreaking and frustrating that my uncle died, a victim of Hurricane Sandy.
Molly [Delano, Director of Human Rights Education at Global Kids] called to check up on me. She asked me if I wanted to talk about it and write about my experience.
I wrote about my feelings about climate change and the hurricane and how by teaching people what's going on, it's easier for them to prepare for situations like Hurricane Sandy.
Molly helped me get my essay up online, and it was picked up by The Huffington Post. It was kind of a triumphant moment because I thought, "Now people will understand." They can read my perspective as opposed to hearing one side of the story on the news. Global Kids gave me a forum in which to educate others about global warming and climate change, and it made everything a lot easier for me.
Popular in the Community