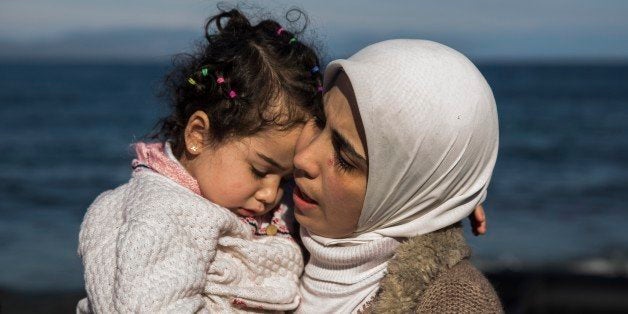 As the world continues to mourn the tragic terrorist attacks in Paris that left more than 120 dead and over 300 injured, there have been many discussions on how to contain the global threat that is ISIS.
One of the more knee-jerk reactions appears to be the outcry over allowing Syrian refugees sanctuary in America. President Obama recently stated his opposition to shutting refugees out, saying that it constitutes a "betrayal of our values."
Meanwhile, Republican lawmakers across 27 states, including Bobby Jindal of Louisiana and Greg Abbott of Texas, are stating strong opposition to accepting refugees. House speaker Paul Ryan added to the xenophobic fervor by saying that the United States should take a "pause" in admitting Syrian refugees into the country in wake of the attacks.
"This is a moment where it is better to be safe than sorry," Ryan told reporters on Tuesday. He said the measure was necessary "in order to verify that terrorists are not trying to infiltrate the refugee population."
That is not to say Ryan and the rest of the GOP don't want to admit any refugees at all, at any point. Ryan said he hopes some type of legislation will land on the House floor sometime this week that would effectively manage the crisis.
Of course, the ongoing government funding negotiations will impact any possible legislation that affects the funding of the refugee program, which has accepted 1,500 Syrian refugees since 2011 . On Monday, Republican Senator Jeff Sessions of Alabama asked that an upcoming spending bill be changed to require that President get approval from Congress to fund the refugee program.
Amid all of this political discussion, I found myself wondering: Isn't this exactly what ISIS wants? If we turn away refugees, doesn't that add to ISIS' propaganda that perpetuates the distortion that Americans are intolerant and jingoistic?
Refusing Syrian refugees sanctuary in America appears to be a lose-lose situation for both the American and Syrian people. It isn't out of the realm of possibility to imagine a scenario where a refugee uses the devastation of being turned away to exact revenge against the U.S. by joining ISIS.
It's clear that if they are turned away and forced to stay in their homeland, or in countries proximal to Syria, they'll be more vulnerable to ISIS recruiters. Also, who's to say that the ones who don't join ISIS won't be subject to the group's twisted form of punishment? Lest we forget the lesson learned from our refusal to accept thousands of European refugees fleeing the Holocaust during WWII.
"After full consideration of this weekend's attacks of terror on innocent citizens in Paris, I will oppose any attempt to relocate Syrian refugees to Alabama through the U.S. Refugee Admissions Program," Alabama Gov. Robert Bentley said Sunday in a statement.
"As your governor, I will not stand complicit to a policy that places the citizens of Alabama in harm's way."
It's not only that this xenophobic rhetoric goes against America's identity as a nation of immigrants and refugees, or as Obama said on Monday, a nation that values inclusiveness and hospitality. It's that it contributes to anti-American sentiment across the world. Denying sanctuary for refugees will either fuel ISIS' recruiting machine, or subject the shunned refugees to further terror and bloodshed in their homeland.
Both situations are equally horrifying.
In spite of state opposition, the U.S. still plans to accept around 10,000 Syrian refugees over the next year. Hopefully in that time, elected officials will see this act as a humanitarian gesture and not as an invitation for terrorism.
"Our nations can welcome refugees who are desperately seeking safety and ensure our own security," Obama said on Monday. "We can and must do both."
Calling all HuffPost superfans!
Sign up for membership to become a founding member and help shape HuffPost's next chapter