Dr. Oyun Sanjaasuren is Mongolia's former Foreign Minister and former Minster for Environment and Green Growth. I had the opportunity to interview her recently about what it takes to bring new ideas into a political system and create meaningful change.
Question 1: From your experience, how is it possible to bring new ideas into a political system and create meaningful change from within?
Answer: In 2000, I founded Mongolia's Civil Will Party. We ran on a platform of good governance and clean politics. This idea was completely new to Mongolian politics at the time.
In the 2004 elections, our party was invited to be part of a coalition with the Democrats. They agreed to our condition of making good governance part of our joint platform. We then formed the government as part of a grand coalition, which incorporated our platform on good governance into policy. In other words, we were able to put the platform of our small party, with just a small number of seats, into the action plan of the new government.
Question 2: How do you get ideas on a policy platform translated into action?
Answer: I offered to chair the working group of the anti-corruption action plan. We had to fight to get the passages we wanted included and at the same time be flexible with other parties in the working group. You have to know what you stand for, and you have to be willing to do the grinding, tough work of implementation.
As a result, we passed Mongolia's Freedom of Information Act, the Anti-Corruption Act, and Conflict of Interest legislation. The latter had been my idea right from the beginning. When I initially ran for office in 2001, I was the first Mongolian politician to voluntarily declare my assets. With this legislation, such declarations have become the legal norm.
So, getting big ideas onto a party platform is one way to succeed. Of course it's not easy. Big ideas need a big conviction. But I had this. You see, my brother was in politics in the 1990s. He was assassinated. That's why I entered.
Question 3: Can you give me anther example of the influence of ideas from a party platform?
Answer: Yes. In the 2012 elections, our party merged with the smaller Green Party, which had fresh new ideas about the environment in their platform. The party that won the most votes offered to make us part of a new governing coalition. We agreed on the condition that the Ministry of the Environment would become a core ministry. This meant that like Finance and Justice, all new policies would be filtered through the ministry – through a "green lens."
As party leader in the coalition, I was asked which portfolio I wanted. Of course I selected Environment and Green Growth. Running that ministry, we were able to turn about 60% of our party election program into legislation or government policies. The government passed a Green Growth Development Strategy in 2014.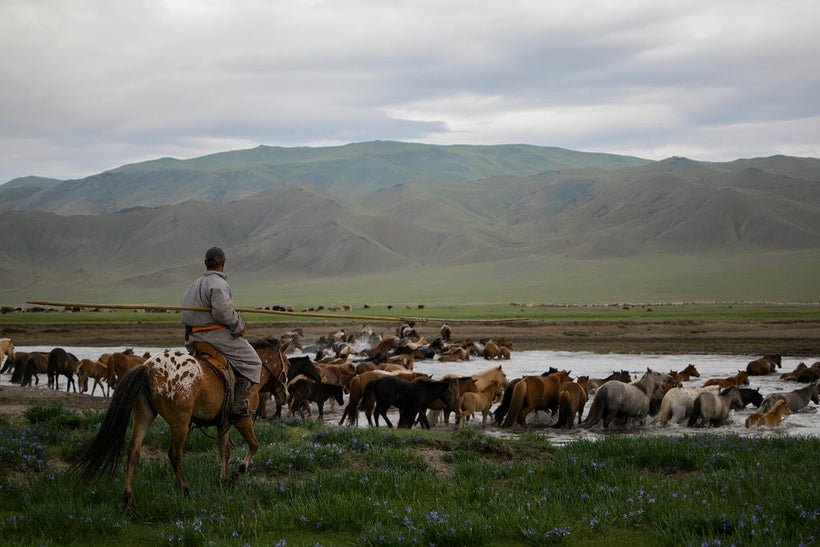 Question 4: What were the practical results of that strategy?
Answer: First, local governments received ecosystem service payments for the value of protecting their forests and watersheds. Second, we tripled the water taxes on industrial users (but not citizens). The revenues went directly to the local governments. They were then required to put 50% of these revenues into environmental rehabilitation and reforestation of their rural areas. Third, we put in place subsidies and incentive for renewable, clean energy and technology, to help Mongolia move away from coal. So in this way, the ideas of the small Green Party ended up enshrined in national policy, and implemented.
The lesson here is for international organizations, which often shy away from political parties. But unless you engage at the policy level, at the platform level, it's hard to create change later on. You have to bring new ideas in at the top.
Question 5: When if comes to bringing new ideas in at the top, how could this apply to experts working within government ministries?
Answer: Never underestimate the power of suggestion. Every minister has to come up with an annual action plan. What I've seen, however, is that department heads within a ministry just quietly sit and wait. Don't do that! Be proactive. Take your good ideas to your minister. Do your homework. Master the details. Figure out how your ideas align with the platform of the Minister's party. Then if you can explain your ideas well, you can have great influence at this level.
Never underestimate the power of suggestion.
Oyun Sanjaasuren is the founder of Mongolia's Civil Will Party. She has served as both foreign Minister and former Minster for Environment and Green Growth. Currently she is the Chair of the Global Water Partnership (GWP) and is the head of the Zorig Foundation, an NGO that seeks to spread democratic values in Mongolian society, to strengthen human rights, political freedoms, and social justice; as well as to improve the system of transparency and accountability of the government to the public.
Calling all HuffPost superfans!
Sign up for membership to become a founding member and help shape HuffPost's next chapter
This post was published on the now-closed HuffPost Contributor platform. Contributors control their own work and posted freely to our site. If you need to flag this entry as abusive,
send us an email
.