Everyone has a "dream job" lying dormant in their hearts. Unfortunately, it's usually plagued by one negative thought: that it can't become a reality. But many people have turned their dreams into daily realities. How did they get there? What inspires them? Surely they took all the right steps at the exact right time, without suffering any detours. I spoke to a few very successful people working their own "dream jobs" hoping to glean some insight.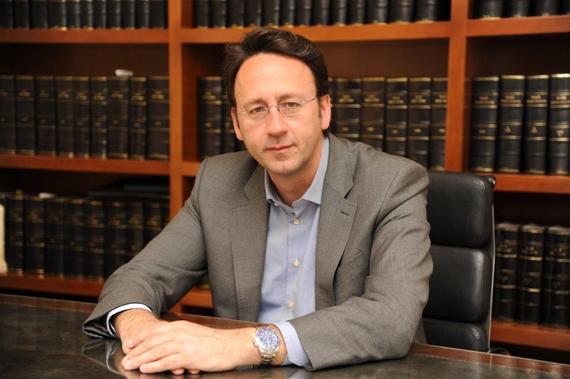 Ask any child what they want to be when they grow up and two of the most popular answers you'll receive are either an athlete or a lawyer. Interestingly, I don't think most children -- or their parents -- realize that they could actually combine their two passions. They should be led to have a discussion with sports lawyer, CAS Arbitrator and the former President of the Hellenic Football Association, Sofoklis Pilavios.
"I always knew that I wanted to be involved in sports," Sofoklis shares with me. "When I was young I started collecting athletes autographs -- soccer players, basketball players, track and field athletes. And I've always attended all of the major sporting events that take place, from volley to soccer." To note, Sofoklis has also served as legal advisor and as a Member of the Board of Directors of Panathinaikos F.C. and is currently also the 3rd-Vice President of the UEFA Club Competitions Committee among other various impressive soccer related positions.
However, even though a love of sports has always been Sofoklis passion, it wasn't by design that he ended up specializing in sports law. "About five years into my profession, I had a friend who was a coach and when he needed help he became a client. I believe that this is how anyone begins in any field," he offers. "If you have friends and spend time with people who are in a specific industry, say, the sports industry like I did, then it's highly likely that you'll end up doing something in that field yourself."
It's a fact that people are born with certain aptitudes and talents. Sofoklis' innate skills are what actually led him into law to begin with. "As a teenager, when my father asked me what I wanted to study, I didn't know what to answer. However, I knew what I didn't want -- pursuing a career in business like my brother did wasn't for me. And I always liked talking and theorizing." To this day, this trait is one of the things he attributes a lot of his success to. "I love communicating with people. I like talking, period!" he says, emphasizing that this is also his favorite part about his job. His least favorite? "Let me put it this way," he says. "There are three main features that my job demands: communication, reading and writing. My two favorite are the first!"
Anyone who knows Sofoklis quickly recognizes that he's a very easygoing man. As he admits, "I can stay cool in the midst of things. I'm neither intimidated nor do I get overly enthusiastic about anything. I weigh everything." The statue of Justice with her scales in hand comes to my mind as he says this and I can't help but think, how fitting!
Sofoklis began his studies at the Athens Law School, eventually going to Southampton for his post graduate degree. Hence, he's been successfully practicing for 25 years giving him plenty of time to assess his career thus far. I find it interesting that when I ask him what he considers to be the best decision he's ever made career-wise, he goes back to the first. "When I joined my cousin's law office during my 4th year in law school. It was the right place, at the right time; I wanted to work, so when he asked if I knew anybody who might be interested in working at his office I spoke up and said that I would!"
This experience not only taught Sofoklis a lot about his chosen profession, but his cousins' office also served as his model when time came in 2000/2001 to set up his own practice. "We're a boutique firm of four lawyers. The teamwork we share is wonderful; we all discuss the cases and work on them together," he says. "Through the years, I've been given many opportunities to join major law offices but I've never wanted to. Maybe financially it would have been more advantageous -- especially in the beginning! -- but ultimately, I'm very happy with my decision."
The most recent title on Sofoklis resume is that of Arbitrator for the Court of Arbitration for Sport, based in Switzerland. The CAS is the international authority which was established to settle sports related disputes of the highest levels. How does one acquire such an illustrious position? Well, an impressive resume upon application seems to be a necessity. "To be honest, when I was filling out my application I was very pleased to realize that I had so many things to add to my CV," he says, with characteristic honesty. "I'm very happy to be a part of this organization because it's given me a totally different perspective," he says. "It's one thing to be a lawyer and another to be an arbitrator. As the latter, you're the one who has to make the final decision and it's up to your colleagues to try and persuade you of their cases. Nevertheless, I can't say that I like one position more than the other."
Going back to the children and the, "What do you want to be when you grow up," question... why do they have to chose just one answer? Perhaps when we try to gage a child's future professional aptitude the question should be altered. Instead, we should ask, "What do you love doing at this very moment?" and allow them to encompass all of their passions, just as Sofoklis did. As the saying goes, "Children always speak the truth."
Support HuffPost
The Stakes Have Never Been Higher
Related
Popular in the Community