Everyone has a "dream job" lying dormant in their hearts. Unfortunately, it's usually plagued by one negative thought: that it can't become a reality. But many people have turned their dreams into daily realities. How did they get there? What inspires them? Surely they took all the right steps at the exact right time, without suffering any detours. I spoke to a few very successful people working their own "dream jobs" hoping to glean some insight.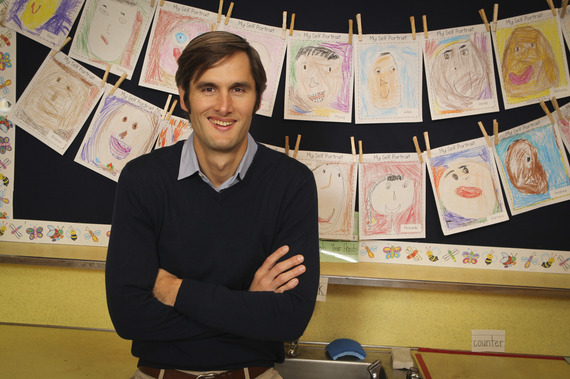 Childhood memories exist between our conscious and subconscious minds as a reel of colorful highlights and feelings. Naturally, a large number of them are made up of school activities; fitting since children spend so much time in school. I'm sure we all remember the time our volleyball team won in gym class practice; or we created what our teacher proclaimed to be a "masterpiece" in art class; or took that amazing field trip to the natural science museum. I would hate to think of what childhood memories would look like without those highlights. Wouldn't you?
A wise man once said that, "Necessity is the mother of invention" and the phrase's truth is indisputable. Just ask Charles Best, the CEO of DonorsChoose.org the nonprofit he founded out of, well... necessity.
After a childhood reared in NYC's Greenwich Village, Charles began his career as a history teacher in the Bronx public school system where experience proved to him that not all schools are created equal. "My colleagues and I would spend a lot of our own money on copy paper and pencils, and often we couldn't get the resources that would excite our students about learning," he says. They would talk in the lunchroom about various books they'd like their students to read, or a certain microscope that would bring science to life but it was to no avail--the funds simply didn't exist. "I figured there must be people out there who'd want to help teachers like us if they could see where their money was going."
He decided to take matters into his own hands; in doing so he became a trailblazer. When Charles first set up DonorsChoose.org in 2000, "Crowdfunding wasn't even a word and I had no idea that our little experiment would ever spread beyond the Bronx, let alone across the country," he shares.
History has proven that it takes a certain type of person to go out into unchartered territory and make a difference with their boldness. "You have to wade through tons of "no's" to get one "yes," and you can't let it go to your head when you get that yes," Charles offers, adding that perhaps the two essential personal traits of his that he can particularly attribute his success to are "humility" and "hustle."
Not that it was an easy road. It's common lore how Charles secretly funded the first few school project donations himself. But he didn't have to continue to do so for long. To date, DonorsChoose.org has orchestrated the funding of over 581,000 projects -- featuring over 40,000 projects during their busiest time of year -- and has dispersed an excess of $327M to nearly 62,000 public schools nationwide.
Unsurprisingly, for Charles, the best part of his job is the vast amount of projects that teachers from all over the country manage to successfully get off the ground thanks to the funding they find. "I'm amazed at the creativity of each project and the commitment of the teachers who use our site, so it's wonderful that we're able to bring some magic to their classroom," he tells me. Unfortunately, not all of the projects featured manage to receive the funding they require within their deadline, a fact that makes up the toughest part of his job.

Despite the fact that Charles and his DonorsChoose.org team have made it as easy as possible for almost anybody to reach out and support, there's still a chance that a potential donor might get a bit overwhelmed by the sheer volume of projects featured. He agrees and offers some sage advice--make it personal. "First-time donors should think about their passion, be it yoga, playing the piano, or salmon fishing. We have requests on the site to match just about any interest, and I guarantee we'll have a project that inspires every potential donor."
As an inspiring example, he shares the story of Mr. Thompson, a teacher from Michigan who through funding he raised via DonorsChoose.org gave his students a firsthand experience of saving the environment. How? He orchestrated the building of an underwater robot used to deliver lake trout fry to a reef 25 feet below a polluted lake's surface in order to help restore the native lake trout population. Mr. Thompson and his student's then used the robot's built-in video camera to monitor the trout fry's survival. "It's teachers like Mr. Thomson - who go above and beyond for their students - who make our work so rewarding," Charles says.
I'd like to add, that through this teamwork, Charles, his team at DonorsChoose.org and those special teachers also instigate the creation of some awesome childhood memories.
Support HuffPost
The Stakes Have Never Been Higher
Related
Popular in the Community