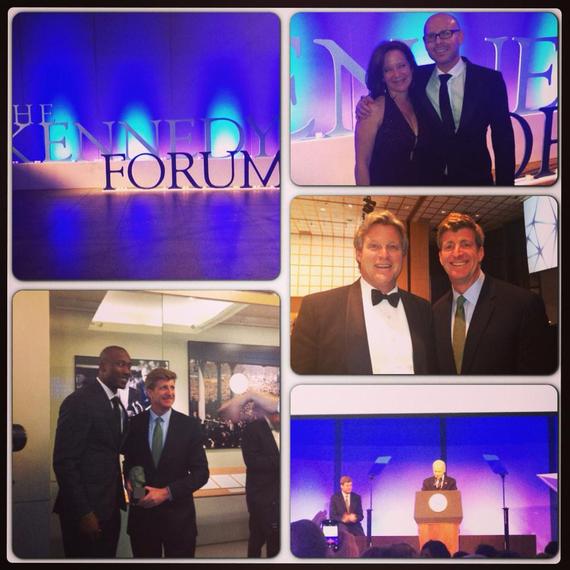 If you were to compare making a change in the world to tossing a pebble into water, you would quickly see that alone, one single pebble makes a small splash with ripples that slowly fade. You would realize how difficult it is for one individual throwing pebble after pebble to ever make a big wave. But... with enough people coming together to throw stones, it becomes easy to see how small ripples can literally change the tide.
Meaningful change requires collaboration, connection, community!
At the Flawless Foundation, several of us are preparing to travel to Boston to attend The Kennedy Forum at the John F. Kennedy Library next week. The Kennedy Forum convenes policymakers, educators, researchers, providers, and people with the lived experience of mental health challenges to participate in discussions examining the future of mental health in the U.S. and abroad. The forum tasks itself in full implementation of parity law, integration and collaborative care, and prevention of brain disorders.
Kennedy Forum Founder and former United States Representative Patrick Kennedy embodies the power of collaboration and his efforts to unify the mental health community are crucial. When individuals and organizations come together, the volume of each voice becomes louder and the case for change becomes so much more powerful.
We recently experienced this power of collaboration ourselves at Flawless. Our colleague, Cinda Johnson, co - author of Perfect Chaos, introduced us to her dear friend Kristin Guest after Kristin's pregnant daughter Mary died from suicide and her family wanted to set up a fund to benefit a mental health charity in Mary's honor. This courage and connection resulted in our sponsoring a mental health symposium and panel discussion in Mary's memory that focused on prevention and will live on through video and social media. We then introduced this inspiring family to Andrew Solomon when he was writing about depression and antidepressants in pregnancy, which was Mary's medical situation. Andrew's powerful article featuring Mary's story appeared on the cover of the New York Times Magazine last Sunday. Cinda, Kristin, Andrew and I all threw a pebble that resulted in waves of public impact. A society that may have been aware of the challenges of post-partum depression is now far more ready to recognize and respond to the lesser-recognized medical issue of ante-partum depression -- a result that will help save lives.
We attended the Inaugural Kennedy Forum when Patrick Kennedy stood beside Vice President Joe Biden to address the pressing issues of mental health in America. The words of hope spoken that night still echo today, at a moment when the Vice President and his own family are facing the emotional trauma felt by every parent who loses a child.
This year, Flawless is again a proud sponsor of the Kennedy Forum and we are deeply committed to spreading the message that will make waves across the nation-behavioral health is an issue that requires radical change.
In advance of the event, the Kennedy Forum organization released new public opinion data that outlines how Americans feel about mental health and addiction today. The data stated, "Nearly all Americans (96%) believe that mental health conditions are a serious public health problem in the United States today." The study also found that 37% of Americans report being somehow connected with mental health conditions. With these powerful statistics, collaboration for change around this public health emergency should be effortless.
At this year's conference, we are looking forward to the essential community-building mission of any such gathering -- making connections with our colleagues who share our passion and our urgency --Flawless Connections -- that will forge a unified effort in making change.
Together in Boston with Patrick Kennedy, Newt Gingrich, Wayne Brady and so many thought leaders from around the nation, our goal is nothing short of building our individual ripples into a sea change in understanding, awareness and action in improving our nation's mental health and building a society that sees the perfection in all its citizens.
Calling all HuffPost superfans!
Sign up for membership to become a founding member and help shape HuffPost's next chapter