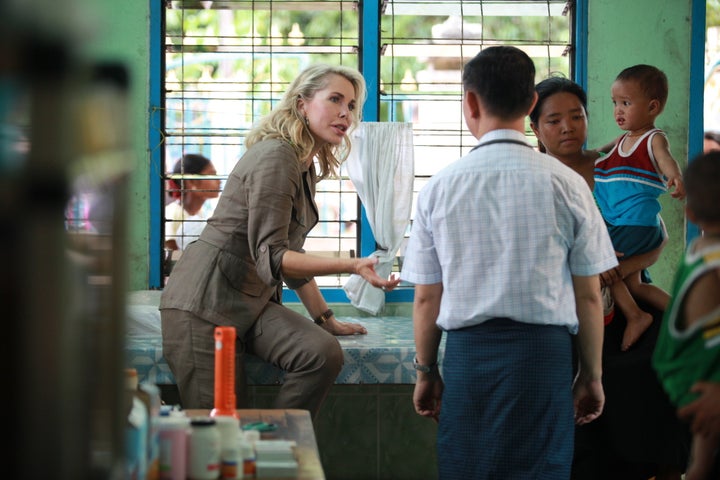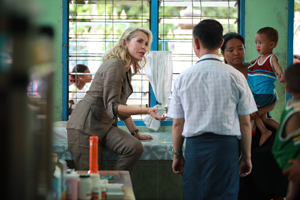 Imagine standing in front of a deadly fire, holding buckets of water in your hands. Imagine watching a crisis unfold, despite holding a solution.
In many ways, this chilling metaphor perfectly encapsulates the reality of the global pneumonia crisis. Every year the global community watches pneumonia claim the lives of more children under the age of 5 than AIDS, malaria and measles combined. These deaths occur despite the fact that we already hold in our hands simple, inexpensive pneumonia prevention and treatment tools. Worse still, most of these deaths occur in relative silence, largely overlooked by the media and, in some cases, the international health and development community.
Fortunately, every day around the world, a group of committed doctors, nurses, researchers, NGOs, and community health workers are fighting to break this status quo and make sure that pneumonia prevention and treatment options are reaching those who need them most.
I had the privilege of meeting people working on the frontlines of the fight against pneumonia last week during a trip to Myanmar. My foundation, the Princess Inaara Foundation, and PSI are currently working together to bring pneumonia information and care to children and families, particularly in rural areas of the developing world where the need is greatest. The impact made by the people I met gave me hope. If provided with the right tools, training and support, health providers across the developing world have the power to dramatically reduce the number of deaths caused by pneumonia and give all children the opportunity to reach their full potential.
Reaching All Families, No Matter Where They Live
The barriers that exist to increasing pneumonia control in Myanmar are similar to barriers that exist in many developing country contexts.
Families in rural, hard-to-reach areas have very limited access to the type of quality and affordable health care needed to address pneumonia, along with other leading causes of child deaths, like diarrhea and malaria. Why? Health providers are simply not located in many of these areas. In areas where a provider is within walking distance (often down a dangerous dirt road), the provider may be unable to offer appropriate care because they lack training or the right tools to diagnose and treat pneumonia cases properly.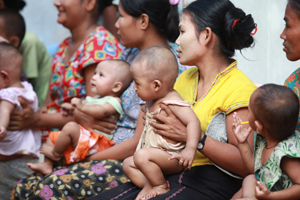 PSI, a global health organization that operates in 69 countries, is working with the government of Myanmar to address this challenge. For the past 11 years PSI and its partners have helped build an efficient network of private doctors, licensed general practitioners and community health workers and train them to diagnose and treat a range of health issues, including pneumonia, malaria, tuberculosis, reproductive health and HIV-related illnesses. This approach has helped revolutionize health care access and quality in Myanmar.
When health providers join the network, called the SUN Network, they agree to deliver specified services under a common, trusted brand. The franchise model is an incredibly cost-effective way to improve access, quality and equity of health care in the private sector, where most families access health care in Myanmar and in most parts of the developing world.
Today, these networked clinics and community health workers offer services even in the most remote areas of Myanmar, reaching thousands of families who previously had limited access to basic health care. Working in tandem with the government of Myanmar, providers are now better able to diagnose clients correctly and refer them for immediate treatment if they are unable to do so themselves. Moreover, providers now have the tools and capacity to educate parents and caregivers about preventative health measures they can take to protect the health of their loved ones, such as hand washing with soap.
Saving 3-Year-Old Zayar Kyaw's Life
During my visit to one of the PSI-supported doctors, I met a family: Hla Hla Aye, a 24-year-old woman who is 7-months pregnant, and her two boys, Zayar Kyaw, 3 years old, and Zaw Zaw, 5 years old. They live in a peri-urban village on the outskirts of Yangon and earn the equivalent of $60 a month growing and selling vegetables at the local market. The 3-year-old boy, Zayar Kyaw, had presented at the doctor's clinic a few days earlier with a high fever and a deep chest cough; at the time he was diagnosed with pneumonia and was provided with a five-day course of amoxicillin antibiotics, supported through the Princess Inaara Foundation. A few days later this little boy was at the doctor's clinic for a follow-up visit and reportedly on the road to recovery. A course of pneumonia treatment costs less than $1 and can save the life of a child in need.
Since 2010, with the support of the Princess Inaara Foundation, this network has treated nearly 270,000 children under 5, like Zayar Kyaw, for pneumonia. More than 1,000 doctors have been trained to provide pneumonia care and treatment, and more than 14,500 pneumonia awareness health talk sessions were provided to 140,000 parents and caregivers in remote areas.
Imagine if this approach, combined with other game changing pneumonia interventions like vaccines, were taken to scale globally?
Imagine if donors, companies, governments and the media directed proper attention and funds to the pneumonia crisis rather than letting existing lifesaving tools sit by the wayside as children and families like Hla Hla Aye's succumb to this preventable crisis?
It's time to get to work.
Learn more about pneumonia and World Pneumonia Day here.
Calling all HuffPost superfans!
Sign up for membership to become a founding member and help shape HuffPost's next chapter