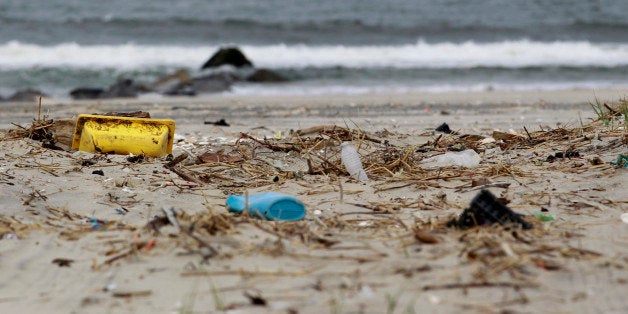 Just last weekend, I was in Rhode Island -- the Ocean State -- for the Volvo Ocean Race. Sailors from seven teams competing from around the world talked to me about the amount of plastic they were seeing in the ocean, and how concerned they were about the impacts this trash is having on wildlife. It was clear to me that we're experiencing a sea change -- and not one for the better.
If you have visited the beach recently, you, too, know that ocean trash is a problem. You've likely seen cigarette butts littering the sand and grocery bags floating in the surf like plastic jellyfish. Unfortunately, the trash we see from shore is just the tip of the proverbial iceberg.
A recent study from the Journal Science estimated that between five and 12 million metric tons of plastic enter our ocean every year. If nothing is done by 2025, there could be one pound of plastic for every three pounds of fish. The problem is big and growing, but we at Ocean Conservancy are working on a solution.
Ocean Conservancy is committed to tackling the problem of ocean trash at every point in its lifecycle, and we are joined by hundreds of thousands of concerned citizens, and some very important corporate, nonprofit and government partners. Together, we can clean up the beaches and waterways we all love, and address some of the upstream causes of ocean trash, like better waste management in countries where garbage and recycling services don't meet current needs.
Every year since 1985, people around the world have volunteered their time to pick up trash at their local beaches, bays and lakeshores as part of the International Coastal Cleanup. Over the event's 29-year history, more than 10.5 million volunteers have pitched in to remove 192 million pounds of trash along 350,000 miles of shoreline in all 50 states and 153 countries. In 2014 alone, we had over 560,000 volunteers walk, paddle and swim 13,000 miles to remove 16 million pounds of trash in 91 countries.
This heroic effort accomplishes more than just cleaner waterways: it also helps us track the scale of the problem, and pinpoint some of its causes. All volunteers document their finds on data forms, and Ocean Conservancy staff analyze these data to produce the Ocean Trash Index, the only annual global snapshot of marine debris.
In addition to the all too common plastic bottles and bags, volunteers have removed lawnmowers, wigs, barbecues, bowling balls and wedding dresses. Each of these unusual finds is faithfully recorded, alongside the staggering numbers of bottle caps, balloons and beverage lids. The information the volunteers collect helps us understand the pollution pathways to the ocean, in order to stop trash at its source.
Ocean Conservancy's Trash Free Seas Alliance is an effort that's identifying ways to stop land-based trash from ever reaching the ocean that includes partners from industry, academia, NGOs and public interest organizations. Scientists and other experts on the issue have advised the Alliance to focus on better waste management and collection efforts. By focusing on improving waste collection and disposal in just five countries where the gap between plastic use and proper disposal is greatest we can tackle over 50 percent of the problem.
Stay tuned for more information about our work with the Trash Free Seas Alliance. For now, please join me in thanking the 561,895 people that came out last September to help make the 2014 International Coastal Cleanup a great success. Our beaches are a whole lot cleaner, thanks to their efforts. Together, we'll turn the tide on ocean trash.
REAL LIFE. REAL NEWS. REAL VOICES.
Help us tell more of the stories that matter from voices that too often remain unheard.