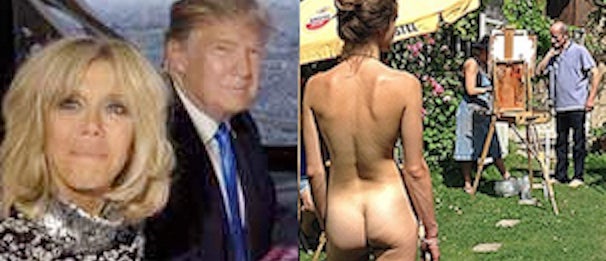 Dateline: Aubais, Southern France – IT'S NOW MORE than a week since I ventured first to Paris, ahead of President Donald J Trump, and then on down to the Département du Gard.
Like many French citizens, and those of many countries, I expect, I was pained but not surprised by Trump's use of the Fête Nationale to posture for the world's media – his attempt, you might say, to impersonate a world leader.         
His performance in Paris – and the media throughout Europe had a mocking field-day with it – was simply lamentable. Or to employ his own lame tweetage … it was: "SAD".
The sadness extended from his evident inability to move any distance from his default manner for communicating with a woman (barely-if-at-all-suppressed lewdness) - even for the most prominent woman, Mme Brigitte Macron, in the country where he's an official guest - right through to his almost comical, but maybe also psychologically alarming, inability to read the sophisticated light-touch that the French military band brought into its march-past.
While the rest of the official party, notably President Emmanuel Macron – plus the entire crowd of course – entered fully into the interlude's spirit of fun, a forlorn Trump struggled stiffly to maintain a jutting jaw, presumably in order to look serious and 'Presidential'. And all the while, a stiff breeze threatened teasingly to completely disengage his complex structure of orange 'hair'.
As I now review the visuals of that Trump-stained Bastille Day from a safe distance, and in a rural vantage point that is effectively a visual artists' retreat, I'm appreciating afresh the significance of imagery at every set-piece diplomatic encounter that's ever arranged at the level of countries' heads-of-government.
Historically, I'd point for example to the well-choreographed, carefree bounce of the 75-year old President Ronald Reagan, as he wore a mere business-suit to ostentatiously out-vigor the Russian Communist Party's Secretary-General Mikhail Gorbachev, at least on-camera.
The Russian was the younger man, by 25 years – but he arrived for their history-making 1986 Reykjavik summit meeting all bundled-up protectively in a heavy overcoat, looking by contrast with Reagan weakly fearful of the Icelandic weather.
Trump could have used some of that Reaganite cheery looseness, if only for its optics.
THAT MOST VISUAL of all media – the medium of paint – has been at the center of my French stay since I escaped the capital. I've been in the small, ancient town of Aubais, tucked unobtrusively into the countryside toward the edge of the Petite Camargue. I'm a grateful guest of Academy Studio Abroad, a distinctive and valuable enterprise run by British artists Tod Ramos (known for stunning studies of horses, human portraits too, landscapes, and much else) and his wife Kate Lovegrove (a noted muralist internationally).
All through the region's best time of year – and that can amount to 300 days of sunshine – they host small groups of artists coming from many different nations, and with varied degrees of experience. Ramos helps them improve their skills (above right) in courses that vary in length from a week to 5 weeks for determined practitioners.
Perhaps a better word than 'course' could be 'boot-camp', given the intensity and rigor involved. But it's an experience that is greatly eased by its delightful Languedoc setting … tall cypress-trees, olive groves, farms and vineyards … and it is sustained by the most delicious meals imaginable. (Many of these are a benefit of Ms Lovegrove's creativity being multi-disciplinary in nature. Not content with painting beautifully on an impressively large scale, she cooks to a modern-masterpiece standard too.)
Concerned as I am, and The Media Beat always is, for the health of every single medium of expression, I'm impressed by the foundational approach of the Academy. For beginners, Ramos imbues them with what he promotes as "fresh but traditional techniques", and these include "foolproof perspective" – no small triumph when achieved.
And for the more advanced student, there's an especially intensive course that in essence amounts to more than 40 hours a week of tuition in 5 weeks. This approximates to what anyone might get in a year of attending most art schools in the US or the UK, so the Academy can promise to deliver (not extravagantly, I'm very willing to believe) diploma-level competency and the skills to complete "a portfolio for entry to any art establishment" and perhaps embark on an Arts career.
What is perhaps most foundational of all, since it works for the future of the art-form … is the offering that Ramos and Lovegrove call "The Generation Art Course". It's a heartening venture in which artists-in-the-making, children from 6 to fourteen years old, are taught to paint, along with their attendant adults.
It prompts me inevitably to draw on a lasting adage about creative free expression. It's one of those many, ultimately uncheckable, quotations that are attributed to Pablo Picasso. Whether he actually ever said it or not hardly matters, in view of its unassailable truth and relevance here:
"Every child is an artist. The problem is how to remain an artist once he grows up."
Particularly after last week's dispiriting scene on the Champs-Élysées, so full of unconvincing phoniness – I was much relieved this week to be among genuine creators.
Read more of David Tereshchuk's media industry insights at his online column, "The Media Beat", with accompanying video and audio. Listen also to "The Media Beat" Podcasts on demand from Connecticut's NPR station WHDD - and at iTunes.
Calling all HuffPost superfans!
Sign up for membership to become a founding member and help shape HuffPost's next chapter
This post was published on the now-closed HuffPost Contributor platform. Contributors control their own work and posted freely to our site. If you need to flag this entry as abusive,
send us an email
.