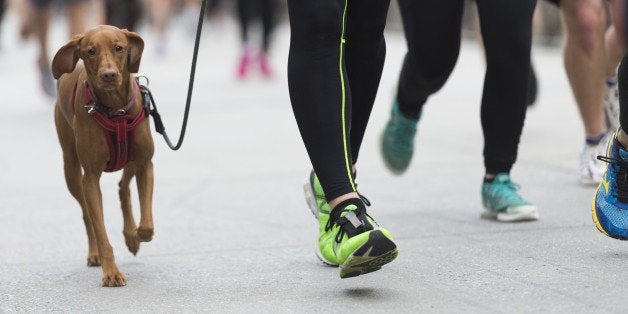 Many dog owners know their furry companions need more exercise and playtime than they have the time or energy to provide. Are you among them?
And how awful do you feel as you prepare to head out to the gym or go for a bike ride, while your little buddy shadows you through the house, hoping he'll be asked to come along?
Do You Need a Workout Partner? How About Your Dog?
Taking your dog for a walk probably means stopping every few feet so she can check her pee-mail, sample the grass, maybe do a little excavating -- all at a leisurely pace that doesn't qualify as exercise.
But believe it or not, your dog can be a great workout partner, even if you're just starting to exercise. Unlike a human companion, your dog will always be ready to get up and go. And since dogs love having a daily routine they can count on, yours will be happy to remind you when it's time to exercise each day.
Working out together can provide important health benefits for both you and your dog. These include lowering your risk of obesity, diabetes, heart disease, and joint disease. Not only will you get in better shape, but your canine companion will also benefit both physically and mentally. Bored, under-exercised dogs often develop behavior problems that are resolved by adding more physical activity into their daily routine.
Most Dogs Must Learn the Difference Between Casual and Workout Walks
If you do it right, power walks, or "workout walks" with your dog may just replace your need for a gym membership. And what could be better than spending that extra time with your pet, insuring he's getting all the physical activity he needs to be healthy?
First, though, you must reprogram any dog who has grown accustomed to sniff-piddle-dawdle walks. Don't expect to make a one-day transition from leisurely strolls to power walking. It will take several sessions for your pet to catch on.
Of course, you'll also be taking your dog on casual walks, so you'll need to help him learn to distinguish between the two. It could be a time of day thing -- for example, you could schedule slower walks for first thing in the morning and again before bedtime, and workout walks happen at some point in between.
Alternatively, you could develop a verbal cue that tells your pet he's about to go on a power walk. I also strongly encourage the use of a harness for exercising with your dog. A leash attached to your dog's collar can quickly become a health hazard as you're cruising city streets or even country roads. Many dogs learn which walk they're going on by whether the leash gets attached to their collar (short walk) or a harness (time to get serious!).
Getting the Most from Your Workouts
In order for both you and your pet to get the most from workout walks, your dog needs to learn to move beside you at the same pace, rather than being in front or behind you. When you're power walking, jogging or running with your pet, he should be in the shoulder-at-knee heel position. This allows the two of you to move as one, and reduces the risk of smacking into each other along the way.
If you need help training your dog to move well beside you on walks or runs, Karen Pryor of clicker training fame offers some excellent tips and tricks here.
To make working out with your dog a true fitness-building experience, variety is key. Try increasing your pace after a short warm up. Increase the distance you cover. Do interval training by speeding up your walking pace, or breaking into a jog or even a run for a block or two to raise your heart rate and your pet's. Substitute an uphill hike or climb for your usual power walk.
Your dog will also benefit physically and mentally from playtime, so get creative and find ways to play with your pet that also provide you with exercise. If she likes running off leash at the dog park, run along with her. If she loves retrieving a ball, throw it and race her for it.
Done correctly, working out with your canine partner can give you all the aerobic exercise you both need to stay well conditioned. You may still need to hit the gym for strength training, but now you can leave the house with a clear conscience, knowing your fuzzy companion isn't being shortchanged in the exercise department.
Dr. Karen Becker is a proactive and integrative wellness veterinarian. You can visit her site at: MercolaHealthyPets.com.
Her goal is to help you create wellness in order to prevent illness in the lives of your pets. This proactive approach seeks to save you and your pet from unnecessary stress and suffering by identifying and removing health obstacles even before disease occurs. Unfortunately, most veterinarians in the United States are trained to be reactive. They wait for symptoms to occur, and often treat those symptoms without addressing the root cause.
By reading Dr. Becker's information, you'll learn how to make impactful, consistent lifestyle choices to improve your pet's quality of life.