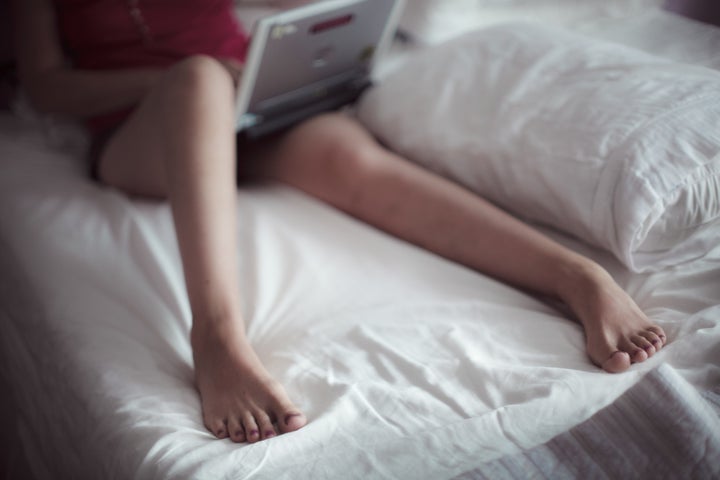 One of the charges leveled against pornography, and there are a lot of them, is that it is fundamentally bad for women. Porn commodifies women's bodies, certain feminist rhetoric goes. It trains viewers to see women as nothing more than objects.
But a recent study suggests that porn may not be conditioning individuals to dismiss women after all.
Porn viewers, it found, may actually hold more egalitarian views than non-porn-viewers when it comes to women holding positions of power and working outside the home, as well as toward abortion rights.
And they're just as likely as non-porn viewers identify as feminists.
"For me, the biggest takeaway concerns what we did not find," said Taylor Kohut, a postdoctoral fellow in The University of Western Ontario's department of psychology, and an author on the study. "Pornography users were not more likely to reject gender egalitarian beliefs and attitudes than people who did not use pornography."
"We also found some evidence to the contrary," he added, "in that pornography users were slightly more gender egalitarian, in some ways, than non-users."
Kohut and his colleagues used data taken from the General Social Survey, or GSS, a longstanding survey of contemporary American attitudes that has run since the 1970s. Roughly 25,000 men and women responded to questions about their personal pornography use, as well as questions about gender equality and feminism.
"Although some of our findings suggest that pornography users are slightly more likely to hold some gender egalitarian beliefs and attitudes than non-users, we do not have any compelling reasons to believe that pornography makes people become more feminist," he said. 
What the findings have done is add nuance to certain cultural assumptions about the effects of porn viewership. Though research hasn't done a good job of capturing how many people engage with pornography, estimates suggest that some 40 million Americans are regular visitors to porn sites. And a whole lot of them appear to feel really bad about it. 
"I think a study that shows there's even a slight association that shows porn users hold more positive attitudes toward gender inequality can alleviate some anxiety that women who watch porn, or whose partners watch porn, might feel," said Lynn Comella, an associate professor of gender and sexuality studies with the University of Nevada, Las Vegas.
"They might wonder, 'Does this mean this person sees me as less of an equal? Are they harboring aggressive attitudes toward women?'" she said. "This could potentially alleviate some anxiety about what porn use says about someone."
The idea that pornography is inherently bad for women has been repeated so often that it has been largely accepted as fact, Comella argued. She praised the recent investigation for providing an interesting finding, using a large data set, "that disrupts that narrative." 
Of course, there are persuasive arguments to be made against porn, especially when it comes to women. At least one study found that it does, in fact, promote misogyny, though that investigation was relatively small. Then there are the criticisms that sex itself focuses too much on male pleasure, and that porn actresses all have a very particular, very narrow look. Feminist porn -- which tends to feature women with a broader range of body types, and who are fairly compensated for their work -- is a response to many of those concerns.
But the notion that mainstream porn is unquestionably bad for women may not hold up.
"The assertion that pornography contributes to gender inequality is commonly expressed in the public sphere, and underlies many contemporary efforts to regulate pornography use throughout the Western world," Kohut said. "I think our findings call into question one of the most popular criticisms that gets leveled against pornography."
Calling all HuffPost superfans!
Sign up for membership to become a founding member and help shape HuffPost's next chapter
BEFORE YOU GO
PHOTO GALLERY
Porn Stars Without Makeup