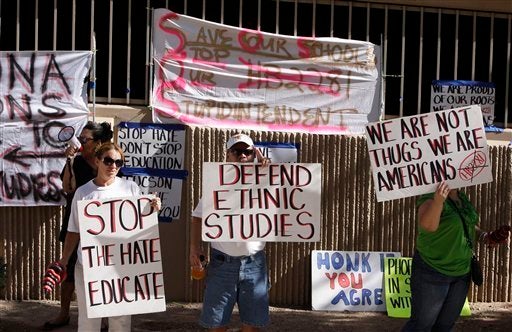 Coming at the year's end of the most brutal crackdown on Latino students, teachers and parents in Tucson's 140-year history of public education, civil rights advocates are announcing that the U.S. Department of Education's Office of Civil Rights has opened multiple investigations into possible violations of Title VI of the Civil Rights Act of 1964.
Not that the Tucson Unified School District, under the iron-grip of Superintendent John Pedicone, has bothered to inform the district's parents or taxpayers of the nearly month-long investigation.
Already saddled with an embarrassing federal desegregation order and growing concern over irregularities in funding allocations, Pedicone's silencing of discussion over the groundbreaking federal investigations -- which range from racial and language discrimination and access to school board meetings, unfair restrictions on Latino events at public schools, and potentially an investigation of extraordinary civil rights violations over the dismantling of the nationally acclaimed Mexican American Studies program -- appear to be part of his broader strategy to crush Latino participation in a district where 61% of the children come from Latino households.
Since the national scandal over the book banishment debacle earlier this spring, TUSD spokesperson Cara Rene has failed to respond to numerous inquiries about school district issues -- though, she managed to pay a visit to the detained Latino textbooks for Fox News.
In effect, Pedicone -- a Chicago transplant who refuses to live within the school district boundaries, and who loves to regale crowds with his nightclub crooning and unabashed cheerleading of Tucson's own corporate version of the shadowy ALEC, the Southern Arizona Leadership Council -- has earned the moniker as the "Sheriff Arpaio of American schools" for his public demonization and punishment of Latino youth, firing Mexican-American teachers, confiscating Latino literature and textbooks, derailing Latino writer visits and Cesar Chavez celebrations, and ramped-up police tactics at the overflowing school board meetings, including ordering the arrest of elderly Chicano educators and forcing little Latino children to submit to metal detectors and wanding by security officers.
Perhaps overwhelmed by his rocky start last year at the helm of TUSD's 53,000 students -- Pedicone previously ran a tiny Flowing Wells School District, roughly one-tenth the size of TUSD -- Pedicone's action are also seen by many as retribution for calls for his resignation last summer.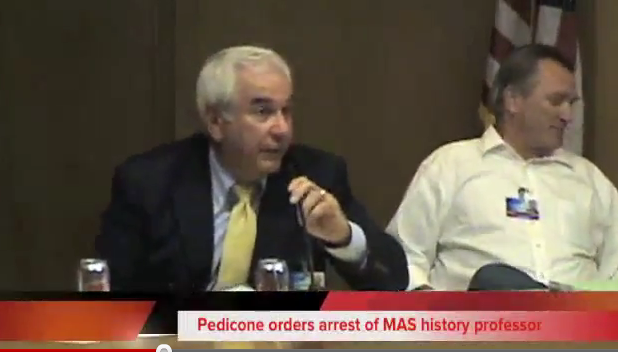 Pedicone and TUSD school board member Michael Hicks, photo courtesy of The Three Sonorans
"Pedicone is the Sheriff Arpaio of TUSD education," said Tanya Alvarez, a TUSD parent. "He has no respect for our community's strengths, needs and culture. He lacks cultural sensitivity, uses excessive police monitoring. While extremist Arizona state superintendent John Huppenthal squandered school funding on audits, Pedicone ignores the results and fails to understand that his neglect and abuse of power."
"The hateful, anti-immigrant political climate in the streets of Arizona has created a climate of irresponsibility and complete disregard for civil rights on federally funded TUSD1 administrative offices, school facilities and/or campuses and this is the basis of the federal complaint," said Silverio Garcia, director of the Civil Rights Center in Phoenix, which brought the complaints to the U.S. Department of Education. "The manner that a quorum of the TUSD1 School Board has publicly displayed itself along with its unchecked militaristic law enforcement tactics takes us back to the '50s and '60s when we speak of blatant civil rights violations against our communities, parents and youth. It is far past time that the federal government came into TUSD1 and balanced the tables of EQUAL ACCESS and JUSTICE for ALL."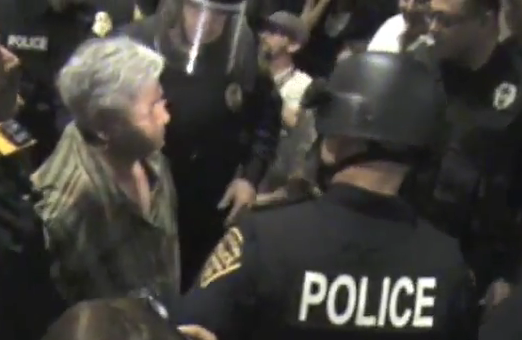 Police arrest Prof. Guadalupe Castillo at TUSD board meeting, May 3, 2011, photo courtesy of The Three Sonorans
Garcia, who has successfully taken on other draconian and civil rights violations in Arizona schools, also announced his intentions to set up an a Civil Rights Training program in Tucson in order "to educate the TUSD1 high school students, parents and community members, in order to better unveil and file more federal violations/complaints in the coming days."
In truth, Tucson school chief John Pedicone might learn from the federal investigations over Sheriff Arpaio's extraordinary racial profiling and ethnic discrimination in Maricopa County: Despite his efforts to silence or discount the allegations, the civil rights investigations have just begun.
REAL LIFE. REAL NEWS. REAL VOICES.
Help us tell more of the stories that matter from voices that too often remain unheard.