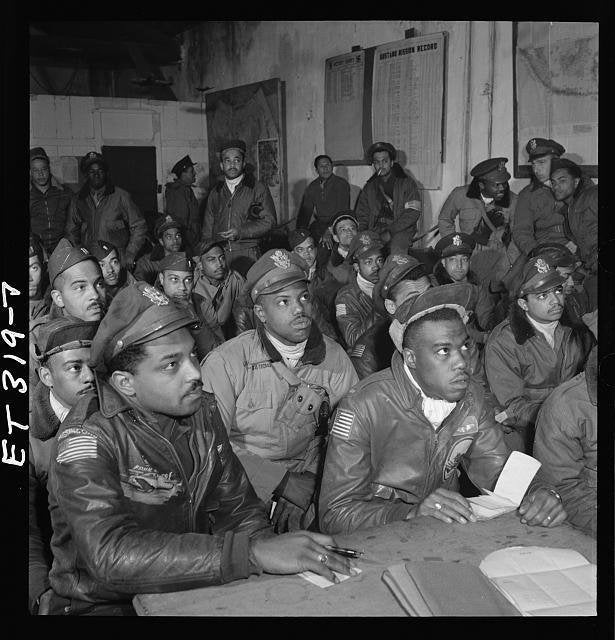 LOS ANGELES -- This week's most noteworthy film screening didn't take place in Hollywood or Beverly Hills. Instead of starlets gliding past photographers on a red carpet, elderly men in wheelchairs, using canes or leaning on family for support were escorted by cadets up the steps of the Baldwin Hills Crenshaw Plaza theater.
These men constituted most of the remaining Los Angeles-area members of the original Tuskegee Airmen group, and they were there on Wednesday for a special showing of "Red Tails," George Lucas' multimillion-dollar portrayal of the first African-American air corps in the United States.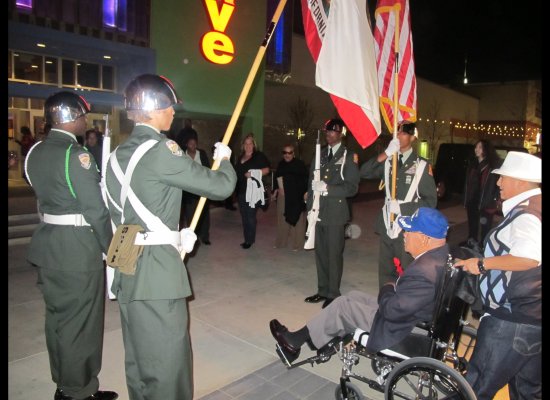 Tuskegee Airmen being escorted into the theater. Photo by Kathleen Miles.
The sold-out screening packed in about 400 people, all of whom burst into tremendous applause when the World War II veterans stood at their seats. As some audience members snapped photographs, others took a moment to explain to their children "how big of a deal this is!" And throughout the night, the audience punctuated the film with laughter and applause. When the screening ended, the Los Angeles chapter of Tuskegee Airmen Inc. hosted a private reception with a live band, a buffet, a few short speeches and a movie poster signing by the airmen.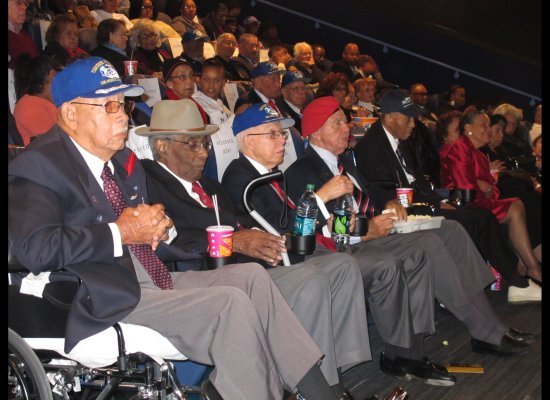 Tuskegee Airmen watch "Red Tails" at Rave Motion Pictures. Photo by Kathleen Miles.
Los Angeles resident Levi Thornhill was one of the Tuskegee Airmen who came. He had been part of the original 332nd Fighter Group, who served with distinction as airplane escorts for bomber planes on strategic missions in Europe. After the film, he praised Lucas for his attention to detail and gave "Red Tails" a ringing endorsement.
"I'm wondering where in the world [Lucas] found all those P-51s, the Red Tails," said the 89-year-old Thornhill. "I think he did a very good job, a very good job. And I've seen a lot of movies with airplanes in it!"
As a crew chief at the all-black Ramitelli airfield in Italy, Thornhill was in charge of making sure the planes were kept in the best possible shape for combat. While racist policies shaped and limited his early years in the military, he said it was easy to keep a clear head about the Red Tail missions while in Italy.
"The great thing was that there wasn't much interaction between whites and Negroes because we were segregated," Thornhill said bluntly. "We could pay attention to what the hell we were supposed to do and didn't have to deal with all that other crap."
Still, he kept tabs on the burgeoning civil rights movement back home with help from family and friends. "I used to get newspaper clippings from home with stuff that I needed to know -- good and bad stories about what was happening between the races," he recalled
After his original service ended, Thornhill re-enlisted in the Army because he couldn't find another job. The re-enlistment eventually turned into an Army career, during which he saw a multitude of changes, including the desegregation of the military. He retired in 1965 with the rank of major and went on to become an airline engineer.
Tuskegee Airmen 332nd Fighter Group on Ramitelli Base in Italy during World War II. Photos from the Library of Congress.
Story continues below.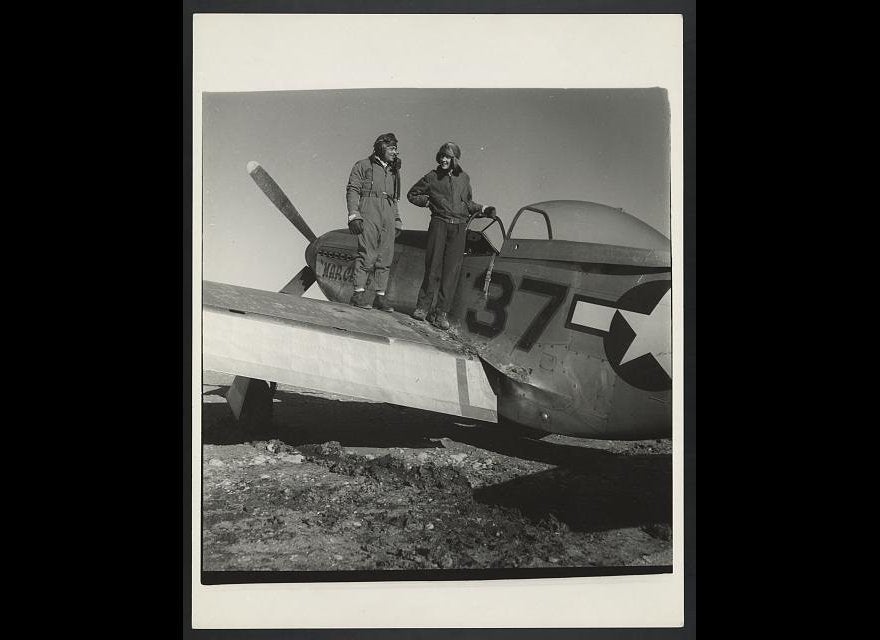 Tuskegee Airmen - Vintage
Another veteran of the Tuskegee Airmen watching the movie was 89-year-old Ed Tillmon, who graduated as a second lieutenant bombardier and was part of the 477th Bombardment Group. The group was scheduled to carry out missions in Japan, but the war ended just before they were set to leave the United States.
"I think every one of us knew that we were fighting three wars," said Tillmon, referring to the Japanese front, the European front and segregation back home. In fact, while his group never saw combat overseas, Tillmon was part of another historic battle -- the Freeman Field Mutiny, in which 162 African-American officers were arrested for attempting to integrate the whites-only officers club on the base.
Tillmon is modest about his role in history. Although a picture of him in uniform always sat on the mantel, the great-grandfather didn't share his story with his three children, 14 grandchildren and eight great-grandchildren until this past decade.
"My kids didn't even know that there was such a thing as Tuskegee Airmen," he said matter-of-factly.
Following the war, the Kansas City, Kan., native earned a bachelor's degree in chemistry from the University of Kansas and went on to become a commercial banker. For the past 44 years, Tillmon has been living in Santa Monica, Calif. "After the war, I think most of us that came back, especially Tuskegee Airmen, got involved in activities not associated with flying because there were no jobs in the major airports," he said.
Tillmon expressed his hope that "Red Tails" would help keep the Tuskegee Airmen legacy alive. "The younger generation -- they like action in movies," he joked.
George Lucas has been vocal about his 20-year struggle to make the $58 million film. In early January, he claimed that Hollywood studios rejected "Red Tails" because of its all-black cast, and since then he has voiced concerns about how "Red Tails" might hold back African-American filmmakers for "decades" if it underperforms at the box office.
The film opened to wide release on Friday, Jan. 20. Only time will tell its impact on African Americans in Hollywood, but for the Tuskegee Airmen, this movie couldn't have come a moment too soon. Los Angeles resident Roger "Bill" Terry, founder of Tuskegee Airmen Inc., served as a technical adviser on the making of the movie before his death in 2009. Another of the veterans who attended Wednesday's screening is in hospice care with Twilight Brigade.

Popular in the Community