Throughout its existence, Baltimore has been a city divided by race. As a major port city, Baltimore once was a major center for slave trade. After slavery ended, Baltimore, like many cities south of the Mason-Dixon line, segregated itself. And today, despite decades of effort from civil rights activists, Baltimore remains a city divided.
During sophomore year, I became the vice-president of my school's National Honor Society chapter and the position required the organization of service opportunities for our members. Since no opportunities existed within my school for students to volunteer in Baltimore City, I researched if any nearby programs were in need of volunteers and connected with the US Dream Academy, a national afterschool organization that mentors students with incarcerated parents. After several months of collaboration, I founded the Tutoring Outreach Program with the goal to send our high school volunteers to tutor US Dream Academy's students at the nearby Pimlico Elementary & Middle School, a predominantly black and often ignored institution. We hoped to supplement these students' everyday lessons however once we started visiting we realized that basic homework was not impactful enough. I attended a private school for my entire life and resources were available to me that, unfortunately, many do not have access to.
Through my work with the students at Pimlico Elementary and Middle School, I learned that my privilege went beyond financial comfort. For two years I've mentored Isaiah House, a student born and raised in Baltimore City. One day he and I were grabbing breakfast at a coffee shop near my house and Isaiah noticed a woman running on the sidewalk and said, "I wish that I could go for a run."
"What do you mean?" I asked.
"Well, in my neighborhood if you go for a run you will either bump into someone dangerous that you do not want to see or you will get stopped by a police officer who asks you what you're running from," he responded matter-of-factly. To Isaiah, this idea was normal. Isaiah had come to accept that, because of his race and neighborhood, the city views him as a threat.
Wes Moore, a best-selling author who is also a Baltimore City native, once wrote, "The expectations that others place on us help us form our expectations of ourselves." When society expects you to drop out of school and end up in prison, it can become the same expectation that you begin to have for yourself. These students did not need a network of homework-helpers; they craved access to same opportunities that so many of us take for granted. During the summer of 2014, our team wrote curricula for eleven clubs that were meant to not only supplement these students' classes but also expose them to subjects they never had the opportunity to study.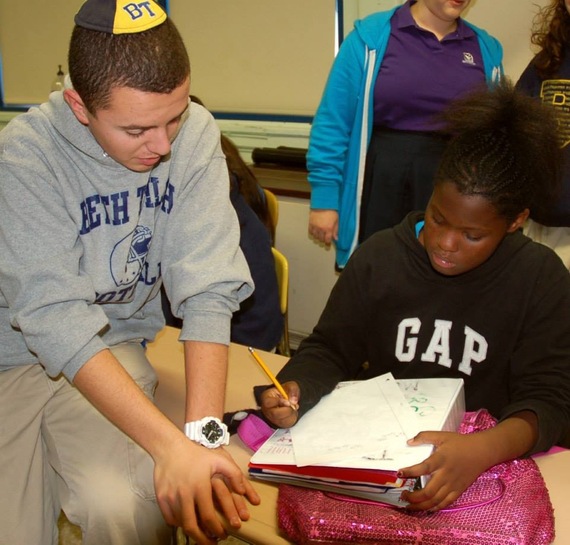 Shortly after I began the Tutoring Outreach Program, we asked many of our students, "Where do you see yourself in 20 years?" After professional athlete, the most common answer was "supporting my family with food stamps." Today, our students' most common answer to the question "Where do you see yourself in 20 years?" is "attorney." Given access to the same resources that so many of us take for granted every day, these children strive to defy societal expectations and fulfill their dreams.
I live only a couple of miles from Baltimore City in a neighborhood called Pikesville, a predominantly Jewish area. For years, members within my community have warned not to cross Falls Road, a road partially bordering Baltimore County and Baltimore City, because you will be entering a "dark" neighborhood. I love living in Baltimore, but those comments made it impossible to proudly call this city my home. Over the last two years, I have witnessed protests, riots, police exercising excessive force, and tanks into my city. Now the entire world knows the challenges that we face as we strive to become a city that provides each citizen with the same resources, regardless of race. For the first time in my life, I am not worried for the future.
The drive that our students demonstrate is inspiring. When presented with the reality that they are learning in an underfunded and often ignored school district, our students push that much harder to fulfill their admirable expectations. The passion that I observe in my students inspires me to pursue career in non-profit work. Thankfully, the Helen Diller Family Foundation awarded me a scholarship for my work with the Tutoring Outreach Program, which gives me the opportunity to continue my education and pursue a career where I can teach others the lessons that my students taught me. The Diller Teen Tikkun Olam Awards is currently seeking nominations of Jewish teens working on community service/social change projects for next year's awards!
REAL LIFE. REAL NEWS. REAL VOICES.
Help us tell more of the stories that matter from voices that too often remain unheard.