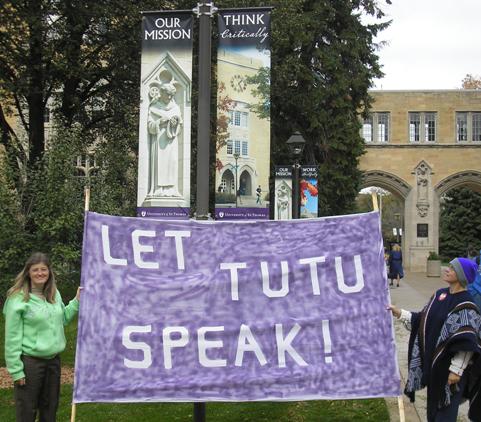 We cannot express how relieved and elated we were when University of St. Thomas President, Father Dennis Dease, suddenly appeared in front of our banner today to tell us he had changed his mind and would be inviting Archbishop Desmond Tutu to speak at St. Thomas after all.
And what a great statement Dease made in doing so! He and the University deserve tremendous credit for listening to the thousands of concerned voices, including those involved with Jewish Voice for Peace, reversing themselves and admitting they made the wrong decision. How often has any official, public or private, done that in the recent past?! Although it's simply part of the human condition and we all make errors, all the time, the admission and rectifying of mistakes has almost become a lost art. So today's courageous action not only sends a much-needed signal on behalf of academic freedom and the cause of justice and peace worldwide, but it's a rare example of ethics in action.
Standing for the past three days as we had been under the University's mission banners, we could not resist a final photo. The University's full Mission Statement is this: Inspired by Catholic intellectual tradition, the University of St. Thomas educates students to be morally responsible leaders who think critically, act wisely, and work skillfully to advance the common good. Father Dease fulfilled this mission today. How better to usher in more "thinking critically, acting wisely and working skillfully to advance the common good" than an invitation to 1984 Nobel Peace Laureate Desmond Tutu to speak on the issues of justice and peace in the world!
REAL LIFE. REAL NEWS. REAL VOICES.
Help us tell more of the stories that matter from voices that too often remain unheard.