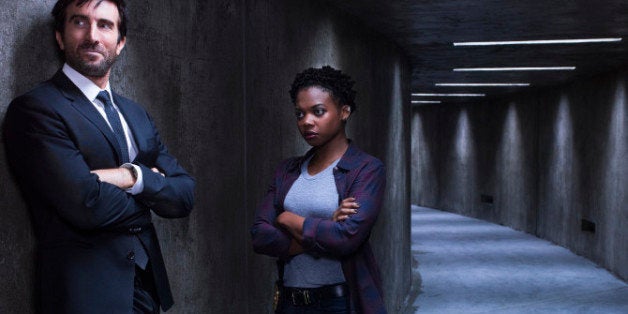 One of the great things about television is its adaptability, or, perhaps more accurately, its ability to adapt anything to suit its purposes.
This week sees the debut of two shows, "The Returned" and "Powers," that embody two of the biggest trends in the industry: Superhero-related adaptations and remakes of programs that first debuted abroad.
TV has always imported shows and concepts from elsewhere: Everything from "All in the Family" to "Homeland" started out as shows that first aired in other countries. But there's been an especially big rush to make new versions of shows that were successful elsewhere in recent years.
It might seem odd, given that some of these shows are available to Americans on smaller cable networks, via streaming services or on DVD. But as long as there are shows that garner critical acclaim and cult loyalty from viewers, there will be networks that think those programs can and should be made into bigger, better versions of themselves. And with the number of TV-producing outlets expanding every day, TV needs more and more content all the time, so there's no doubt we haven't seen the last of the remakes, reboots and superhero stories.
Of course, sometimes these adaptations work out well: The U.S. version of "The Office" was, at its height, every bit as good as the U.K. original. But sometimes, a lot gets lost in the translation: The BBC's "Viva Blackpool" was outstanding, but the audacious awfulness of CBS' "Viva Laughlin" was … something. In any event, here are a few thoughts on this week's high-profile pair of adaptations.
"The Returned," A&E: In 2013, I was among the many critics entranced by the French series "The Returned"/"Les Revenants," which created an intoxicating air of mystery as it deliberately sketched out the stories of people who returned to a French town years after their deaths. Nothing about them seemed amiss; they weren't zombies, but their arrivals quietly rocked the emotional lives of the people around them. The show's appeal hinged almost entirely on its melancholy mood and its hypnotic aesthetic, and its success relied on a slow crescendo of intensity as a variety of reactions washed over the close-knit residents of the remote mountain town. Watching the original version of "The Returned" feels like entering into a dream state in which events are real and relatively placid but somehow not quite right. Ultimately, the success of French drama didn't arise from the minimal mechanics of its plot, but from its quiet, intelligent meditations on grief, loss, connection and resilience. Take away most of those intangibles -- the je ne sais quoi of "The Returned," if you will -- remake the show with North American actors, give it the pace, tone and look of a reasonably competent basic-cable drama, and you pretty much destroy the reason to watch "The Returned." And yet that's the course that A&E settled on with its professional yet bland version, which debuted Monday. It's almost a shot-for-shot remake of the original, but that's not what makes this version a derivative TV zombie. It's the lack of atmosphere and the near-complete absence of a mournful, mysterious tone that makes the new version feel empty and hollow. Consider the A&E version of this show this year's "Gracepoint," which was an entirely unnecessary and slavishly unoriginal Fox remake of the fine first season of the U.K. drama "Broadchurch."
Verdict: Watch the French original on Netflix.
"Powers," PlayStation Network: The cable network FX spent years trying to develop the graphic-novel series "Powers" into a TV drama, but it ultimately gave up. The Sony studio kept the project alive, however, and has turned yet another version of "Powers" into the first original scripted drama for the PlayStation Network. So did Sony and Playstation executives succeed where FX's team did not? Nope. The graphic novel series by Brian Michael Bendis and Michael Avon Oeming has won a loyal following and number of awards because it does a few different things pretty well: It combines a hard-edged story of mismatched cop partners with a bittersweet film noir feel, and it knowledgeably delves into superhero mythology to tell character-driven stories about the flawed people behind the masks. It's much harder to find anything that the live-action version does well, it pains me to say. The TV version of Christian Walker (Sharlto Copley) and Deena Pilgrim (Susan Heyward), two detectives tasked with keeping citizens with superpowers on the straight and narrow, are uninteresting as individuals and as a duo. The actors have no chemistry together and their characters lack the kind of depth and texture that a well-crafted TV project would have been able to give them. Various actors frequently have to deliver painful exposition dumps, the storytelling is often incoherent and in this age of budget-minded but snazzy superhero adaptations like "Arrow" and "The Flash," it's shocking how cheap this show looks. Some of the costumes on display look like they came from a discount Halloween shop, and minor bugs like that would be almost okay if the rest of the show hummed along like a well-oiled machine. It does not.
Verdict: If you're a hardcore "Powers" fan, parts of this might work for you (Michelle Forbes is typically watchable as Retro Girl, and Eddie Izzard is entertaining in occasional appearances as Wolfe). But all in all, your time is probably better spent reading the original graphic novel series. But hey, don't take my word for it. Three episodes of "Powers" are available via the PlayStation Network and new episodes will arrive weekly, and Episode 1 of "Powers" is below.
Calling all HuffPost superfans!
Sign up for membership to become a founding member and help shape HuffPost's next chapter