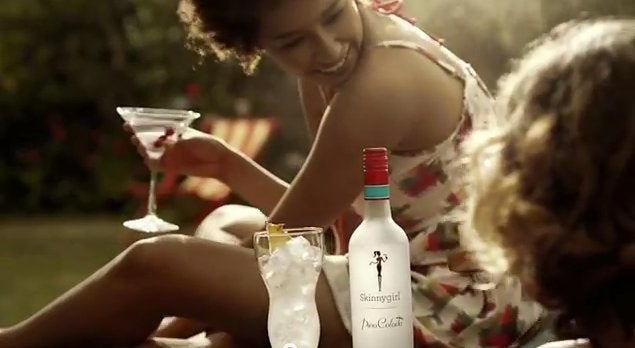 Already a fast-track brand, Skinnygirl Cocktails turned to an old ad platform for a pick-me-up.
The company, founded by reality show star Bethenny Frankel, ran its first television commercial this week. "Drink Like A Lady" (video below) targets Skinnygirl's core 30-and-older female base on such cable channels as Bravo (which made Frankel famous on "The Real Housewives of New York City"), HGTV and the Food Network.
"TV is a great medium for that broad reach to create quick, broad awareness," said Paula Erickson, spokeswoman for Skinnygirl parent Beam.
Liquor advertising has picked up on TV after decades of partial abstinence, analysts told The Huffington Post. Low-brow beer commercials helped steer fed-up viewers to spirits, while the public and programmers have gradually accepted ads for hard alcohol on TV, according to Frank Coleman of the Distilled Spirits Council of the U.S.
"There has been no push-back," he said. "So it's seen as an opportunity. If you're going to take beer ads, you're going to take spirit ads ... A standard serving of beer, wine and spirits all contain the same amount of alcohol."
Even as digital media took hold, liquor advertising on TV rose from $102 million in 2005 to $144.6 million in 2010, according to the Beverage Information Group. Commercial buys on the major networks increased from nothing in 2010 to $417,200 in 2011 and will likely climb substantially in 2012; ABC, NBC and CBS have all begun accepting late-night alcohol advertising in the past year, Advertising Age reported. And while the overall TV liquor ad sales dipped slightly in 2011, experts are already toasting 2012 as a big year across all TV vehicles.
Beam increased its TV spending from 34 percent of its advertising budget in 2011 to 43 percent in 2012, Erickson said. The company has generated TV spots for Jim Beam, Devil's Cut, Red Stag, Maker's Mark, Pucker Vodka, Hornitos Tequila and, of course, Skinnygirl. Many are appearing on TV for the first time.
Not that Skinnygirl needed the extra exposure. The brand increased its sales by 388 percent in 2011 to become the fastest-growing spirit maker, according to published research.
Many other well-known hooch labels are also turning to TV. Jagermeister, the frat-house staple, is now running its first national campaign on the small screen, as is the 157-year-old bourbon brand Wild Turkey, AdAge wrote. Southern Comfort returned to TV after two years to introduce new flavors.
Captain Morgan, Ketel One and 1800 Tequila have also created TV-targeted branding recently. Bacardi and Jack Daniels have been players for a while.
Not everyone is raising a glass to the developments. Even as Beam points to its drinksmart.com website and the industry overall publicizes a "drink responsibly" message, any uptick in marketing can spell trouble for children, explained Gregg G. Raduka, the director of prevention/intervention for the Council on Alcohol and Drugs. "In my mind we're so bombarded by alcohol advertising by various media avenues that anything that could reduce that bombardment would be positive," he said.
Some industry observers believe the spike in alcohol advertising was sparked by Absolut Vodka airing a prime-time commercial in several large markets during the 2009 Grammy Awards. Others say the new exposure on the networks is a natural spillover from their cable properties.
Adam Rogers, a senior analyst for the Beverage Information Group, said many brands are trying to reinvigorate with new flavors. What better medium than television to get the word out? "It still gets the most eyes," he said.
Contrary to popular belief, no federal laws have restricted liquor advertising since Prohibition was repealed; it just seemed that way. The booze industry exercised caution, using restraint during the advent of television, Coleman said. Several completely dry advertising decades followed. But in 1996, Seagram's ran a commercial on a small sports cable channel and then aired a Crown Royal ad on a station in Corpus Christi, Texas, according to an Alcohol Policies Project timeline. With the self-imposed silence broken, others followed, despite an urging from President Bill Clinton to resume the moratorium. Other opponents of the ads asked for regulators to intervene.
Liquor lobbyists continued to attend National Association of Broadcasters conventions to remind stations that they could air hard alcohol ads. Cable stations got the message early and now comprise more than 90 percent of TV liquor advertising, with local stations and affiliates far behind, according to the Beverage Information Group.
All alcohol advertisers on TV are supposed to adhere to a self-imposed standard that 71.6 percent of the program audience must be of drinking age. (Nielsen provides the data.) Beam said its minimum was 75 percent. That still leaves plenty of demographic sweet spots to hit as TV liquor advertising increases.
Said Beam General Manager Deb Boyda: "Any of our brands that have been limited before now have the opportunity to put the message in front of our consumers in ways that before we weren't able to."
WATCH: The Skinnygirl TV Spot Below