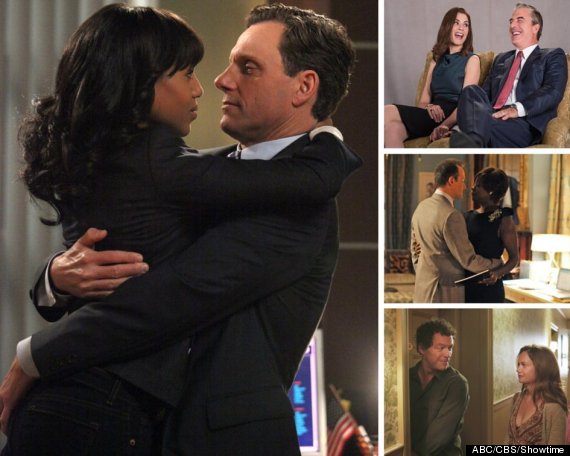 As contemporary television goes, the more illicit the sex, the steamier. Cue up the many articles praising TV executives, particularly ones of the Big Four network variety, for allowing their characters to bare so much more than they did in prime-time a decade ago. Alas, a caveat: Now that shows, primarily dramas, have become more salacious, writers are constructing bolder ways to enact carnal pleasure -- and one of the so-called bold moves being employed en masse is the extramarital affair.
In what seems like a recent trend, shows won't settle for a sultry will-they-or-won't-they subplot that revolves around a married man or woman (usually a man) and his or her paramour. Entire series are now built around the idea of infidelity: how sensual the rush of danger is, what it does for the scorned spouse left behind, how long viewers can cheer on a story that invokes the ickiness of adultery.
"The Good Wife," for example, opened in 2009 with the fallout from a sex scandal. Six years and multiple boundary-pushing relationships later, Sunday's episode revved up two fresh assignations: another tryst for Peter (Chris Noth), this time with his new lawyer, as well as a flirtation -- not yet a full-boiled romance, to be clear -- between Alicia (Julianna Margulies) and Finn (Matthew Goode). "The Good Wife" has been rightfully hailed for providing one of the more clear-headed and tactful delineations of a marriage's turbulence, but nonetheless, here we are again, retreading that same territory. If the show weren't as well-written, and Margulies' performance as assured, we'd all say enough is enough.
That's the problem with a show that structures itself around such dalliances. It's not so much a moral issue; it's the fact that we're asked to commit to a show whose very premise folds right out from underneath it. If the solution were just "he'll leave his wife, they'll live happily ever after," we wouldn't have a television program.
Instead, we're on Season 4 of Olivia (Kerry Washington) and Fitz (Tony Goldwyn) breathing heavily in each other's faces and making quivering gestures with their lips while that melancholy score plays. We still feel bad every time Mellie (Bellamy Young) nears the doorway, only to learn that Fitz has placed another late-night call to dear old Olivia Pope. (Surely you read that with the same contempt you'd hear in Mellie's voice as she says Olivia's name. Again, we've made it to Season 4 of this stuff.) Eventually, even if you actually want to see Olivia and Fitz together -- and I'm not sure many people do -- you're forced to pretend the procedural elements on "Scandal" matter as much as the series' core conflict, because they're the only ones with imminent conclusions. The show's true premise may never come to fruition, no matter how many lavish homes the president promises Olivia.
If "The Good Wife" and "Scandal" laid much of that foundation (bolstered by their political tableaux), "The Affair" is a descendent unto its own. The Showtime drama, currently halfway through its first season, chronicles a married man who carries on a tentative liaison with a waitress while he and his family spend the summer in a tiny beachside town. The show tells the story responsibly: Its dual-perspective structure (à la "True Detective" and "Gone Girl" -- two other tales that featured extramarital relations this year) offers an entryway that's more about the psyches of two vulnerable individuals than it is the actual sex they have. But not only is the show sluggish at times; it's also grounded in a conflict that's inherently alienating. We can chart Season 1's moves from the first furtive glance Noah (Dominic West) and Alison (Ruth Wilson) lay upon each other, and along the way we're left fretting for Noah's unsuspecting wife (Maura Tierney). It's a show that thinks its stakes are high -- and, with infidelity, they should be -- but for viewers, they are often incredibly low.
"How to Get Away with Murder" features at least three affairs: Sam (Tom Verica) and Lila (Megan West), Annalise (Viola Davis) and Nate (Billy Brown), and now Frank (Charlie Weber) and Laurel (Karla Souza). That's to say nothing of another ABC series, the summer soap "Mistresses," which stars the likes of Alyssa Milano and Yunjin Kim. Everything you need to know is in the title. It was renewed for a third season in September, despite tepid reviews.
Affairs obviously have a fierce emotional cost for all involved, and these series are usually acute in the various paradigms from which they depict adultery. The struggle of sustaining a marriage and the temptations that can come with long-term commitment are ripe for television fodder. But when this many popular TV dramas revolve around a singular subject -- "Homeland," "The Newsroom" and "Grey's Anatomy" have also featured prominent affairs, not to mention the revolving door that is Don Draper's bedroom on "Mad Men" -- it becomes a trope, and an exhausting one at that. We've crossed over from truth-telling to what feels like a device, as if it's an inevitability that every relationship encounters. That means some of the acuteness is beginning to vanish. After these often brilliant shows play out, let's dim the blinding spotlight on extramarital romps before it all becomes too tiresome.
Popular in the Community