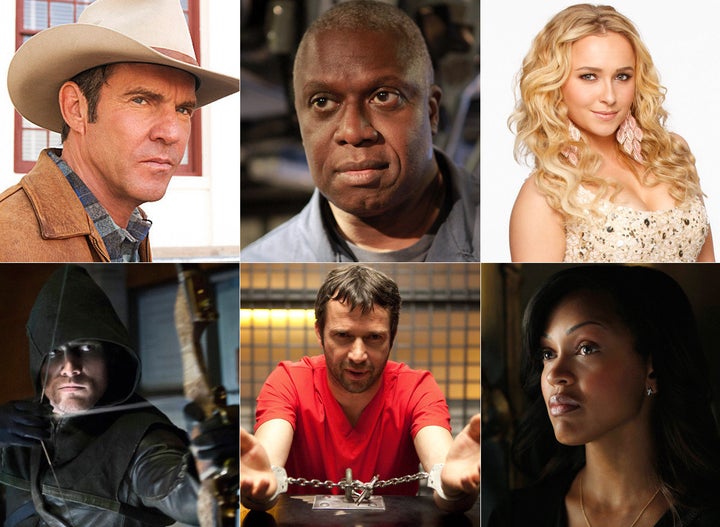 What's the best new drama of the 2012-2013 TV season? HuffPost TV rounded up 20 of the top TV critics in the country to share their picks, and it boiled down to six new must-see dramas.
Watch the video here to see what should be on your must-see list, then check back all week long for more from the critics. We also covered Worst New Show, Hottest TV Star and Most Anticpated Returning Shows, and we're posting a new video each day this week.
A special shout-out to all of the critics who shared their opinions, in order of appearance: Dan Fienberg from HitFix; Denise Martin from Vulture; Ellen Gray from the Philadelphia Daily News; Matt Roush from TV Guide Magazine; Sarah Rodman from The Boston Globe; Ken Tucker from Entertainment Weekly; Gail Pennington from the St. Louis Post-Dispatch; Jace Lacob from The Daily Beast; Eric Deggans from the Tampa Bay Times; Melanie McFarland from IMDb TV; Alan Sepinwall from HitFix; Todd VanDerWerff from The A.V. Club; HuffPost TV's own Mo Ryan; Alyssa Rosenberg from ThinkProgress.org and Slate; Damian Holbrook from TV Guide Magazine; Meg Masters from TVLine; Carina MacKenzie from Zap2it; Michael O'Connell from THR.com; Jarett Wieselman from ETonline and TheInsider.com; and yours truly.
Check out the HuffPost TV snap judgments of all the new pilots here, by network:
Tune-in info:
*"Nashville" premieres Wed., Oct. 10, 10 p.m. ET on ABC.
*"Vegas" premieres Tues., Sept. 25, 10 p.m. ET on CBS.
*"Arrow" premieres Wed., Oct. 10, 8 p.m. ET on The CW.
*"Last Resort" premieres Thurs., Sept. 27, 8 p.m. ET on ABC.
*"Infamous" premieres midseason 2013 on NBC.
*"The Following" premieres midseason 2013 on Fox.
Calling all HuffPost superfans!
Sign up for membership to become a founding member and help shape HuffPost's next chapter
BEFORE YOU GO