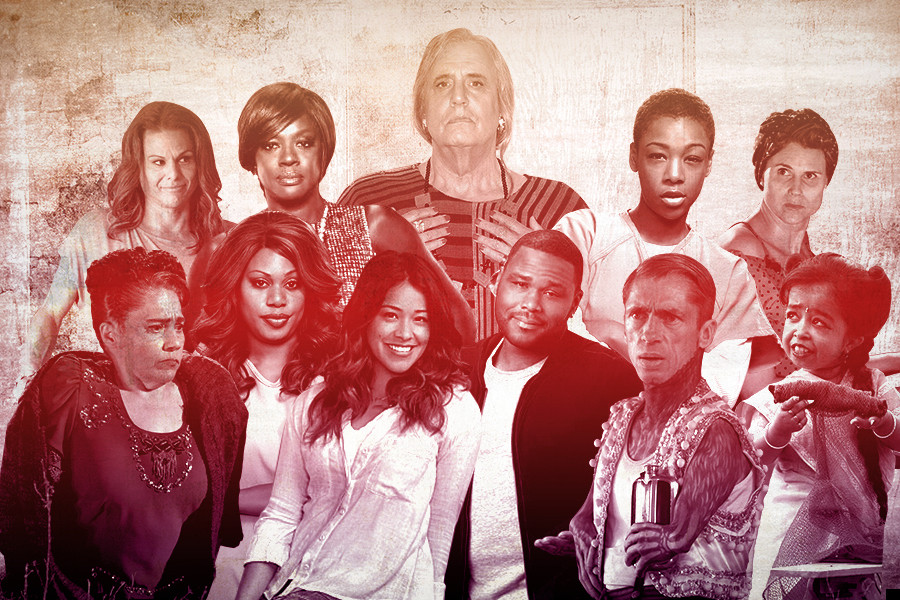 When television historians (and future listicle makers) look back on 2014, one thing will seem crystal clear: this past year was one of the most diverse in the history of the small screen, a transformative revolution that showcased a wide array of identities, bodies and sexualities. For the first time ever, more audiences could look at their favorite shows and see characters, actors and lifestyles that more closely reflected themselves.
"The fact we got recognized and that I'm the first person to get recognized from The CW and I'm a Latina, I would be empowered by that ... I am empowered by that," Rodriguez told BuzzFeed after her recent Golden Globe nomination. "Because if I can do it, that means there are so many other people who are going to be able to do it. It's that idea that when you make your dreams come true you allow other people to dream and try to make their dreams come true. That's all I did, I opened the floodgates. Now everybody can see that if I can do it, what makes you any different? This little lady from Chicago in the little-engine-that-could show on the smaller network? It's not where you're from, it's where you're going, and we're trying to go where everybody else is at and it feels like we just arrived there."
Old shows sparkled too. Netflix's "Orange Is the New Black" continued to lead a progressive movement on television and even found time to celebrate women of different body types.
And a conversation about the growing diversification of the television industry wouldn't be complete without praise of Shonda Rhimes, queen of Thursday night. Rhimes is not only a powerhouse figure on her own, being one of the few women, and women of color, behind the camera, but she's also brought us two hit shows led by black actresses. With "Scandal," Kerry Washington became the second African-American female to lead a network drama since Diahann Carroll starred in 1968's "Julia," and "How To Get Away With Murder" not only stars Viola Davis, but also features a racially diverse cast of young actors.
Said Rhimes during a speech earlier this month: "This moment right here, me standing up here all brown with my boobs and my Thursday night of network television full of women of color, competitive women, strong women, women who own their bodies and whose lives revolve around their work instead of their men, women who are big dogs, that could only be happening right now."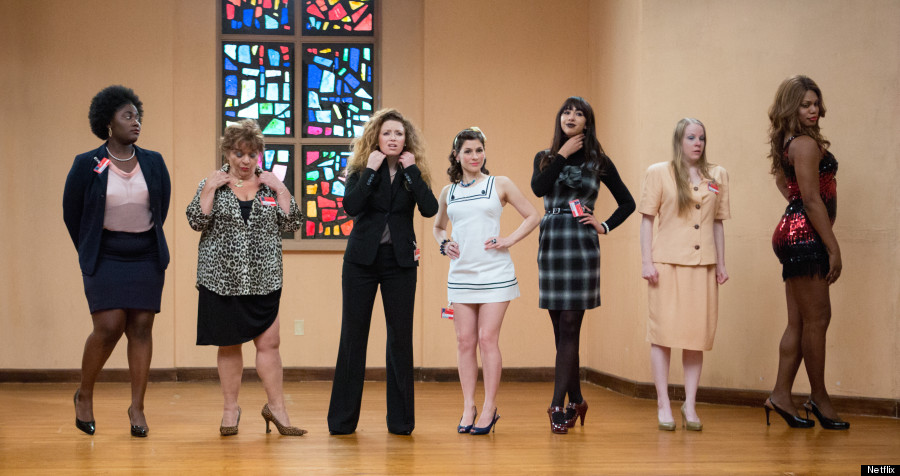 But adding people of color to television was just one layer exhibited, explored and celebrated this year. Both new and returning shows have featured main characters and actors of a variety of sexual orientations, gender identities and bodies. Amazon's "Transparent" gave us a show about a transgender matriarch of a Jewish family, which included two daughters confronting with issues of gender identity and sexuality. The series also features a handful of transgender actors and crew members, and writer-creator Jill Soloway recently hired the show's first trans writer. MTV's "Faking It" proved groundbreaking when it introduced an Intersex character to television along with an illuminating video about what it means to be born Intersex, while the network also aired Laverne Cox's "The T Word" documentary about trans youth. Both HBO's "Looking" and Ryan Murphy's "The Normal Heart" told stories about relationships and real-life hardships within the gay community. "Modern Family" ended its latest season with a gay wedding while real-life same-sex marriages were officiated live during the Grammy Awards. Cox, who first became a household name thanks to "OITNB," was the first openly transgender person to appear on the cover of Time magazine and to be nominated for an Emmy. And Murphy pushed things even further with his "American Horror Story: Freak Show," which features a cast of actors with disabilities, or as FX has called their "extra-ordinary artists," in a way no show has done before.
And yet while a quick scan across television networks (and on Internet streaming platforms) proves that American television has made profound progress over the past 12 months, it's also important to recognize that no peak has been reached. One important conversation about the representation of marginalized communities on television is not just about what types of diverse stories are being told, but who is being cast in those roles. Two specific communities that are on the cusp of this change are the transgender and queer communities and actors with disabilities. People who identify with these groups have been a part of a giant cultural shift this year thanks to "Transparent" and "AHS: Freak Show," but we're still only in the preliminary stages of allowing television to mirror the audiences who watch it.
"I wish we didn't have to think it was radical to cast disabled actors in a drama. Casting directors should stop being so scared and bite the bullet."
Alexandra Billings, who plays Maura's transgender friend Davina on "Transparent," spoke to HuffPost Entertainment about the increased visibility of her transgender community on television this year and how the show has helped initiate it. "The fact that a transgender [woman] is the center of a family comedy-drama is groundbreaking," Billings told us. She agreed that Jill Soloway's series was a part of a major movement away from negative and superficial portrayals of trans characters that have previously been seen on television. When reflecting on her career, Billings said how tired she was of playing the same trans character, which for some reason always revolved around hospitals. Considering the history of transgender characters on TV, Billings said that one significant step forward that's been made is having more authentic portrayals of trans people. "You can't put a man in a dress and call them transgender in television anymore," Billings said. "I remember a time when you had to do that and we were the butt of the joke."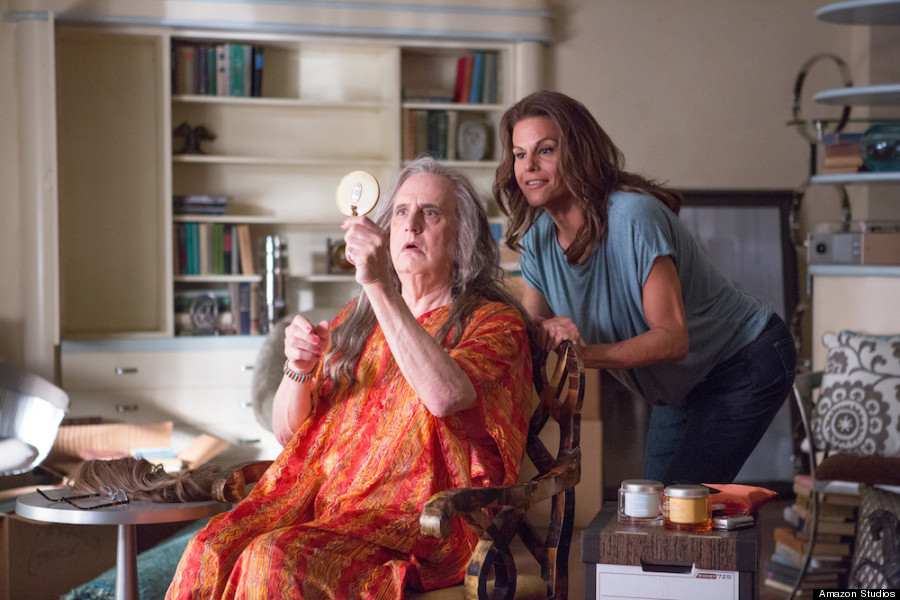 Another transgender actress further diversifying TV this year is Erika Ervin of "AHS: Freak Show." Ervin is one of the first trans actresses to play a cisgender character on a show (she stars as Amazon Eve, a seven-foot-tall woman who is part of Elsa Mars' "freak show").
"It feels validating," Ervin told HuffPost Entertainment about Amazon Eve, a character that she developed years before and brought to "AHS" once cast. "Not only from a political standpoint. Transgender people are out there, we're making our way." Yet while Murphy's anthology series and "Transparent" are helping move TV forward in terms of LGBT characters, there is still a long way to go. Ervin noted that while things are definitely changing, we still must ask, "Is it really progress?"
"You can't put a man in a dress and call them transgender in TV anymore. I remember a time when you had to do that and we were the butt of the joke."
One heavily debated topic about LGBT representation is the casting of cisgender actors, or people who identify with the gender they were assigned at birth, in transgender roles. While an on-going argument, it became most relevant this year when Jared Leto won the Oscar for portraying a trans woman in "Dallas Buyers Club." "Transparent" also received criticism for casting Tambor as Maura, with some even calling the show "transphobic" for the decision. Trans writer Kat Hache recently wrote about the controversy surrounding Arcade Fire's "We Exist" music video, which stars Andrew Garfield as a character who appeared to be trans -- though it should be noted that Our Lady J, who worked with Garfield on the video, has said he was playing a "young man exploring his gender." Hache wrote, "There seems to be a prevalent idea in Hollywood that viable transgender actors and actresses simply do not exist." Besides a prolonged invisibility of real-life trans people on screen, another major issue this highlights is the growing unemployment for trans actors, which Laverne Cox has said is "twice the national average" and "four times" for trans actors of color.
Yet Billings had a bit of a different perspective on the contentious debate. "The only reason the argument is futile right now is because we need help in order to get through the door," she told us. Billings urges cis actors to be "mindful" and "aware" of their portrayals of trans people's journeys, while also grateful for them. Ideally though, she believes that the only way to fully represent the stories and lives of her community is through casting those who identify with it. "This word authenticity is thrown around a lot. We need to really understand what this thing means. I think instead of having authentic representations what we need to have are true representations. And really, the only way to do that is to hire us."
While this year has given way to an increased visibility of people with disabilities on TV as well, it's only the first waves of change. HuffPost caught up with Mat Fraser, who plays Paul the Illustrated Seal on "AHS: Freak Show" on his last day filming the series. The British actor has been performing on the stage and screen for 20 years and acknowledges that small advancements have been made in regard to casting actors with disabilities. Fraser cited the BBC's recent initiatives to cast more actors with disabilities in TV series. But even though Fraser recognizes how groundbreaking "AHS" is this season in casting him, along with Rose Siggins, Jyoti Amge and Ben Woolf, among others, he knows it's only the beginning.
"I wish we didn't have to think it was radical to cast disabled actors in a drama," Fraser said after mentioning how progressive Murphy's casting decisions have been. "The irony's not lost on me that the first time I've given an opportunity to show my universal humanity as an actor is by playing a freak in a freak show. I wonder if casting directors and producers will be able to see that I'm, and as are all competent disabled actors, capable of showing that universal humanity that is the stuff of drama."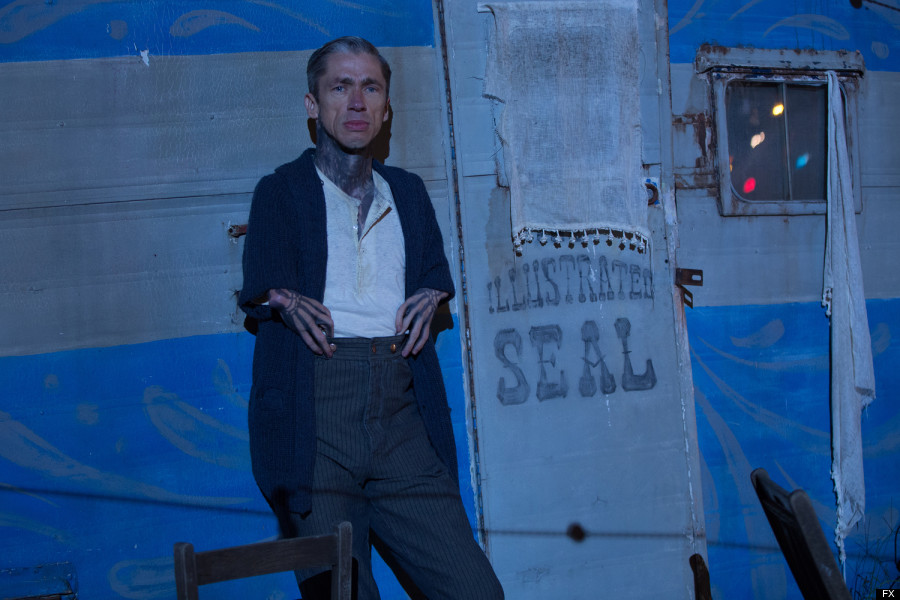 While Fraser didn't hesitate to share how much he appreciates and loves playing Paul in "AHS," he also hopes for a future where he won't just be playing a disabled character. "The actors should be allowed to just act," Fraser said. "Casting directors should stop being so scared and bite the bullet and cast us. I just want to do normal, well-written drama like everybody else."
Fraser brought up that the huge fan attention he's received from the show -- besides an increase in Twitter followers, Fraser says he has also gotten "romantic texts" from teenage "emo girls" -- evinces just how much viewers are ready to embrace him as a talented actor outside of his physical condition. "I got portrayed as a lover by Ryan, so people now relate to my character as a lover character and imprint that romance interest on to [him]," Fraser said. "All you have to do is tell people this is the guy [who's] the romantic one and four thousand people relate to you in that way. That's the power of television and drama. That should be proof that you can cast us anywhere."
While 2014 has been a monumental year for more accurate representation of diversity, it has also been a year for igniting significant discussions. But television networks and producers are just barely scratching the surface off our beautifully diverse world. And with the very first leaps of change will come the deepening cracks of true progression.
Billings said that from her experience in the trans community, once someone begins their transition or a "transition into any kind of newness, the circle of people around you are forced to go with you." Now that the beginning molds of diverse storytelling and casting have been broken on television, we can hope that a larger movement will follow, with the rippling effects of 2014 finally becoming actualized in years to come.
Before You Go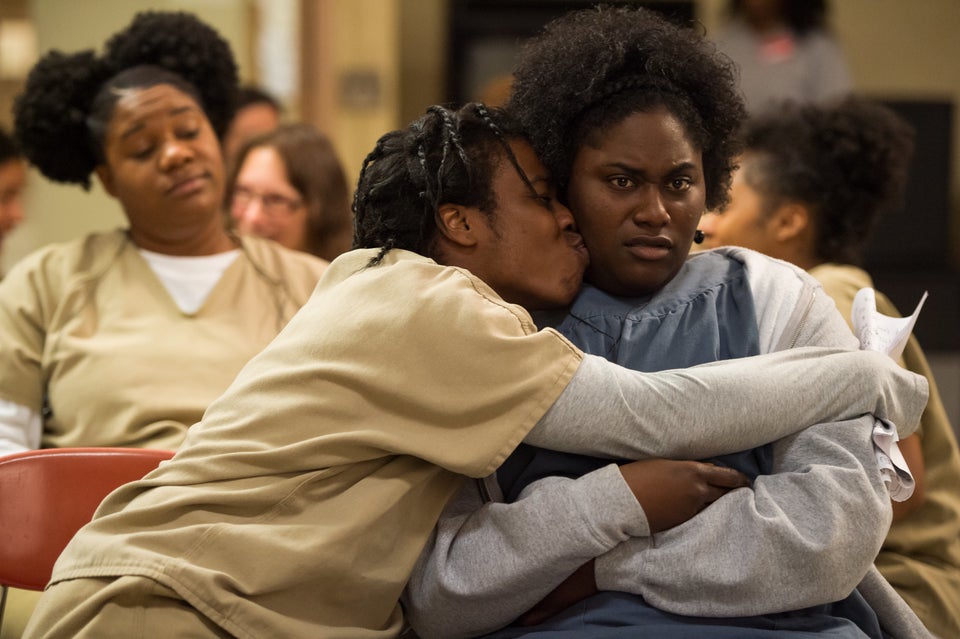 "Orange Is The New Black"
Popular in the Community