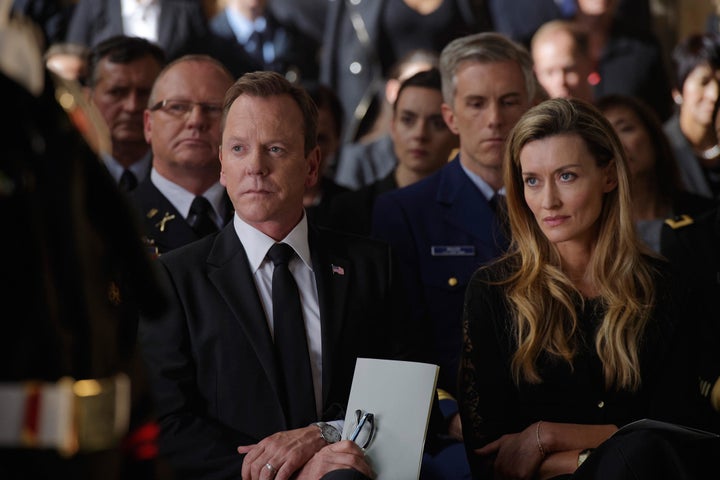 Out in the world in 2017, women embody all sorts of labels. But on TV, they are still more likely limited to "wife" and "mother," according to a new study.
In her annual Boxed In report, Martha M. Lauzen of San Diego State University's Center for the Study of Women in Television and Film looked at dramas, comedies and reality shows on broadcast networks, cable channels and streaming services. She tracked shows that aired between September 2016 and May 2017, which amounted to over 4,000 characters.
Across all platforms, women on screen were more likely to play "personal life-oriented roles," while men on screen were more likely to play "work-oriented" roles. In other words, according to Lauzen's research, women are still playing more housewives, leaving men to play the business executive types. And while sometimes "life-oriented" roles might help a show make a point about gender inequality, as in Hulu's "Handmaid's Tale" adaption, it's more likely those roles reinforce ideas about the things women and men are capable of doing.
Other stereotypes were common, too. Female characters were typically younger than their male counterparts, Lauzen noted, and less likely to be "seen at work and actually working."
A peek behind the scenes might explain that problem ― stereotypes might be perpetuated by creative teams that skew heavily male.
Across platforms, a "startlingly high" percentages of shows employed zero women behind-the-scenes: 97 percent had no women cinematographers, 85 percent had no women directors, 75 percent had no women editors, 74 percent had no women creators, 67 percent had no women writers, 23 percent had no women producers and 20 percent had no women executive producers.
But shows appear to benefit from employing women. On programs with at least one female creator, women made up 51 percent of main characters ― the same proportion of girls and women in the U.S. population, Lauzen points out. (Conversely, on shows with all-male creators, the main characters were only 38 percent female.) Women creators and executive producers also appeared to influence the number of women in behind-the-scenes roles.
Ultimately, it appears we can expect more of the same labels, until these behind-the-scenes statistics begin to shift in meaningful ways.
Popular in the Community