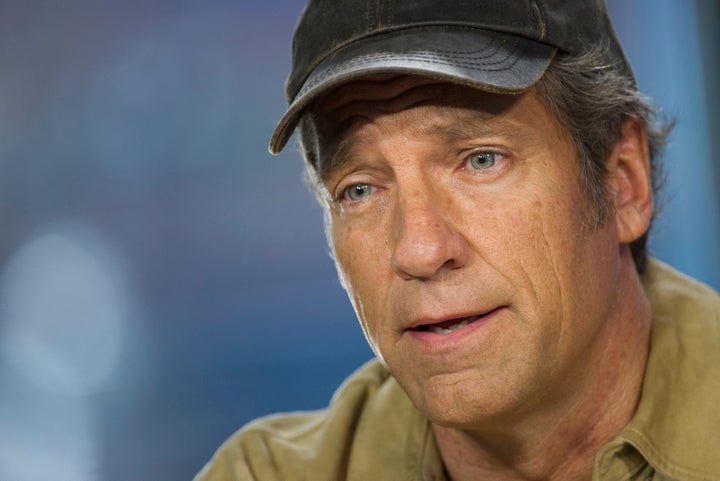 Folksy TV host Mike Rowe has attempted to school a college that recently removed the American flag.
In a viral Facebook argument Rowe posted Wednesday, he took Hampshire College in Amherst, Massachusetts, and its president, Jonathan Lash, to task for lowering Old Glory in the wake of Donald Trump's presidential election victory last month.
Taking aim at those who receive financial aid to attend the college, Rowe wrote, "I found myself wondering as to why the President of Hampshire College would allow his students to pay for their tuition with federal dollars – federal dollars provided by the same government whose flag was no longer suitable to fly at his school."
Perhaps the criticism had an effect. On Friday, Hampshire restored the flag. 
"This morning we raised the United States flag to full staff at Hampshire College after a two-week discussion period about what the flag means to members of the Hampshire community," Lash said in a statement. "College leadership, including the board of trustees, decided on November 18 to lower the flag for a time to encourage uninhibited expression of deeply held viewpoints."
After a campus flag-burning incident following Trump's victory, Lash said he had the flag removed because it was a "disruptive symbol." The move would enable the school "to focus our efforts on addressing racist, misogynistic, Islamophobic, anti-immigrant, anti-Semitic, and anti-LGBTQ rhetoric and behaviors," he added, in an apparent reference to a rise in hate crime since the election. The college told WBZ the flag also represented freedom of expression.
But Rowe, the popular former host of "Dirty Jobs" on Discovery Channel who's now behind the "Hot Under The Blue Collar" series, wasn't having it. He argued that administrators and students were forgetting that racism, misogyny, and bigotry are far more horrific elsewhere, and that the country affords its citizens tremendous liberties. 
Rowe accused the school of biting the hand that feeds it. "I found myself thinking how nice it would be to hear a more persuasive argument from those who will happily take money from a country whose flag they despise," he said.
You can check out the full post here:
This story was updated to report that Hampshire College has raised the flag again.
Calling all HuffPost superfans!
Sign up for membership to become a founding member and help shape HuffPost's next chapter
BEFORE YOU GO