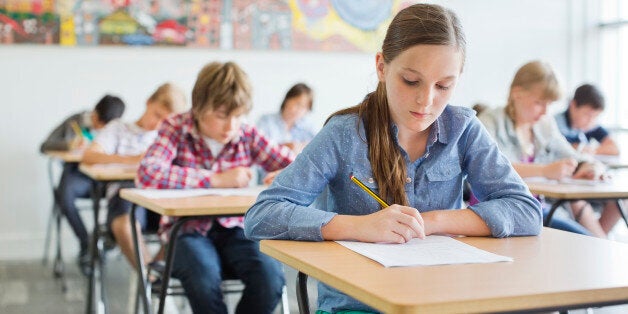 Last week, a St. Louis-based KSDK-TV reporter caused an hour-long lockdown at Kirkwood High School in his attempts to "test" school security. He failed initially to acknowledge his identity and the station, after repeated calls from the school's communications officer, refused to confirm he was their employee. The school had no choice, but to follow their security protocols which prompted local police to immediately surround the school.
What was this TV station thinking? Terrorizing suburban Kirkwood students, teachers and staff, particularly in a community where six years ago a gunman killed six at a Kirkwood City Council meeting, including my friend Councilwoman Connie Karr along with two police officers, shows their complete insensitivity and lack of responsibility. I would even call it inhumane.
As a parent in our climate of incessant school shootings, I am beyond angry a local television station tricked a school purely for a ratings bump.
Parents like me have lived in fear since the unimaginable Columbine school shooting in 1999. Why didn't KSDK bother to speak to school officials to learn of their security plans? Do they honestly believe that school superintendents have not evaluated and updated their security procedures in light of the Sandy Hook massacre and the 27 additional school shootings since?
If I, a former airline crew member, were to try a similar stunt at St. Louis Lambert International Airport to demonstrate that a civilian could bypass security to board an aircraft, I would have been immediately taken into federal custody. I can't imagine who at KSDK approved this stunt which prompted the immediate lockdown according to the school's armed intruder plan. As you might suspect, parents, teachers and the entire Kirkwood community are hopping mad after being terrorized.
Yesterday I filed HB1522, Missouri legislation which would make it a felony to intentionally make a threat to the security of a public school or building. If passed, it would deter any copy-cat attempts to expose security procedures.
However, focusing on security and efforts to turn our schools into fortresses is not the answer to prevent further shootings. There is no way we can adequately protect everyone from any act of gun violence via elaborate security procedures in schools, theaters, airports, shopping centers and even grocery stores.
My own synagogue as well as hundreds of others throughout the country immediately installed elaborate security systems after the Los Angeles Jewish Community Day Care shooting in 1999 as a response to fears of safety within their communities. Yet we forget that the Sandy Hook tragedy demonstrated that a locked and highly secured school entrance was no match for an armed gunman with a cache of high powered assault weapons who was determined to break in.
If KSDK and other media are truly interested in reducing gun violence, how about reporting on the climate in many state capitols dedicated to protecting the gun lobby interests versus saving children's lives? How about exposing the lack of security in the Missouri State Capitol (the only government building in the state with none) including highlighting the statute that allows legislators and their staff to have concealed weapons anywhere inside?
How about exposing Missouri gun bills already filed this session which include ignoring all federal gun laws, allowing state law enforcement to arrest federal law enforcement officers who do enforce gun laws (really) and abolishing all local ordinances against open carrying of guns which would make them legal everywhere. They should ask why legislators who file these bills care more about appearing on national comedy shows and election year antics than to advocate for policies that we know protect and save lives.
They should ask why common sense legislation such as universal background checks on all firearm sales which is supported by over 80 percent of Missourians including gun owners, is ignored by the legislature's GOP leadership. I sponsor Missouri's background check bill, HB1446, which is strongly supported by St. Louis Mayor Francis Slay, St. Louis City Police Chief Sam Dotson, Kansas City Mayor Sly James, Kansas City Police Chief Darryl Forte and Jackson County Prosecutor Jean Peters Baker and more.
Closing the existing state loophole via unlicensed dealers at gun shows and on the internet would prevent criminals and those with mental disorders from legally purchasing guns. Colorado's 2013 background check law has already blocked nearly 100 sales because the would-be buyer was convicted of, charged with a serious crime, or was under a domestic restraining order.
As a parent and grandparent, I can't imagine what students and staff endured during the KHS lockdown, fearing for their lives as they huddled in darkened classrooms for an hour. Most of us, particularly gun violence survivors, experience similar feelings of horror every time we hear of another school or community shooting. We live in angst never knowing when it might happen in our own backyard.
KSDK (and any other media planning such a stunt), get your act together. People's lives are being lost via real gun violence every single day.
Rethink tricking a school. Rethink your sensationalism. Rethink your mission.
Related
Popular in the Community