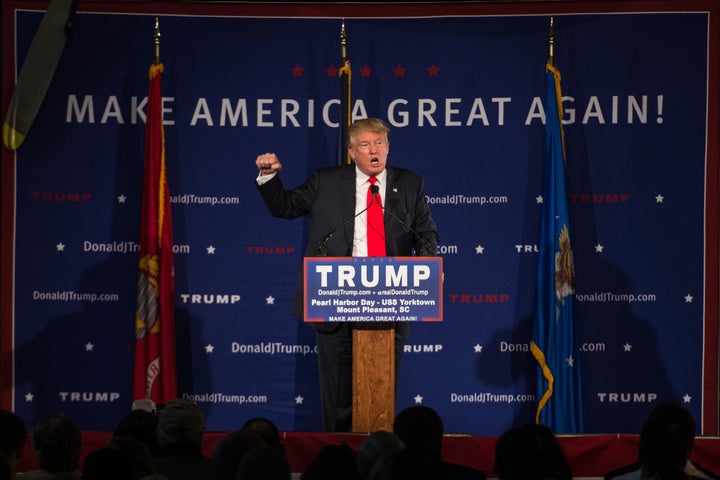 It also apparently makes for good TV, with the Republican front-runner receiving nearly an hour of airtime Tuesday morning through three network interviews.
Television hosts did take the opportunity to challenge Trump on air about his outrageous and presumably unconstitutional proposals, questioning on Tuesday the feasibility of his plan and rationale in the wake of last week's mass shooting in San Bernardino, California.
But the networks' excessive coverage of Trump's latest controversial remarks, and willingness to allow him to call into shows at length, highlights an incentive structure that's long rewarded his outrageous comments with more and more airtime. It's a synergistic cycle the reality star and the media have been trapped in for six months. Trump makes controversial claims or over-the-top attacks that are covered nonstop, with countless pundits weighing in and correspondents soliciting responses from the rest of the presidential field.
Networks, which benefit from the self-described "ratings machine," have given Trump the most airtime this cycle. Andrew Tyndall, who analyzes the broadcast evening newscasts, noted this past weekend that Trump has received more than a quarter of 2016 coverage on ABC, CBS and NBC, with 178 more minutes than his closest competitor. Trump's also been a mainstay on cable news, with networks airing campaign rallies live and allowing him to routinely call in for interviews, a privilege rarely offered to his competitors.
The problem, however, has not only been the disproportionate amount of attention from the networks, but TV hosts' failure to adequately challenge some past positions, allowing him to cite unnamed "sources" or unreliable polls when pushing claims without evidence, and spread misinformation that's already been debunked. Though Trump claimed "thousands and thousands" of people in Jersey City, New Jersey, cheered the Sept. 11 terrorist attacks, and insisted by phone on ABC's "This Week" that he watched such an event on television, it never actually happened.
Immediately after Trump's controversial call for banning Muslims on Monday afternoon, media watchers wondered who'd get the first interview. It went to Fox News' Greta Van Susteren, who spoke to Trump for around six minutes before the candidate took the stage in Mount Pleasant, South Carolina. Van Susteren challenged Trump on specifics, such as how the proposal would impact Muslim Americans in the military, and turned briefly that hour to his comments onstage in South Carolina, which continued during the broadcast.
While Fox News was more restrained, MSNBC devoted nearly its entire 7 p.m. hour to broadcasting Trump's rally live, complete with the candidate calling out NBC News correspondent Katy Tur as a "third-rate journalist" to cheers from the crowd. Trump benefits from such live rally coverage, which allows him to speak to hundreds of thousands, even millions, without the filter of journalists fact-checking or challenging his onstage claims.
Trump gets the opportunity to directly address the American people, who are understandably concerned about future attacks spearheaded, or inspired by, the self-styled Islamic State, or ISIS. At the rally, Trump invoked the Sept. 11 terrorist attacks and stoked fears of another large-scale attack on U.S. soil, telling the crowd that "you're going to have more World Trade Centers" if the country doesn't follow his plan.
"We have to use vigilance in our country or we're going to have many more World Trade Centers and our country will never be the same," Trump told ABC's George Stephanopoulos. "We will have many, many more World Trade Centers."
"You're going to have many more World Trade Centers if you don't solve it, many, many more, and probably beyond the World Trade Center," he next told CNN's Chris Cuomo.
"You will have more World Trade Centers and you will have more, bigger than the World Trade Center, if we don't toughen up, smarten up and use our heads," Trump said later on MSNBC's "Morning Joe."
Trump made those comments during nearly an hour of interviews on Tuesday morning, speaking for about eight minutes on ABC's "Good Morning America," followed by 17 on CNN's "New Day." The Republican front-runner next called into MSNBC, where co-host Joe Scarborough took a stand when it came to the candidate talking over him, which appears to be part of Trump's strategy for calling in rather than appearing in person.
"All right, Donald -- no, no, no, no, Donald," Scarborough said. "You've got to let us ask questions. You can't just talk."
"I'm not just talking. I'm giving you the facts," Trump responded.
Scarborough threatened to cut to a break and then did just that. After a roughly 90-second timeout, the MSNBC host brought him back on air, for another 28 minutes.
Support HuffPost
The Stakes Have Never Been Higher
Related
Popular in the Community